I first connected with James Guill a couple years back. Ever since that time, his poker witticisms and playful, good-natured ribbing have never failed to bring a smile to my face. His unique writing style is something I've enjoyed immensely, particularly in the numerous articles he has contributed right here at Cardplayer Lifestyle. That said, our relationship goes well beyond merely being colleagues within the poker industry.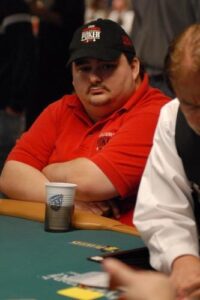 Though I've unfortunately never met him in person, James has become a great friend – and for that I am very grateful. I hope the day comes soon where I'll get to sit at the same poker table with him and win some of his money playing 7-Card Stud 🙂 .
While this is the fifth installment in our ongoing "Get to Know the Poker Media" series, James was actually the first person I had originally wanted to interview, thinking: "you know; I really want to learn more about him, his career, and his life." That thought sparked a much broader idea, which eventually morphed into the series; so, thank you, James.
I hope you all enjoy this interview as much as I have.
How did you first get into the business of poker writing and for how long have you been doing it?
From 2006 to early 2008, I played a fair amount on the tourney circuit. During the summer of 2007, I met Amy Calistri while playing in a daily tournament down at Binion's. She was working with PokerNews that summer doing pictures and she kept in touch via email with copies of shots she took of me in several events.
Shortly after getting home from the WSOP, the business I ran took a turn for the worse and I lost over 80% of my business income overnight. By early 2008, I found myself looking for the next chapter.
I had considered turning pro and playing poker but I knew I wasn't skilled enough at Texas Hold'em to compete at a high level. Most of my playing career centered around mixed games and I didn't feel there was enough action to justify turning pro at that time.
Remembering that Amy worked for PokerNews, I reached out to her about how to get involved in poker writing. She thought that was a fantastic idea based on my knowledge of mixed games and she put me in touch with Garry Gates who, at the time, was in charge of tournament reporting at PokerNews.
From there, I got a gig working as a blogger during the 2008 WSOP and while I had hoped to continue with them afterwards, things didn't materialize. After a couple of smallish-type gigs right after the series, I luckboxed into a short-term project with the Ongame Network.
That project went so well, they offered me a regular position doing content writing for several of their sites. By the beginning of 2009, I had abandoned my former business and was writing about poker full-time. I've been doing so almost non-stop since.
What poker outlets have you written for and which has been your favorite (one-time or ongoing) gig over the years?
So you want a brag list eh? Ok, here goes:
PokerUpdate
PokerJunkie
Ivey Poker
Ongame Network / Bwin.com
PokerNews
PokerListings
PokerNews Australia Magazine
Poker Network
PokerNewsBoy
Legal Poker Sites / US Poker
Poker Asia Pacific
and various other minor sites as well as several defunct poker sites.
Picking one as a favorite would be tough because that has changed over the years. However, if I were pressed, I'd have to say it would be my gig with Ivey Poker. From July 2013 to July 2014, I was the content manager for IveyPoker.com.
Ivey is one of my favorite players and it was fun creating the content for that site and doing some of the profile work for Ivey League. One thing that was great about that gig is that it got me back into creating certain content that I had moved away from because of some of my other gigs.
Other than Ivey Poker, I would probably put Poker Junkie as my #2 favorite because of the variety of things I have done with that site over the years. Contrary to popular belief, I don't actually own that site; however, I have been their primary content writer for several years.
I'm very proud to announce that https://t.co/ohZaPcFKPQ is back with a new design for 2016! – https://t.co/xa8IiT7SXP

— James Guill (@compncards) January 19, 2016
What is it that you love about poker that keeps you so interested in the game?
If we are being honest, as a writer the standard everyday happenings in poker do little to hold my interest anymore. My interests are more towards the changing landscape of the game, even if they are things I am not thrilled about.
As a player, the diversity in the game of poker is what interests me. I have never been a NL Hold'em monkey and I never will be. When I play, I seldom play a NL tournament and rather focus on mixed games.
There are so many different variants out there and more being devised all the time; learning different forms of poker is exciting. Chances are that Hold'em will stay king for decades, but I love the fact that it is not the only option for poker players.
What sort of job(s) did you have before getting into poker writing?
Prior to being a poker writer, I ran a mortgage data collection business. The data was used by mortgage companies to solicit homeowners for any and everything.  I've been self-employed in one fashion or another since 2003.
Prior to that, I worked in IT in technical support/help desk. Bank of America, Wachovia, Ericsson, and GE are some of the companies I've worked for in the past. Before that I worked a year with the U.S. Postal Service after a 2+ year stint at J. Crew.
My work resume is quite varied.
Focusing on a single career plan is impractical. People should develop multiple marketable skills @curtinsea

— James Guill (@compncards) December 12, 2015
Are there any specific things/skills you obtained from any of those jobs that ended up helping you in your poker writing career?
I always credit the U.S. Postal Service for my work ethic. When you work for the postal service, you either develop a strong work ethic or you don't last. If you are late, you get written up. If they tell you they need you to stay over your shift and you don't, you get written up. And there's no slack. More than 30 seconds late to your shift? You're written up.
You have to have a strong work ethic to make a living as a poker writer. I've seen too many try their hand at this and are unable or unwilling to make the time commitment required to be successful.
Otherwise, I give a lot of credit for my skills as a writer to a couple of professors in college. In high school, I never considered myself that strong of a writer. After turning in the first paper in my English 101 class, my professor asked if she could keep it and use it to teach other students. I thought she was just being nice until I walked by her class two days later and my paper was on the board as an example of what she was looking for in a paper.
With her encouragement and training, my writing improved. I don't claim to be a wordsmith like some in this industry, but I have been making a living for eight years doing this, so I owe my professors a great deal.
Tell us a bit about your personal life; where you live, family, etc.
I live in Appomattox, Virginia (Yes, as in where the American Civil War ended).
I own a house on a couple of acres in the "psuedo boonies" that I originally purchased on a combination of proceeds from poker and my first business.
I actually chose to pay off my house rather than take the money and try and make a run at "turning pro."
How often do you play poker? Home games mostly or in poker rooms? Cash or tourneys?
Lately, I am very spurty in terms of playing. Sometimes I will go for months at a time without playing and then play for three or four weeks straight almost every day.
When I play, I either play in live poker rooms or online. My primary focus is tournaments and I mostly play mixed games. I have never been a big fan of NL Hold'em.
What are your favorite live poker rooms at which to play, and why?
The funny thing is that many of my favorites have either been recently renovated or shut down.  My all-time favorite is actually the Trump Taj Mahal in Atlantic City. I know that may seem odd to some, but it was one of the few rooms that I played in that "felt like poker." They used to also have a larger spread of mixed games than they have in recent years.
In L.A., I prefer to play at either the Bike or at Hawaiian Gardens (now Gardens Casino). If you want to play for lower stakes in anything other than Texas Hold'em, L.A. is the place to go. I like the Bike because I've done well there in the past and I used to like going to the Gardens because I could actually find Stud 8 or Better action. Granted, I was always the youngest person at the table, but it was action.
I used to like going to Tunica and playing at the Grand and Gold Strike when the WSOP Circuit and WPT were in town simultaneously, but of course the Gold Strike has since closed their room and the Grand is now closed as well.
In Vegas, I tend to play at the Orleans or I rotate among some of the smaller casinos, especially on the weekends. The Tuscany was a nice little sweet spot the last time I was out there. During the week their tournament was crap, but on Friday and Saturday you get the tourists and weekend warriors in there and they would throw their money at you (Quite literally! In one tournament I played in, the guy called my all-in shove by throwing his stack my way and yelling "REBUY!" before the cards were flipped).
What's the biggest misconception people have about poker writers/writing?
The biggest misconception that I run across is that poker writing is a "limited" endeavor. When I mention the fact that I write about poker, they assume all that I do is write about poker tournaments or the people who play in them.
Most people don't understand everything that entails being a "poker writer" and can't understand how someone can make a living doing so. Those who bother to try and learn more are amazed at the variety of topics we cover on a regular basis.
But wouldn't you rather be #Chainsaw approved? @Kevmath

— James Guill (@compncards) February 18, 2016
What do you enjoy writing about most in poker – lifestyle/feature pieces, op-eds, promotional stuff, tourney recaps, live/online poker news, or live reporting?
Personally, I like writing op-ed and scandal pieces more so than anything else. After several years in the business, tourney recaps, bios, and the rest become mundane unless it something historic or there is a unique angle.
I like when there is upheaval and controversy, so op-ed and scandal pieces provides a nice change of pace from the mundane.
This message paid for by Robbie, produced by robbie, written by robbie, played by robbie @cardplayerlife @gpl @PokerUpdate

— James Guill (@compncards) February 26, 2016
Contrary to what some players might believe, poker writing doesn't pay too much, especially if you're a freelancer. Do you do any other sort of work, writing or otherwise?
If you're comparing our income to the obscene amounts of money that poker players throw around, then no, we don't make much.
With that said, poker writing is like all other forms of self-employment. It has its ups and downs, but if you work hard enough you can usually find a way to make a living at it.
At present, my only side gig is what I call being a "wannabe picker". I resell items, mostly online, for profit. The majority are vintage and antique but, like Frank Fritz says on the American Pickers show, I'll sell anything that I can make a buck on (like my first year when my best seller was used cell phones).
What other hobbies do you have? Tell us about them.
You could consider my picking to be part side gig and part hobby, especially when it comes to learning about items, etc. Sometimes the history behind an item can be absolutely fascinating.
At present, I would consider playing poker as a hobby.
What's something you still haven't yet done/accomplished in poker that's on your bucket list?
I suppose winning a WSOP bracelet would be on that list, and any bracelet is fine. However, I am partial to winning a Stud 8 bracelet as it is my favorite game.  Then again, a Dealer's Choice bracelet is right enticing due to the sheer complexity of the game.
Hitting a massive tournament score would also be a bucket list item. It doesn't have to be the Main Event, but a score of $500k or larger would be "life changing" enough for me, as I don't chase the circuit anymore.
Alright, the stage is yours – go ahead and let loose about something you just HAVE to get off your chest.
If you're involved in poker in a public fashion, regardless of your role, use some common sense when you speak. This isn't the 1970s and you need to use better judgment in what you say and how you interact with people.
It seems that at times that many of us speak or act first before engaging our brains and that ultimately results in some form of scandal.
I'm going to pick on Daniel Negreanu a bit because I have called him out in the past for his actions. However, in recent years he has learned to curb his tongue and act more like the professional he portrays himself as.
Some of us still need to learn how to act like professionals. That will go a long way towards preventing many scandals that have plagued our game in the past.