The 2018 World Series of Poker attracted a record-breaking 123,865 entries with a tremendous, all-time high total prize pool of $266,889,193. According to the statistics provided by WSOP.com, the average bracelet winner took home $655,337, and the average per event prize pool was $3,421,656. Will we see these astounding numbers surpassed this year at the 50th annual World Series of Poker?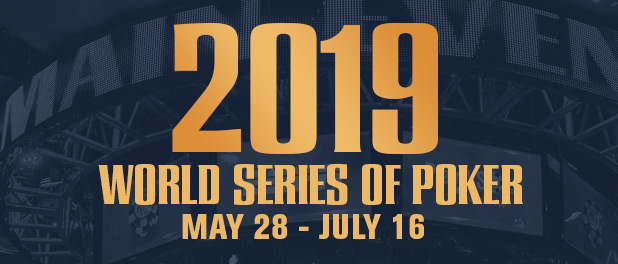 The 2019 WSOP will last from May 28 until July 16 and once again will be staged at the Rio Hotel and Casino in Las Vegas, Nevada. There are 80 live bracelet events listed and, per tradition, the festivities will begin with the $500 Casinos Employee event. Almost 500 poker tables will be set up throughout over 100,000 square feet of floor space to accommodate the thousands of players coming in from all over the world.
Let's take a closer look at and analyze the 2019 schedule to see what unique features the organizers of this exceptional festival have in store for the poker world this year.
1. A record-breaking WSOP Main Event?
Last year, the Main Event attracted a massive field of 7,874 players, each of whom ponied up $10,000 to compete for poker's most prestigious prize. It was the second-largest field in the event's history, only having been surpassed by the incredible 2006 figure of 8,773 players, at the height of the Poker Boom.
Play will begin with Day 1A on July 3, with late registration possible up until the start of Day 2! What's more, players will receive 60,000 starting chips, the largest amount in the event's history.
As to whether this year's incarnation will attract a record-breaking field, that's something you might be able to place a wager on with outlets like this bookmaker. A new record seems pretty unlikely, but cracking the 8,000-player milestone is certainly within the realm of possibility.
https://www.instagram.com/p/BrnsiIKn027/
2. $5 million guaranteed for a $500 buy-in rake-free event
One of the special events planned on this year's schedule is the "Big 50" featuring a $500 buy-in and $5 million guaranteed prize pool, with the winner taking home $1,000,000. The Big 50 will take place on the WSOP's opening weekend, with four starting flights beginning on May 30, and – in an unprecedented move – will be rake-free.
"We expect our opening weekend Big 50 event to be one of the largest in our history, and certainly one of the best value tournaments ever offered. This is part of our concerted plans to make the 2019 WSOP a better value all-around," said WSOP Executive Director Ty Stewart.
The WSOP planning has began. The only tournament that I'm for sure playing in is the Big50. Going down May 31 to June 9. Learning from the GOAT, @RealKidPoker literally just watched 85 episodes of his VLOG in 3 days! #excited #nervous pic.twitter.com/5bvCL6T4gK

— Brandon Key (@brandonkeyy) December 27, 2018
One re-entry per starting flight will be allowed, but note that only one's first entry carries no rake. Also notable is that there will be four Day 2s, with the entire field only combining for the first time on Day 3. With 50,000-chip starting stacks and 50-minute levels, officials expect five days of play, and for a winner to be crowned on June 7.
3. $50,000 High Roller event
Another tournament being spread specifically to celebrating the 50th running of the WSOP is the $50,000 No-Limit Hold'em High Roller event. It starts on May 31 and will take place over four days of play. Players start with 300,000 chips and there are hourly levels. Look for a larger-than-usual field to play in this one, as beyond a prize pool likely to approach eight figures, there's also the prestige of a bracelet to compete for.
4. Big blind antes and fewer re-entries
Demonstrating that the WSOP officials have their finger on the pulse of the poker world and are paying attention to player suggestions and feedback, only one event will allow for unlimited re-entry, namely the Crazy Eights event ($888,888 GTD with a $888 buy-in). What's more, all No Limit Hold'em events will be played using the Big Blind Ante system.
"There are a lot of exciting changes in store… If there is one main one, it is value. We hear the cries for more value and we are hard at work to deliver that more effectively this year. Another one is reentries/unlimited reentries. Trying to make sure more events are freezeouts and to use single reentry more often than unlimited. More chips will be a theme this year for our events." Said WSOP Vice President of Corporate Communications, Seth Palansky.
5. $1,000 Mini Main Event
An entirely new event on the schedule, set to take place on July 1-2, is the Mini Main Event. It's a great "entrée before the main course," with the structure of the tournament planned to mirror the one used in the Main Event. Especially as there are plenty of players out there for whom raising $10,000 is either almost impossible or out-of-the-question, this offers a far more affordable price point for everyone to have a "Main Event-like experience."
https://www.instagram.com/p/BtoizzYDf3W/
6. $10,000 Short Deck event
Over the past year, Short Deck – in which all 2s, 3s, 4s, and 5s, are removed to result in a 36-card deck – has boomed in popularity, especially among the high roller set. True to its calling as a series that offers all poker variants a chance to shine in the limelight for a bit, the WSOP will for the first time in history, host a Short Deck championship event. It's set to begin on June 2 and play out over four days.
ICYMI: The $10K buy-in events and above have been announced for the 2019 WSOP. New to WSOP this year is Short Deck NLHE. The $50K PPC is scheduled for June 24.https://t.co/zQXrqv3qqd pic.twitter.com/PYhaFvKq3u

— WSOP (@WSOP) January 18, 2019
7. Bracelet-winners only event
There's a lot of prestige accorded to winning a World Series of Poker bracelet. Now, there's an additional benefit, with the WSOP set to run their first ever "bracelet-winners only" event this summer. This special $1,500 buy-in NLHE event will begin on July 10, with four days of scheduled play.
Bigger Starting Stacks & Big Blind Ante to become staples at 2019 WSOP. https://t.co/QsKn8lOp8T

34 new events confirmed, including a bracelet-winners only event.

Updated schedule: https://t.co/I3HoFxANCy pic.twitter.com/mSkoGZbBGb

— WSOP (@WSOP) January 23, 2019
8. Celebratory gala and awards evening
The 50th running of any event deserves extra attention, fanfare, and celebrations, so this year the WSOP intends to hold a special gala and evening of prizes on Saturday, June 29. Details are still to be announced, but you can be sure this will be a big shindig, attended by many of the game's legendary players and industry luminaries.
9. New charity tournament
For the first time, in tribute to the members of the U.S. armed forces, the WSOP schedule will feature a new charity tournament: Salute to Warriors NL Hold'em, with buy-in fee proceeds to be donated to the USO and other Veteran organizations.
The three-day $500 tournament is set to begin on July 2, and it's certain to be a memorable event guaranteed to generate some great stories.
While the WSOP might still be a few months away, we're already hyped for it! Whether you're planning a trip to Vegas this summer or will just be tuning in to watch the action on ESPN and PokerGO, you can be sure that the 50th annual WSOP will be an event series like no other in poker history.