Humor is mankind's greatest blessing.

-Mark Twain
This and other quotes from the legendary Mark Twain have established themselves as part of literary lore. This quote in particular is something that the renowned humorist practiced throughout his life. As a matter of fact, one of the top distinctions for comedians is named after him, the Mark Twain Prize for American Humor. I am pretty sure that sense of humor helped Twain in his poker games.
Samuel Langhorne Clemens was born November 30, 1835, in Florida, Missouri. Due to poor financial circumstances, in 1839 his family moved to Hannibal, a port town along the Mississippi River. Years later, he recalled his childhood in Hannibal with fondness; it was there he first learned to play poker.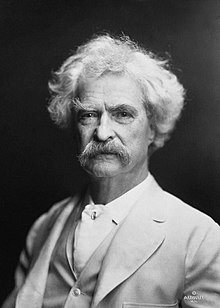 Mark Twain (Clemens' pen name) became one of the highest regarded authors of all time, including two major American literature classics: The Adventures of Tom Sawyer and The Adventures of Huckleberry Finn. Others include A Connecticut Yankee in King Arthur's Court, Life on the Mississippi, and The Innocents Abroad.  He wrote about poker in many of his books. He was also a riverboat pilot, a journalist, a lecturer, an entrepreneur, and an inventor. He was often lauded for his great sense of humor – and his love of poker. Over the years, there has even been some talk of electing him to the Poker Hall of Fame.
READ MORE: Time to Build a Real Poker Hall of Fame
Twain loved the game of poker
In his writings, Twain often defended poker as a game of skill that permitted a man to show his worth – be it moral, social, or intellectual. And he challenged people to recognize its value.
There are few things that are so unpardonably neglected in our country as poker. The upper class knows very little about it. Now and then you find ambassadors who have sort of a general knowledge of the game, but the ignorance of the people is fearful. Why, I have known clergymen, good men, kind-hearted, liberal, sincere, and all that, who did not know the meaning of a 'flush.' It is enough to make one ashamed of one's species.

– quoted in A Bibliography of Mark Twain; Merle Johnson (1935)
Samuel Clemens frequently enjoyed playing poker while working as a steamship pilot on the Mississippi River, traveling between New Orleans and St. Louis. Poker was a frequent activity on those steamships. In those days, draw poker was the game of choice. Poker pros hustled the foolhardy travelers on the Mississippi River steamboats – guns at the waist and all. He avoided the culprits, preferring to play against the regular passengers.
Beyond literature and humor, Twain is also remembered as a famed world traveler. Especially as back in those days travel to far off destinations was exceedingly rare, Twains tales of his travels gained tremendous renowned. Surely he found time to play poker while discovering new lands. One place he never made it to was Singapore, which during Twain's time was an outpost of the British Empire. Surely if Twain were alive today, his travels would take him there and he'd likely carve out some time to enjoy some poker at one of the many online casino Singapore offerings as there are no land-based alternatives.
Clemens Becomes Twain
Always seeking a new challenge, in 1862 as the Civil War was winding down, he went to work as a gold miner, hoping  to strike it rich. Sadly, success eluded him. That was when he turned to becoming a newspaper writer. The Virginia City, NV Territorial Enterprise newspaper took him on because of his colorful and humorous writing style, giving him a salary of $25 per week. Readers loved his humor-filled stories, and he soon received substantial raises. It was during that time when Samuel Clemens began to use the pen name, Mark Twain.
In 1864, Mark Twain moved to California to enjoy the carefree life of the Wild West in San Francisco. There he gambled at poker, as well as dabbled in the growing stock market – and lost at both.
Always the traveler, in 1873 Twain moved once again, this time to to England where he met the Shah of Persia and taught him to play poker. He then went on an extended lecture tour of Europe from 1891-1897.
Twain died in 1910 at the then ripe old age of 74, and was buried in Elmira, New York, where he shared a summer home with his wife and children.