As the second biggest and one of the most rapidly expanding poker networks serving the US market, the Winning Poker Network is here to stay. As a result, they are the eighth-largest online poker network globally and the second-largest serving US-based poker players.
Americas Cardroom is the network's flagship room, and it offers extra privileges that aren't available at other network locations. Because the Winning Poker Network runs Americas Cardroom you won't have to deal with any outside parties when you choose to play poker at the ACR tables.
No-Limit Hold 'em games up to $200/$400 may be found on this network despite its small size. Even while the limit cash games area has taken some of the traffic away from rivals, it's still a little scarce in comparison.
At the $40 buy-in levels, the unique Jackpot SNG type generates interest. The biggest Sunday event is a $150k guaranteed MTT, the highest weekly guaranteed tournament by any US-friendly site. In addition, they host a $35k guaranteed Pot-Limit Omaha event, which is becoming more popular with players in the United States.
Overall, it's easy to see how ACR has grown a considerable reputation within the online gambling industry. But is ACR all it's cracked up to be? We'll find out in this Americas Cardroom review with an evaluation of the critical operational elements such as game variety, promos and bonuses, deposit and withdrawals options, payout speeds and more.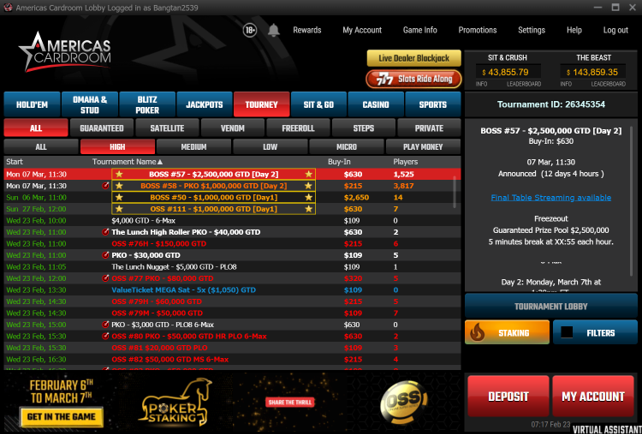 Table of Contents
Americas Cardroom Pros
USA/Canada players and 98% of countries worldwide accepted
100% up to $2,000 bonus
Supports deposits with Bitcoin, ETH, and multiple alternative Altcoins
27% rakeback available
Jackpot Poker games
Multi-million dollar guaranteed tournaments
Americas Cardroom Cons
Limited mobile gaming client
Poor casino and sportsbook options
3 hour+ late registration in MTTs
Rakeback
The highest amount of rakeback permitted by the network is 27%. At ACR, you'll never see a rakeback offer of more than this figure, so don't believe anything you get told otherwise. You want to be looking for bonus codes to get this total amount, like the codes you'll find on this Americas Cardroom review on the long-running poker site at ProfessionalRakeback.com.
The rakeback calculations used by Americas Cardroom conform to the weighted contribution approach. If you play a lot of hands and put money in the middle, you're going to be rewarded more than those who simply keep folding. rakeback in tournaments is always equal to 27% of the entry fee regardless of your style of play; therefore, these concerns don't apply.
Rakeback payments at Americas Cardroom are not scheduled in advance. Alternatively, you may use the poker software to make your rakeback payments to your real money account. Choose "Rakeback" in the poker software's "Rewards" option. To get your rakeback funds, click the huge "Click to Redeem" button, which will take you to a page with some statistics about your earnings.
ACR rakeback has a unique relationship with bonuses and other promotions. All bonus payments will be taken from your rake totals, but you will still be eligible for rakeback on the rest of your rake. Once the $30 bonus is cleared, you'll be left with $120, and you'll get (27% x $120) = $32.40 in rakeback. This clearing process is an example of how Rakeback works. On a total rake of $150, this equates to a return of 41.6%, or $62.40.
You can see from all this that taking advantage of rakeback in tandem with bonuses and any other deals gives an obvious advantage over what you would be earning in rewards without rakeback. This approach will suit most players; however, it may be the Elite Benefits programme that conveys the most significant advantages for those playing at high stakes.
Elite Benefits
The Elite Benefits programme acts as the main incentive to play for ACR's VIP players. As you play at the tables, you'll earn Rank Points that will enable you to move through the ranks from Lieutenant to 5 Star General. Rank Points are calculated monthly for the lower levels; however, yearly Rank Points are used for the highest two tiers (General and 5 Star General).
You'll get monetary incentives when your yearly Rank Points total reaches a certain threshold level. In addition, as you go through the programme, you receive extra Combat Points for every Rank Point you acquire. Trading these points for money is possible in the poker client's Points Exchange area.
Achieving General or 5 Star General rank may be possible if you can play poker regularly and for significant stakes. This achievement would mean that Elite Benefits VIP is a superior alternative to rakeback if you fall into this category.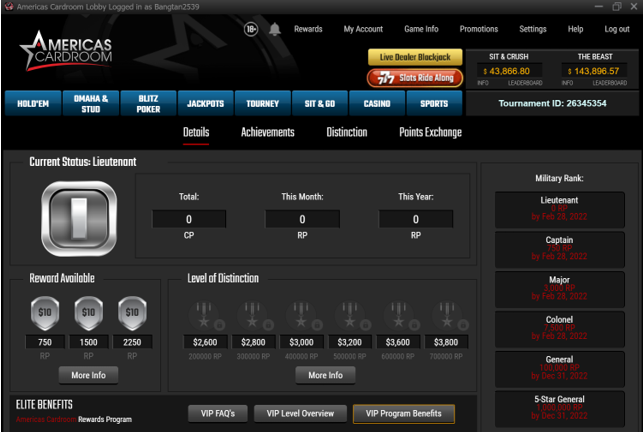 Licensing
Be advised that Americas Cardroom does not currently have a gaming licence to provide online gaming services, according to the company. This company was established in Costa Rica and conforms with all applicable regulations; but, it has not been granted a licence by a host nation to conduct online poker operations explicitly.
Americas Cardroom used to be licenced by the Kahnawake Gaming Commission. Kahnawake made the choice in 2016 to ban licencing firms that accept players from the United States of America. As a result, ACR lost that licence.
ACR Bonuses & Promotions
It's not uncommon for Americas Cardroom to have a full schedule of promotions going at any one time. Whether you choose rakeback or an Elite Benefits account, you may take advantage of all of these promotions. They are as follows:
Welcome Bonus on Your First Deposit
Up to $1,000 may be matched by the Winning Poker Network's Initial Deposit Bonus or First Deposit Bonus. This incentive's percentage match may be increased by up to 200 per cent if the initial deposit is made using any of the dozens of digital currencies this site offers. You'll still be able to get a $1,000 bonus, but you'll need to put up $500 to get there.
To clear the poker deposit bonus, you must earn 27.5 reward points for every $1 you deposit. 5.5 points per dollar in tournament or cash game rake is the rate at which award points are earned. As a result, a 20% effective rakeback rate is used to calculate the incentive.
If you choose a rakeback account, you will still receive bonuses. You'll get less rakeback since any bonuses you earn will be deducted from your rake total, but the combination of rakeback and bonus is still better than the sum of RB and bonus alone. There are no apparent downsides to taking advantage of the Americas Cardroom initial deposit bonus in total. We encourage all of our players to do just that.
The Beast
All pots earned in cash games, save heads-up tables, are eligible for points towards The Beast leaderboard. After the weekend session, about 1,000 participants are given free cash prizes, and tournament tickets are paid out on Monday. Winners get a $500 prize and a free entry into the next tournament in their category. If you contribute a percentage of your standard game's winnings to the Beast's rake fund, you'll get points depending on how much of this rake you provide.
Sit & Crush
It's the SNG version of The Beast. Players are awarded points for every tournament they participate in, and a percentage of the SNG costs goes to the prize pool. While Jackpot Poker is available in Sit & Crush, sit and go's don't contribute to the leaderboard rankings in cash or points. Prize money and satellite tickets are awarded at the end of each Monday after the conclusion of each race. The races run from Saturday through Friday. Sit & Crush awards roughly 350 people with a gift card each week.
The ACR Store
This function has been missing for years, but Americas Cardroom brought it back in 2020 by introducing an old-fashioned Combat Points shop.
Many shopping options, from stickers to a fully customised WPN jersey, are available. Prices range from 199 CPs (for stickers) to 9,900 points (for the jersey). The cost in real money terms ranges from $1.99 to $99 per item based on an exchange rate of $1 = 100 Combat Points (the rate used for the lowest monetary transactions enabled by the poker client).
A minor shipping fee is imposed on clients outside the United States; delivery is free inside the continental USA. Users in the rest of the world (ROW), on the other hand, may simply use their points to cover these minor expenses. Order processing may take anywhere from two to six weeks, and shipment can take anywhere from 3-10 days, depending on where you live and what you bought.
ACR offers a returns policy whereby you may swap damaged or wrongly sized products for replacements within 14 days of delivery. Either way, you must first call customer service before returning any product. They will provide you with further instructions.
Deposits
The deposit and withdrawal staff at Americas Cardroom is accessible 24 hours a day, seven days a week by email in the case that you face any delays or issues when trying to deposit. Below, you will find a list of deposit options for poker players from the United States and globally elsewhere:
Cryptocurrency Deposits
Players on the Winning Poker Network can now deposit up to $25,000 in bitcoin through the network's cashier. Litecoin and Ethereum are also subject to this $25K cap. Bitcoin is a lightning-fast cryptocurrency that can fill your account in as little as 15 minutes; however, network congestion may cause delays.
The network introduced cryptocurrency deposits to the Winning Poker cashier in October 2017. All the more significant digital currencies are there, such as Bitcoin Cash, Dash, and Ripple, but plenty of more obscure ones, too, like First Blood, Salt, and 0x. These alternative cryptocurrencies present a way to conduct transactions at a lower cost than BTC, which – due to increased mining expenses – has become more unaffordable unless you're ready to deposit a considerable sum at once.
A third party is used to settle Altcoin deposits and withdrawals with the WPN. This usage implies that some of these digital payment methods may be unavailable at any one time due to a lack of coins. It's not unusual for a dozen or more of these coins to disappear for a short time. For players funding their account via one of these other crypto deposit methods, they must deposit a minimum of $50 and no more than $4,500.
Credit cards
At ACR, credit cards are one of the most common depositing methods, as they are with many other poker sites. However, some card issuers reject them because of their tight gaming policies. Trying Bitcoin or another cryptocurrency is an option if your card deposit doesn't go through for whatever reason. ACR does not enable prepaid or gift cards, but account-holders can use them after completing account certification.
Money Transfers
Depositors may use a person-to-person money transfer service to transfer money to Americas Cardroom. It's a bummer that this type of fundraising has limited scope.
E-Wallets
E-wallets, such as EcoPayz, allow players from all over the globe to send money in a matter of seconds. Before 2011, US players could utilise their e-wallets for online poker in the pre-Black Friday environment, but this is no longer the case.
Bank Deposits (Canada-Only)
Even though Americas Cardroom is named after the vast nation to the south of Canada, it does cater to Canadians as well. If you want to deposit up to $2.5K from your bank account to a poker room, various options are available.
Withdrawals
Except for credit cards, most methods available for making deposits at ACR are also accepted for withdrawals. See below for information on the restrictions and processing rates that apply:
Bitcoin, Litecoin, and Ethereum
Withdrawals using Bitcoin take 24-48 hours to process, but they're entirely free. BTC is the favoured way of cashing out at Americas Cardroom because of the quickness and lack of fees. ACR has plans to raise the maximum withdrawal amount for Litecoin and Ethereum to $10,000 in 2020.
ACR doesn't charge any extra fees for crypto transfer payments, handled in the same one or two-day window as Bitcoin withdrawals. Some of the more esoteric cryptos may be out of stock when you request a withdrawal, in which case you'll either have to choose a new one or wait until your preferred cryptocurrency is back in stock. Compared to the three significant cryptos, these cryptos have lower minimum and maximum transaction values.
Check
Payments from online poker sites are traditionally made by bank draughts or cheques. However, there are a few annoyances that come with using these payment methods. The first check in any month is free, but subsequent checks from Americas Cardroom are charged $65. Typically, checks come within two weeks.
Money Transfer
Although money transfer services are quick and easy to use, there is a significant disadvantage. There are fees ranging from $60 to $70, depending on the amount of money you want to withdraw, and this, along with the meagre withdrawal limit, puts many people off.
E-Wallets (outside the United States)
E-wallets are available to ROW consumers. Some overseas players may choose this option over others since it allows fast payments with no costs.
Please note that the choices mentioned above are the ones that are generally accessible to the majority of ACR users. However, the poker cashier's payment methods may differ somewhat from the information mentioned above. This discrepancy is because your account history and location will determine which payment channels and restrictions are accessible to you.
Authentication of your playing account
You must certify your account before making your first cash out at Americas Cardroom to ensure that you are not involved in fraud or money laundering. The address stated on your ACR account must match your driver's licence address, and a recent utility bill must match the address on your driver's licence. In addition, if you paid with a credit card, you must provide a permission form signed by you and a copy of the card you used.
You won't have to go through this process again for future withdrawals since the poker site will already have your personal information on file.
Poker Games
Due to ACR's wide range of poker products, it has advantages compared to many other American online gambling companies in terms of quality and variety. The company has added new variants of games and increased the stakes throughout the years, sometimes even creating new formats that aren't seen anywhere else.
Cash Games
From $0.01/$0.02 to $200/400 in big-bet games (NLHE, PLO, PLO/8), a wide variety of stakes are available in the ACR cash games area.
It isn't just for show that the $1,000-plus buy-in tables fill up with high rollers who are ready to compete for large amounts of money. Poker lovers in the United States have access to some of the largest online ring games. There are nine-seat and six-seat games and special capped and short-handed tables among the games.
Tables that offered heads-up cash games were formerly commonplace here, but they've since been eliminated due to concerns about game integrity. Big games aren't only NLHE here, unlike most other cardrooms.
Even the fixed-limit games have a decent selection: Limit Omaha 8 or Better, Limit Hold'em, Seven Card Stud and 7-Card Stud Hi-Lo. Tables with stakes of up to $30/$60 may be found for each of these formats, and some even have greater game spread. More than a few tables are always available in the less popular varieties, but this is still more than most other online poker sites, particularly those that cater to U.S. players.
After a software upgrade in April 2021, the tables and players at Americas Cardroom have been reorganised to benefit players and railbirds alike. Player Protection conceals the identities and stacks of all players at a cash table until you join the game and pay the big blind. You'll be able to view the screen names of your opponents and how many chips they have in front of them after paying your first large blind of the session. Bum-hunting and other exploitative practices will be made illegal due to this action.
No Rathole Tables for 7 Days
No Rathole tables are available at Americas Cardroom for a whole week. You can buy in for only 10bbs and precisely 10bbs in these tables. Your stack's value will remain intact even if you end up with a greater stack of chips. Re-entering the same table within seven days requires you to put in the same amount of money as you had left the last time around.
No-Limit Texas Hold 'em between $0.05/$0.10, and $200/400 blind levels are eligible for a 7-day No Rathole guarantee. Pot Limit Omaha and PLO/8 No Rathole are also available at the same stakes.
The Winning Poker Network included no Rathole games in the past across multiple poker rooms, but this changed in April 2020. Americas Cardroom is currently the only provider of 7-Day No Rathole. Multiple WPN accounts were bypassing the seven-day limit by accessing the same No Rathole table via various skins.
Blitz Poker
Fast-fold Blitz Poker, introduced by Americas Cardroom in February 2019, was expected to impact the online poker industry in the United States significantly. PaiWangLuo Network has the strongest fast-fold offering among the other competing offshore cardrooms; therefore, the Winning Poker Network had an opportunity to gain market share.
Due to the fast-folding nature of these games, the action moves much more quickly than in traditional poker games. After exiting a hand, players may hop immediately back into the game without waiting for the next hand to begin.
Sit and Gos
At Americas Cardroom, NL Hold'em SNGs start at $1.50 + $0.11 and go up to $100 + $9. Many games with buy-ins of $60 or less are easy to find. There is a wide range of table sizes and speeds to suit everyone's preferences. From $5 + $0.30 up to $20 + $2, Omaha Hi Sit N' Gos are available, while Omaha/8 Sit N' Gos can be found from $1.50 + $0.11 up to $50 + 4.75.
In the lobby, satellite Sit N' Gos are typical for significant poker events like the World Series of Poker or the WPN's regular tournament series. In a step-by-step system, the victors of each phase progress to the next until they reach the final one when a prize package is awarded.
Progressive Jackpots
When it was launched, Jackpot Poker was the only lottery-style poker game available to citizens of the United States. In this three-handed tournament, the prize pool amount is determined by a randomised multiplier. The largest multiplier results in a prize pool of 2,500 times the buy-in, while the lowest is only two times the entry fee.
Unless one of the three most significant multipliers (2,500, 200, and 100) emerges, Jackpot Poker is a winner-takes-all event. Assuming this is the case, the default distribution is 75% /15% /10% for the top three positions. Alternatively, ACR may change the payment structure to 40/30/30 per cent if all three parties agree.
Tournaments
In the United States, Americas Cardroom is one of the best places to play online poker tournaments, thanks to the $200 + $15 Sunday Special, which guarantees a whopping $200,000. This tourney is the biggest Sunday Major event for all US-facing online poker venues. Additionally, the $35,000 PLO tournament, which costs $200 + $15 to join, is the biggest weekly MTT for PLO fans in the United States online poker sector. There are plenty of guaranteed tournaments on the other days of the week, at both high and low price points, but Sunday is the busiest day of the week for MTT action at Americas Cardroom.
Regularly, ACR would hold a Million Dollar Sunday, a contest with a minimum payout of $1 million and a buy-in of $500 + $40. At the beginning of 2018, Americas Cardroom planned to operate Million Dollar Sunday tournaments for 12 weeks straight; however, player interest was insufficient to avoid significant overlays. Venom events with a $5+ million guarantee are now held twice a year instead.
Software
Having a Windows download version of poker software is standard practice for any player-friendly poker room. After years of beta testing, America's Card Room introduced their Mac client in 2019. In addition, there's a mobile poker app, although it's somewhat restricted despite recent updates.
As of 2019, SJH Studio, the new software supplier for ACR, replaced IGSoft as the primary software provider. Although the first distribution of the latest poker clients left much to be desired, this could assist in making quick updates across various platforms simpler in the future.
The ACR Mobile Poker App
There had been no mobile app for Americas Cardroom until late 2017 when they released an app for Android and iOS devices. Using a suitable device, you may access it by clicking on a button on the ACR site. You won't see this button if you're using a tablet or smartphone instead of a desktop computer.
The original mobile poker app only supported Jackpot Poker games with a $2 buy-in level, the only games available. It has recently been extended to include Jackpot Poker events of all buy-in levels, as well as satellite tournaments for Blitz Poker and Cyclone. You may play up to four tables at once on a mobile device.
Summary
According to our findings, Americas Cardroom is a very popular online poker site that offers something for practically everyone after reviewing all of the pertinent information.
Micro-stakes grinders will like the ultra-low blind levels here, which may be as low as $0.01/$0.02, while high-rollers can participate in games with blind levels as high as $50/$100. Big betting poker enthusiasts will find plenty of activity in NL Hold 'em, PLO, and PLO/8 games, but limit players will find plenty of support in LHE, Stud, and LO8 games as well. The event selection is robust, with some of the biggest guaranteed multi-table tournaments (MTTs) accessible to Americans online.
Despite this, there are a few disadvantages to ACR that should be considered. The mobile client is confined to a small number of game styles. In general, software development has been inconsistent, with new "upgrades" sometimes resulting in broken games and tournaments being halted. And, of course, there's the issue of the room not currently having a licence, so caveat emptor.
Although there is a lot of activity at these tables, some of the people sitting at them are some of the greatest in the game. This type of action results in a less lenient attitude toward the players than is common elsewhere. If you're a newbie at poker, there are more accessible fisheries for you to explore.
In general, we find that the pros exceed the cons in this situation. Americas Cardroom has a diverse range of features that will appeal to poker players of all skill levels as an honest and upstanding online poker venue.