The World Poker Tour Rock N Roll Poker Open is in the books, with Andrew Wilson running away with the title for $785,000 and his first WPT title, while Chad Eveslage took over the lead in the WPT Player of the Year race with his 3rd place finish.
It's been an amazing week all around with the perfect combination of an incredible tournament series put on by the World Poker Tour and its incredible team, and an outstanding venue in the Seminole Hard Rock Hollywood Hotel & Casino.
My first time here has been memorable for many reasons, and I can't wait to come back, a sentiment echoed by many players, such as Raminder Singh, who cite this venue as one of their favorites, too.
Here's a look at my five favorite things about the Seminole Hard Rock Hollywood Hotel & Casino (in no particular order).
My Spacious, Luxurious Room
As you may have seen in my opening piece about what I was looking forward to, a room in the famous Guitar Hotel was on the list. Unfortunately, with the high demand here this week, that wasn't possible. However, what I did receive was even better!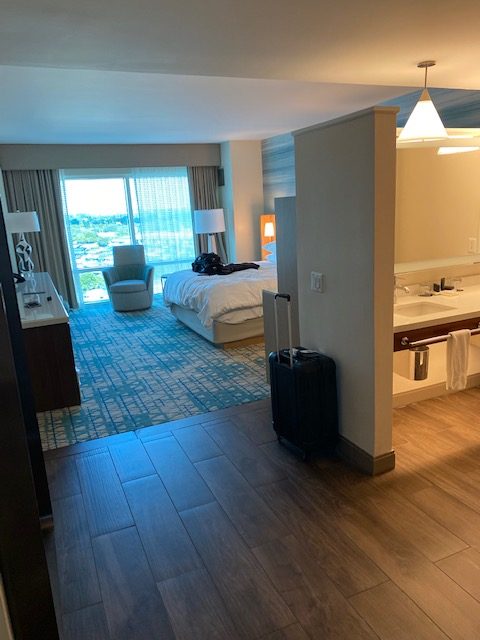 I was set up in the original Hard Rock Hotel, which has been fully renovated with luxurious, spacious rooms, of which I had a plush king bed with super cozy bedding and pillows, a large bright bathroom with a deep bathtub and shower, a 55-inch smart tv, a comfortable desk with plugs, HDMI and USB ports, and a small sitting area in front of a large window…with a view of the Guitar Hotel!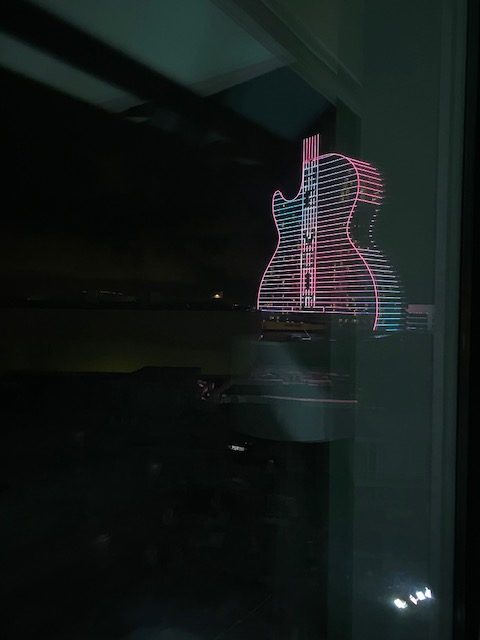 If you're staying in the hotel, how are you supposed to see it and marvel at its architectural glory?
Plentiful Food and Beverage Options
Any good casino resort has an abundance of options in this area, and the Seminole Hard Rock Hollywood more than qualifies.
Starting with a food court containing options such as pizza, burgers, hot dogs, Chinese food, and a kiosk of healthier options, there are plenty of choices for times you need to grab and go.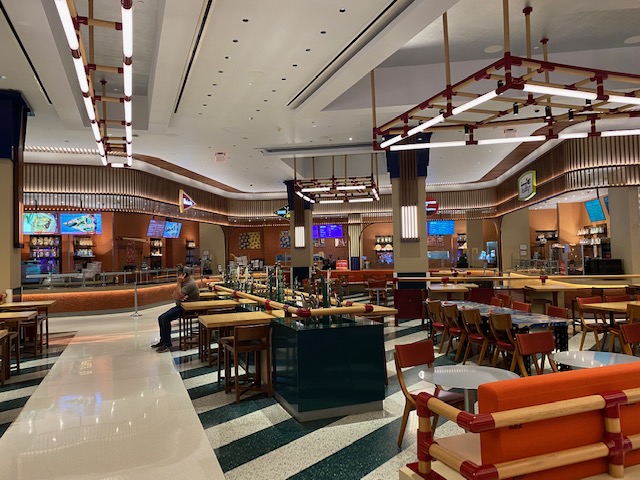 Then scattered throughout the property are plenty of contemporary restaurants, including Rise, where I had many a good and quick breakfast, The Bol, a quality spot for delicious Asian cuisine, and of course, the Hard Rock Café, to name just the places I enjoyed personally.
As for fine dining, there are plenty of great options as well, including Abiaka Wood Fire Grill overlooking the massive pool area (more on that coming up…), Cipresso, which serves Italian-American fare, and the Council Oaks steakhouse bringing diners top-quality steak and seafood.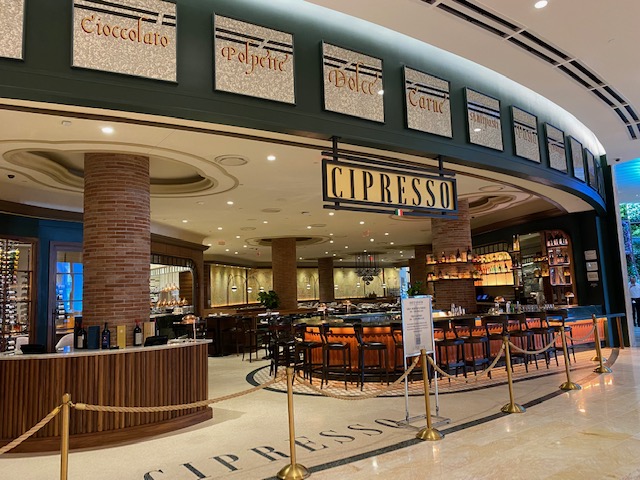 When it comes to bars, lounges, and other spots for a beverage, they too are spread throughout the property with options for all tastes, including a pair of nightclubs, classy cocktail lounges, and a pair of sports bars, both on the casino floor, and the PLA sports bar in the shopping area not far from the poker room which also offers interactive gaming for patrons.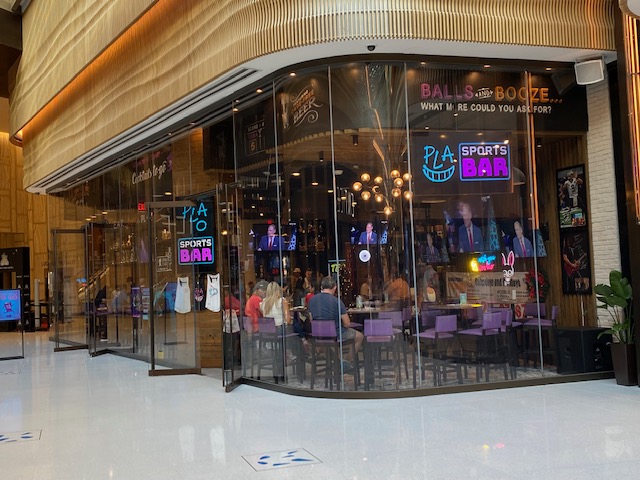 The Seminole Hard Rock Hollywood Poker Room
I mean, what's a poker trip without playing some poker right? Along with my first foray into the incredible SHR Hollywood poker room, of which I did a full review, a second session was far more successful, which allowed me a trip to South Beach the following day on other players' dimes.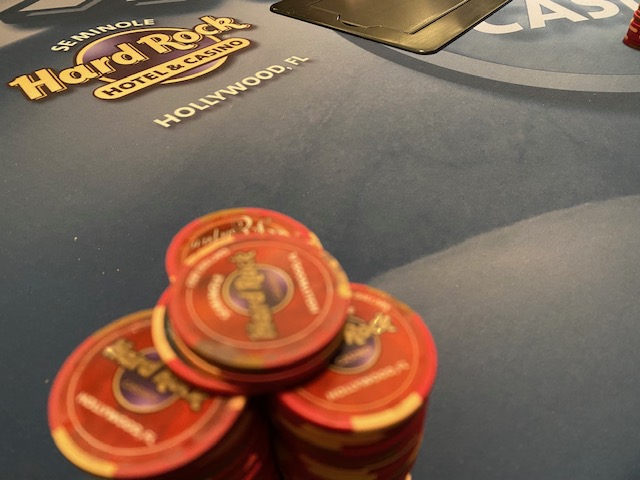 The room instantly became one of my favorites anywhere, and I'll be looking forward to my next session here ASAP.
The Pool(s)
A resort without a good pool is no resort at all. Based on my evaluation of the pool here, I can safely say that the Seminole Hard Rock Hollywood is a RESORT!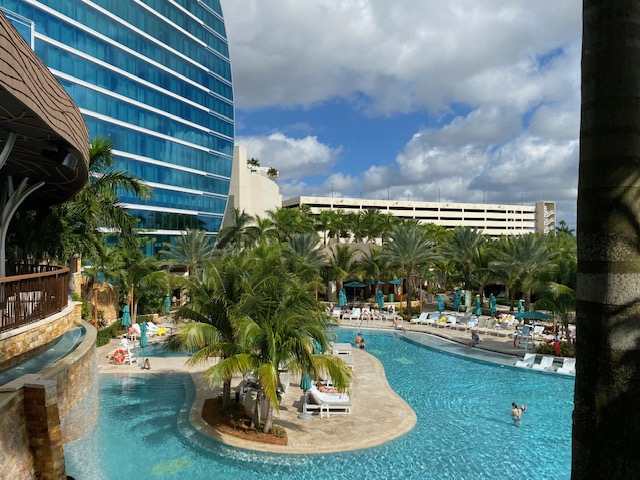 A sandy beach area, loungers, cabanas, palm trees, waterfalls, multiple crystal-clear pools, and even little tables for writers to put their laptops on! All in the shadow of the Guitar Hotel, and that's only the main pool area!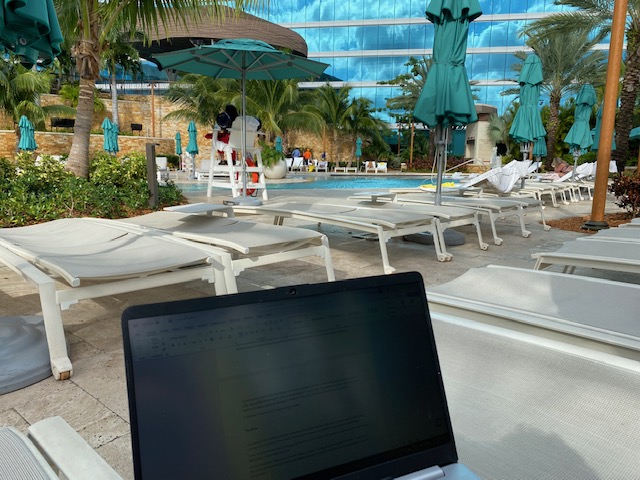 The secondary pool area at the opposite end of the property near the original Hard Rock Hotel was under construction but promises to be re-opened in January 2023, offering more fun in the sun for visitors to the resort.
Cool Music Memorabilia Everywhere
A staple of any Hard Rock Hotel, casino, or cafe is the amazing amount of music memorabilia filling every corner of the property. With a space as massive as the Seminole Hard Rock Hollywood, the amount of cool stuff to check out could fill a museum.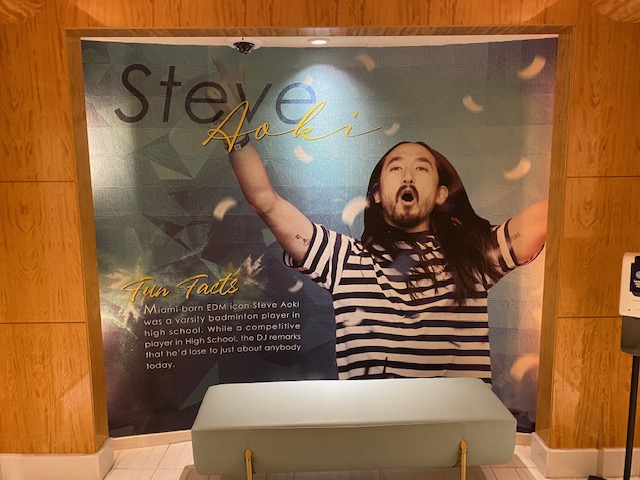 Along with being greeted by a mural of WPT ambassador Steve Aoki at the elevators on my floor, I had a great time scouring the property, trying to find items from my favorite artists, and was happy to find a guitar signed by the late Taylor Hawkins of the Foo Fighters.
Instruments, outfits, and even vehicles can be found throughout the property, each bearing a plaque explaining their significance.
On top of that, visitors to the Guitar Hotel are greeted in the lobby by The Oculus, a massive 35-foot high waterfall that transforms into a musical show, as songs by artists such as the Police, David Bowie, Maroon 5, and many more are synced to the waterfall and a massive screen behind it, providing a very cool water and light show every 20 minutes.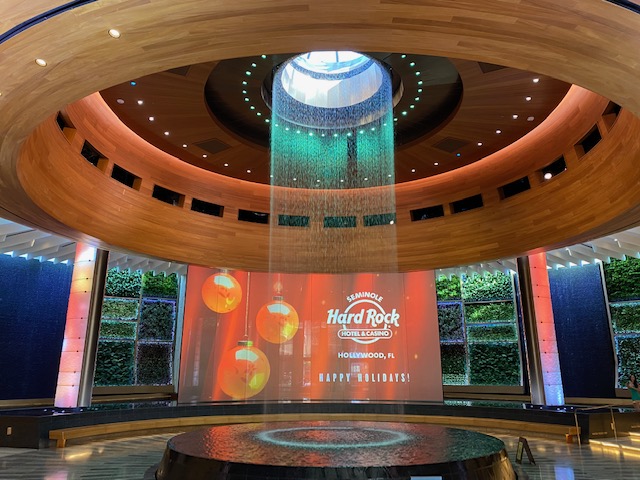 Honorable Mentions
While those were my favorite things that I got to experience first-hand, there's still much more worth discussing, starting with the massive casino floor which includes over 3,100 slot machines, and nearly 200 table games with stakes for all players.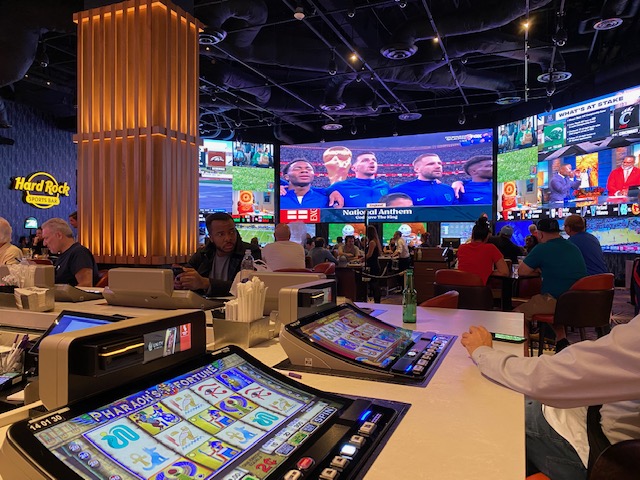 Just off the casino floor is a full shopping area with several high-end stores, a cigar shop and of course the Hard Rock store to grab merchandise to remember your trip by.
There's just so much to enjoy at Seminole Hard Rock Hollywood. With multiple WPT stops and their own series throughout the year as well, it's a location that should be at the top of any poker player's list of places to visit.
The final month of the year on PokerGO will see the culmination of the PokerGO Tour season with the PGT Championship, the return of the RunGood Poker Series (RGPS): All-Stars ProAM, and the inaugural NFT Invitational.
High Stakes Duel III continues with Phil Hellmuth having the opportunity to walk away as the three-time champion if he can defeat Jason Koon for the $1.6 million prize. No Gamble, No Future continues with weekly episodes, while Friday Night Hangouts with Boston Rob will be available on the PokerGO YouTube channel.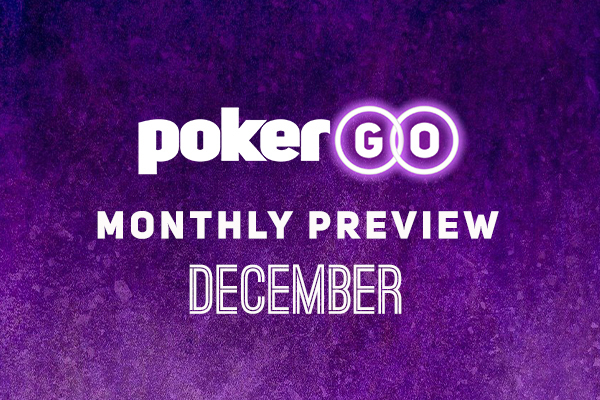 High Stakes Duel
High Stakes Duel III is returning in December with Phil Hellmuth in the winner's chair following his Round 4 victory over Scott Seiver. High Stakes Duel history will be made for the consecutive round as a $1,600,000 prize pool will be up for grabs between Hellmuth and his newest opponent, Jason Koon.
Koon takes the seat that Seiver vacated and will be putting up $800,000 in a bid to dethrone Hellmuth and push the action to an unprecedented Round 6.
Hellmuth was on a seven-match win streak before he was defeated by Tom Dwan in Round 2. Hellmuth steered the chip in the right direction and defeated Dwan, and then Seiver. Hellmuth is now one victory away from $1,600,000 and having the option to walk away as the High Stakes Duel III champion.
If Koon defeats Hellmuth, he will advance to Round 6 where Hellmuth will have the first option to challenge Koon in a match for $3,200,000. Koon will need to win two consecutive matches for him to be granted the option to walk away as the High Stakes Duel III champion.
Round 5 of High Stakes Duel III is set to premiere on Wednesday, December 7, at 8 p.m. ET with Hellmuth and Koon battling for $1,600,000. The Weigh-In is set to air on Wednesday at 7:30 p.m. ET with Ali Nejad hosting the sit down between the two Round 5 opponents.
Watch Round 5 of High Stakes Duel III on Wednesday, December 7, at 8 p.m. ET.
PGT Championship
The PGT Championship is the PokerGO Tour's season-ending event that will crown the PGT champion and award a winner-take-all $500,000 first-place prize. The 2022 PGT Championship will feature the top 21 players as ranked by the official PGT leaderboard.
Once the 2022 PGT season concludes on December 20 with the final ARIA High Roller and WPT World Championship, the top 21 players on the PGT leaderboard will earn eligibility to compete in the 2022 PGT Championship.
Each player will begin the three-table, seven-handed tournament with starting stacks based on the number of points earned throughout the PGT season. For each 10 PGT points earned, players will receive 1,000 chips. Stephen Chidwick currently sits atop the PGT leaderboard with 3,274 PGT points, which equates to 327,500 in chips; good for a starting stack of 327.5 big blinds.
There are 14 events remaining on the PGT schedule for 2022, and players still have many opportunities to accumulate points to reach eligibility for the PGT Championship, or to increase their starting stacks.
Watch Day 1 of the PGT Championship on Wednesday, December 21, at 4 p.m. ET.
Watch the final table of the PGT Championship on Thursday, December 22, at 4 p.m. ET.
NFT Invitational
The inaugural NFT Invitational will play out from the PokerGO Studio on Saturday, December 3, with players that hold a PokerGO Genesis NFT having earned a ticket into the NFT Invitational $25,000 freeroll.
Awaiting the NFT Invitational champion is a $5,000 first-place prize, and for players that hold multiple PokerGO Genesis NFTs, they are entitled to additional starting chips if they own five or more, or ten or more.
Entry to the NFT Invitational is open to anyone that owns a PokerGO Genesis NFT, and some are still available now on OpenSea. Holding a PokerGO Genesis NFT not only awards you a seat into the NFT Invitational, but it also comes with exclusive merchandise, holder-only prizes and events, and a PokerGO subscription for as long as you hold the PokerGO Genesis NFT.
Watch the NFT Invitational final table on Saturday, December 3.
RGPS: All-Stars ProAM
The RGPS: All-Stars ProAM returns to the PokerGO Studio on December 16 with a field including 30 qualifier, 16 poker players, celebrities, and industry members, and the defending champion Raminder Singh. Singh topped an 88-entrant field in 2021 to win the inaugural RGPS: All-Stars ProAM for $10,560 in prize money, and he'll return to defend his title.
Along with qualifiers that won their seat throughout the year at RunGood Poker Series stops, RGPS: All-Stars ProAM invitees include "Boston" Rob Mariano, Tyson Apostol, Barstool Nate, GernaderJake, David Williams, Lynne Ji, Eli Elezra, and 2021 WSOP Player of the Year Josh Arieh.
Friday will see the field combine in the PokerGO Studio and play down to the final table that will return on Saturday to crown the next RGPS: All-Stars ProAM champion.
Watch the RGPS: All-Stars ProAM final table on Saturday, December 17, at 4 p.m. ET.
No Gamble, No Future
December opens with a new lineup on No Gamble, No Future with a $10,000 No-Limit Hold'em Sit-n-Go that features Maria Ho, Eli Elezra, "Boston" Rob Mariano, Faizal Khoja, Christina Gollins, Jeremy Ausmus, and Philadelphia 76ers President Daryl Morey.
The final two weeks of the month will see the final lineup take center stage playing $200/$400 No-Limit Hold'em. Eric Persson headlines the show that also includes Alan Keating, Jean-Robert Bellande, Pedro Velasco Adnet, Eric Hicks, Adi Chugh, and Matt Hanks.
Watch Season 1 episodes of No Gamble, No Future every Tuesday at 8 p.m. ET.
Friday Night Hangouts with Boston Rob
Join Boston Rob for his Friday Night Hangouts on the PokerGO YouTube Channel.
Every week, you'll have the chance to hangout, ask questions, and play poker with the Survivor all-star Boston Rob Mariano. Rob plays poker with fans on the PokerGO Hold'em App and answers questions from his fans every Friday.
Rob also has special guests join the show such as Tyson Apostle and Josh Arieh where they talk about topics such as Survivor and poker strategy, review their previous poker events, and even watch old Survivor audition tapes! Every week is a new adventure, and Boston Rob's Friday Night Hangouts are a great way to get to know one of your favorite TV personalities.
Watch Friday Night Hangouts with Boston Rob every Friday.
What Did You Miss in November?
The month of November on PokerGO would see the continuation of No Gamble, No Future, and the launch of Friday Night Hangouts with Boston Rob.
No Gamble, No Future kicked off the month with the final two episodes of a lineup that featured Lynne Ji, Jake Daniels, Brett McCollum, David Levy, Nikolai Novak, Eric Hicks, and Eli Elezra playing $50/$100 No-Limit Hold'em.
Following two episodes of monster pots and bad beats, the action dropped to $5/$10 No-Limit Hold'em where a mix of Hollywood actors, entrepreneurs, and poker players that included Maria Ho, Kevin Pollak, Daryl Morey, Natalia Cigliuti, Chris Eubank Jr., and Simon Yu battled it out. No Gamble, No Future co-host Brent Hanks even joined in and played a few hands before returning to the commentating desk with Jeff Platt.
Connect with PokerGO on Facebook, Twitter, and Instagram.
This trip to Florida for the WPT Rock N Roll Poker Open (RRPO) has been undeniably incredible, with an outstanding final table, featuring Chad Eveslage potentially taking over the WPT Player of the Year race, Brian Altman on the verge of adding to his WPT legacy here in Florida, and 2021 RRPO champ Gediminas Uselis within reach of defending his title.
But while these guys have been grinding away for huge prizes, I can't lie, I've been a bit conflicted on my purpose here.
Normally I'd be at an event like this as a live poker reporter, spending many hours on the tournament floor, capturing hands and stories on the road to crowning a champion. But this has been a full-on gig for Cardplayer Lifestyle… with the emphasis on Lifestyle.
So around the other articles I've written, dammit, I've been living the lifestyle as much as possible this week. If you're going to send me to South Florida for a poker tournament and want me to write about what else you get besides a world-class poker tournament, you're gonna get it; so here goes.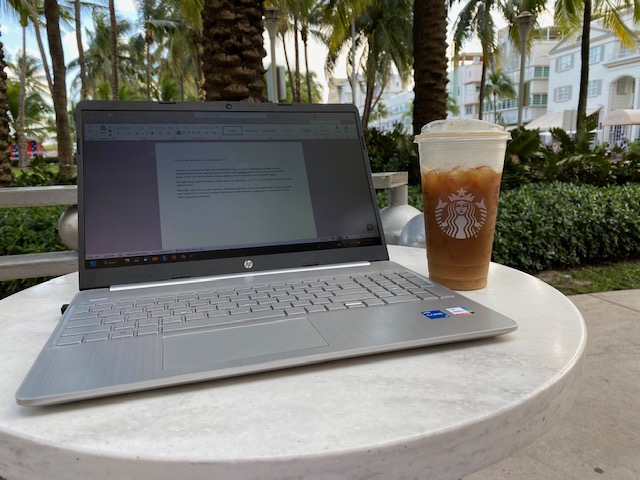 South Beach
As I begin writing this, I'm sitting on the best Starbucks patio I've ever experienced. I'm at the end of the Ocean Drive promenade, shaded by palm trees, watching people come to and from the beach, while others make their way up and down the promenade past the legendary row of art deco hotels, restaurants, bars, and cafes.
Before sitting down to write, I spent the day enjoying the scenery and atmosphere of the beachfront neighborhood that's just as incredible in person as it looks in the movies. It truly does feel like something off the silver screen, and that's before the sun's even gone down.
Two meals of Belgian waffles for breakfast and fish tacos for lunch have been thoroughly enjoyed, and once the sun sets and the promenade is awash in neon lighting, I'll have another tough decision to make of which of the seemingly hundreds of restaurants to indulge in. It truly is a place you could go block to block, experiencing every culinary location South Beach has to offer.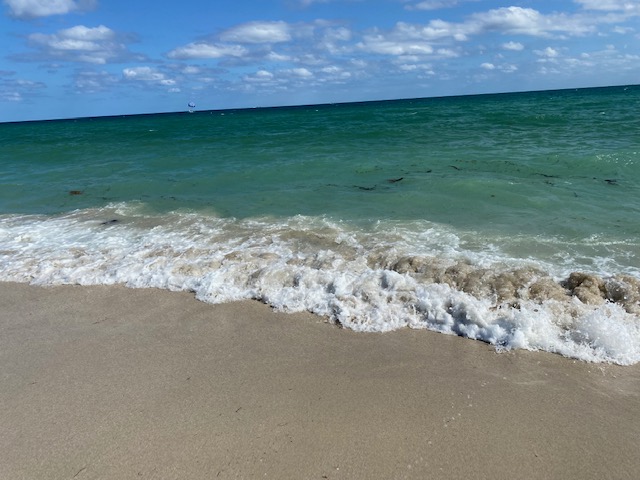 Along with the great dining and scenery, obviously, the beach itself is the main attraction. Miles of soft sand, warm crystal blue ocean waves, and sidewalks full of people biking, rollerblading, scooting, skateboarding, running; you name it. It's an incredibly active, vibrant beach. If you're a fan of beach culture and for whatever reason have never been to South Beach, change that right now — it's truly a scene that must be experienced.
As for the evening, yup, it's as incredible as you'd imagine. As cool and stylish as Ocean Drive is in the day, once it's lit up with bright warm colors, it's a sight to behold. I'll just let these pictures tell the story.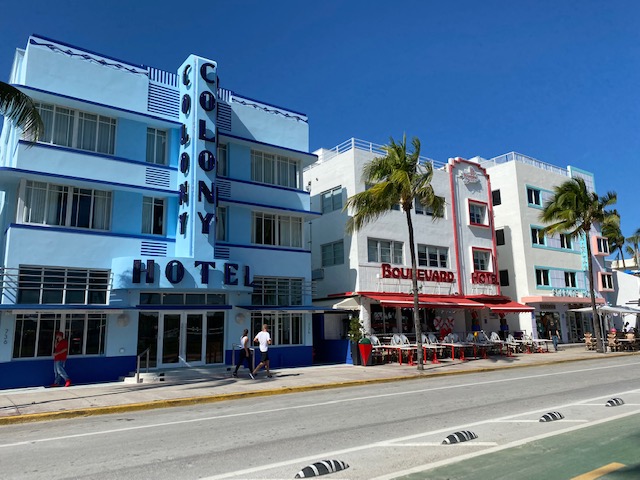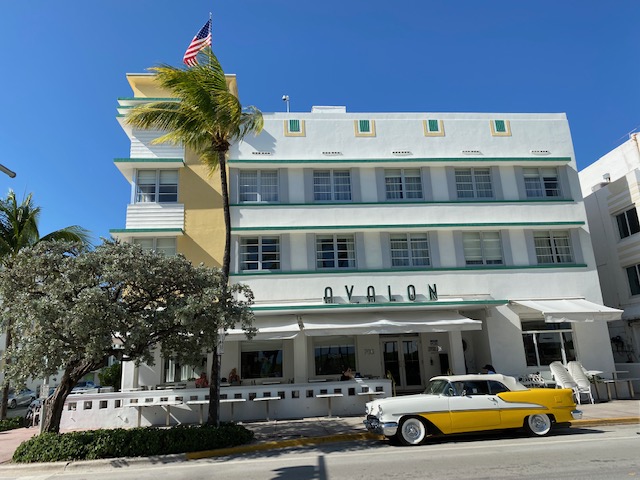 The South Florida Sports Scene
As a huge sports fan, there was no way I was missing the opportunity to check out the hottest ticket in Miami, the red-hot Dolphins. South Florida loves a winner, and while the Heat, Panthers, and Marlins are also on the sports scene, this is a Dolphins town, and with them in the midst of their most exciting season in years, teal and orange is everywhere. I needed to be a part of it.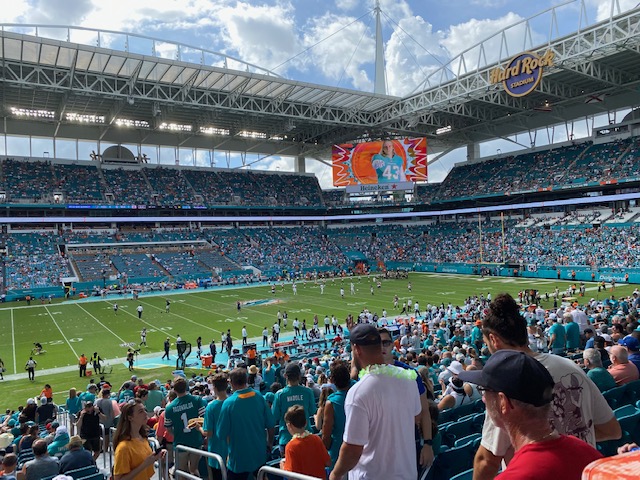 Fortunately, my good friend Chad Holloway who was also here for the tournament series happens to be a huge Dolphins fan, so I couldn't have asked for anyone better to join me.
We made our way there via a roughly 25-minute Uber trip and got there in time for some tailgating with the hordes of Dolphin gear-clad faithful. From there, it was into Hard Rock stadium, one of the nicer stadiums I've seen with plenty of amenities and surprisingly short lines given the number of fans at the game.
The game itself was a blowout for the good guys, as the 'Fins led 30-0 by halftime on a sweltering sunny day. The atmosphere was amazing for that first half, with fans having plenty to cheer for and repeated announcements of 'another Dolphins first down… HUAAAA!' filling the stadium.
The second half was notably quieter, with the game well in hand, and a slight feeling of exhaustion from tired fans who had exerted a lot of energy in that first half while their team ran up the score.
The home team held on for a 30-15 win sending fans home happy, with many of them calling it a day early. That first half provided all the excitement needed however, as my first Dolphins game was one I certainly won't forget.
The night before was also filled with sports as, courtesy of live reporter extraordinaire and South Florida resident, Mickey Doft, we were gifted with his pair of season tickets for the NHL's Panthers.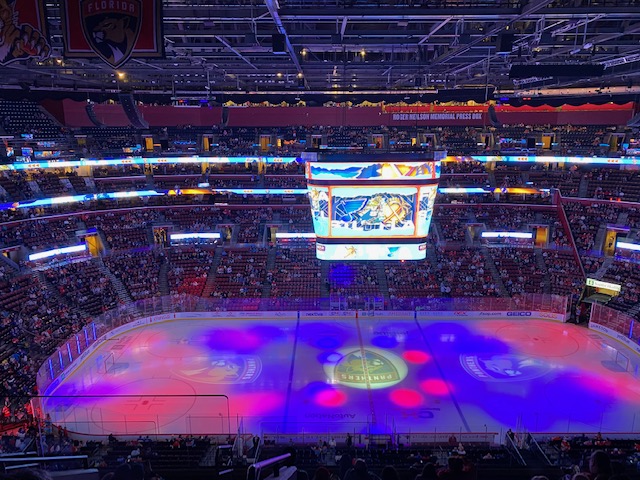 The Panthers arena is also just a short car ride away from the Seminole Hard Rock Hollywood Hotel and Casino, making it another very accessible option. While another good time was certainly had, the Panthers fanbase isn't as rampant as the Dolphins, with the arena maybe two-thirds full.
Unfortunately, the game ended in disappointment with a 5-4 overtime loss to the St. Louis Blues after the home Cats had the crowd jumping in the first period with a 3-0 lead.
Panthers tickets come in at a much lower price point, and as a proud Canadian, I'll never say a bad word about going to a hockey game, so if you're up for a cheaper night out for some live sports in South Florida, the Panthers are certainly the way to go.
The Player Party
The WPT can throw one heck of a party!
On Saturday night, RRPO players and media (myself included) gathered in one of the Seminole Hard Rock Hollywood's classy lounges for a rockin' party with tasty beverages and high-end cocktails, delicious hors d' oeuvres that included amazing Wagyu beef skewers, and plenty of good company.
It was a great opportunity for folks to mingle and blow off some steam after grinding through the early days of the tournament, with some blowing off more steam than others, as there may have been reports of players gleefully dancing on tables as the party found its way into the wee hours.
It truly isn't a party until someone's on a table!
Cruising South Florida
I had heard from multiple sources while here that South Florida traffic was something to behold. Now coming from Toronto, where traffic is pretty gross there, this would have to really be something.
It was, but you know what, so long as you're on a scenic route, and I guess not having to deal with it on a daily basis, I really didn't mind it!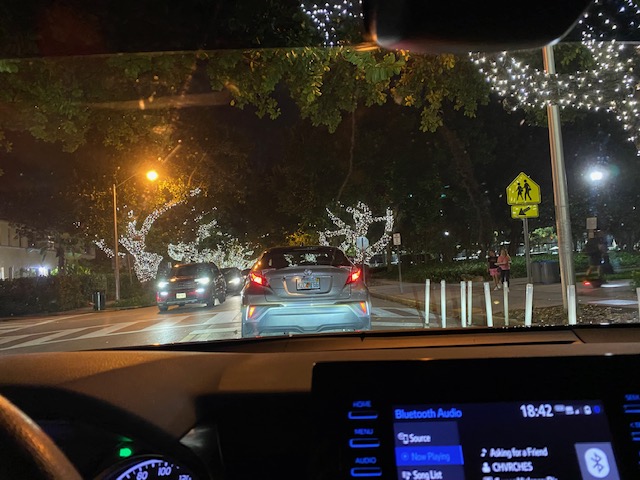 For my drive from Hollywood to South Beach, instead of taking the I-95 freeway down inland, I went east to the coast and took the famous A1A Beachfront Avenue that young Mikey had heard about in the lyrics to the 90s classic, Ice Ice, Baby. (Word to your Mutha!)
It was a very cool drive down into South Beach, passing the multitude of glamourous beachfront condos and surfside towns. There were indeed some Lamborghinis, I'm not sure if they were driven by "Rockman lovers", but the Lambos, Ferraris, and other expensive vehicles were plentiful.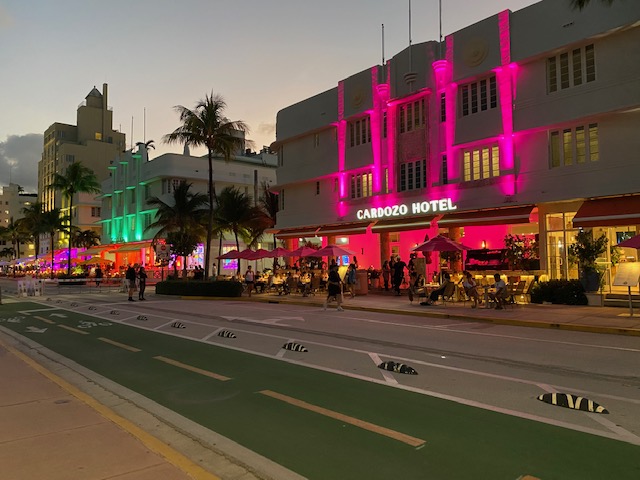 The trip home was even more filled with traffic despite my departure from South Beach around 8 pm. But again, with plenty to see that kept my head on a swivel while crawling west across the A1A toward Miami and the I-95 north, I was just fine with it.
The Miami skyline is an incredible site from any of the westbound bridges across Biscayne Bay, with several small islands in the bay home to some of the largest and most incredible-looking mansions you could imagine.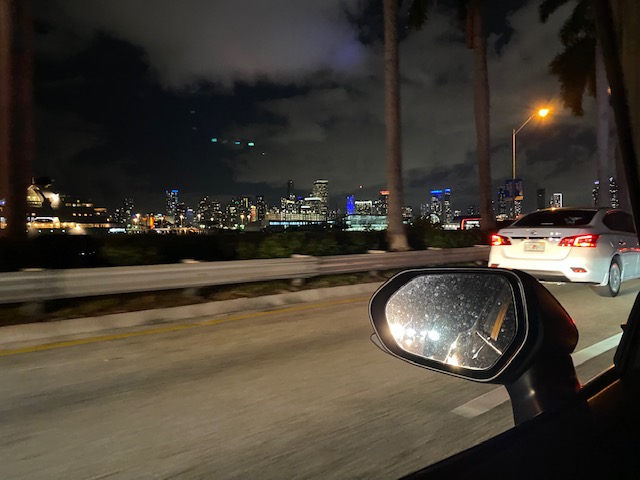 Experience it!
While any great resort has a ton of outstanding amenities to keep its guests happy, which the Seminole Hard Rock Hollywood certainly does (and that I'll discuss in my final article from my time here), a trip off-property for some exploration is a must. Especially in a location such as South Florida with so many options for any kind of adventure. I'll eagerly be anticipating my next trip here to discover even more!
The latest High Stakes Duel on PokerGO promises to be an absolute classic as Phil Hellmuth and Jason Koon go head-to-head with a massive $1.6 million on the line. This should be a fascinating display of Apex Predator mindset against GTO strategy as two friends from polar opposite worlds within the poker industry clash under the bright lights of the PokerGO Studio.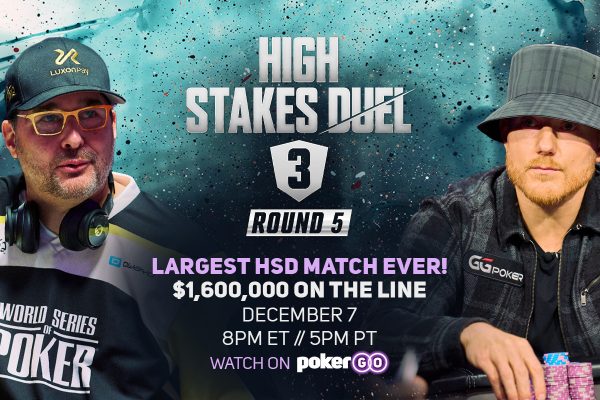 Taking on the Champ
Coming into the match, Phil Hellmuth and Jason Koon might seem easily matched, but while Koon will be shooting for a win in order to progress to the next round, this game is everything to the 'Poker Brat'. Hellmuth can essentialy cash out $1.6 million in profit from his efforts in the High Stakes Duel format if he wins, and that could be the driving factor in how the match plays out.
Hellmuth's record in this format is ludicrously good. Winning all three rounds against Antonio Esfandiari to kick off his streak, he did exactly the same to Daniel Negreanu before a one-off victory against Nick Wright saw him go 7-0. Against Tom Dwan, Hellmuth didn't get everything his own way, but after all was said and done he ended up ahead, with a current record of nine wins and only one loss to Dwan blotting his copybook. Even that saw an unfortunate play-out in the final hand deny his pocket aces as Dwan's nine-three made two pair.
After that loss to Dwan and subsequent recovery, Hellmuth took down Scott Seiver to put himself within one match of being able to walk away with a seven-figure score. Round 5 of the High Stakes Duel III match is therefore the biggest single heads-up match in the High Stakes Duel format to date, and one of the biggest single showdowns in poker history as a result.
The match takes place on Wednesday December 7th, with action kicking off in the PokerGO Studio at ARIA in Las Vegas from 8pm Eastern/5pm Pacific). The $1,600,000 match sees both men put up $800,000 apiece. If Hellmuth wins, then he can cash out $1.6 million.
Could Koon Be King?
A lot has been said about Phil Hellmuth in terms of this format and rightly so. Not only has the Poker Brat won nine out of 10 High Stakes Duel showdowns, but his 16 WSOP bracelets point to a superb knack that the 58-year-old has of seeing out the victory when he's down to the final two.
Jason Koon's heads-up record in ranking events is excellent, too. Plus, he has won so much in poker tournaments that he currently sits above Hellmuth on the all-time money list and in the top 10, with over $40 million in career  tournament earnings. At the 2021 World Series of Poker, Koon won Event #11, the $25,000-entry Heads-Up No-Limit Hold'em Championship. In doing so, he won his maiden WSOP bracelet, but beyond that he announced his prowess in the end game to the world.
If Hellmuth wins Round 5 of High Stakes Duel, the money likely goes with him. A victory for Jason Koon, however, and the latter will have the opportunity of starting a run that will be remembered as prominently as Hellmuth's as the stakes rise. Anyone taking on Koon after a potential win would have to put up $1.6 million of their own money. Hellmuth would have first refusal, but it seems unlikely he would take up that offer.
How Will the Match Be Won?
Every Phil Hellmuth High Stakes Duel match to date has followed a rhythm of the Poker Brat counter-punching his opponents, using their styles to inflict the most damage to their stacks. It's a tried and tested way of playing that has served the 16-time bracelet winner so well over a career spanning three decades at the top, so how can Jason Koon stop him?
Koon's own style is highly influenced by recent methods. Study, GTO (Game Theory Optimal) play, and table control are all areas in which the 37-year-old West Virginian has proved his poker chops. At 21 years younger than Hellmuth and immensely physically fit, Koon's stamina will be bulletproof on the night and a long match that goes on into the night will not faze him.
The same can be said of Hellmuth. When the stacks get shallow, Hellmuth's innate ability to know when to risk it all and mix it up serve him well. For that reason, Koon may press for an early advantage knowing that if he can apply more pressure to Hellmuth than he himself has to deal with, it will stand him in good stead for the win.
If you're a PokerGO subscriber already, you will be looking forward to battle commencing in seven days' time. If not, here's how you can get involved.
Casino Intense is a popular and action-packed casino. It offers a number of different game types and has over 150 games available for players to play at their convenience. Casino Intense is ideal for players looking for an online casino experience with more than just slots and jackpots, but instead an environment that provides a variety of slots to choose from on top of all the other goodies that come with a typical online casino. Here are seven things you need to know about Casino Intense.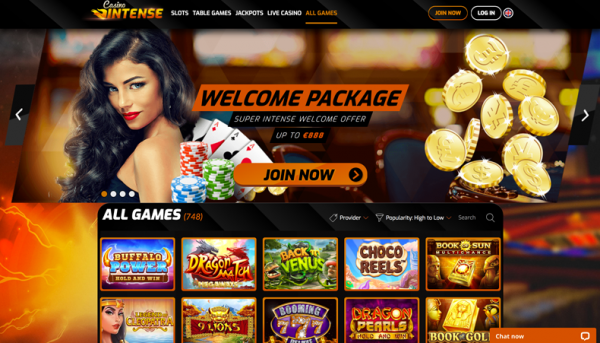 1. Games and Software
Casino Intense offers hundreds of games for you to play. There are traditional Jackpots, Video Slots, and plenty of card games (blackjack, poker, etc.) that offer a healthy blend of old and new games. The software provides several free versions of some games, allowing you to get a feel for them before you begin playing for real money. Along with hundreds of different games, Casino Intense offers more than 50 different chat rooms. While this may seem like a lot, many other online casino software programs only have 10 chat rooms available to their players. That said, there are an impressive number of slots and other games available without any need for downloads or complicated registration timelines required.
2. Quantity and Quality of Games Provided
The quantity and quality of games are impressive and will surely appeal to many players. The Casino Intense list of games is broken up into different tabs, each offering another game type. For example, Table Games are an amusing way to pass the time and deliver almost two dozen different games for players. You can't blame Casino Intense for wanting to provide their players with a variety of options! Additionally, there is a wide range of video poker games on offer, with many variations of the most common poker games, including Deuces Wild, Tens or Better, and Joker's Wild.
3. License Check
The Central regions of Malta license Casino Intense, which is regulated under Maltese gaming laws. Players are not required to enter personal information when registering with Casino Intense. You can access all the games with your username and password. Beyond that, as Casino Intense operates under a European license it is reviewed annually by independent assessors.
4. Wagering Requirements and Limitations
The wagering requirements are much lower with Casino Intense than with other online casinos. The casino software offers several different bonuses for players to enjoy and the wagering requirements for the deposit bonuses range from 20x-60x. Additionally, the limitations are relatively low. The maximum wagers per hour can only be set at 10,000 credits which are pretty standard compared to other online casino software programs.
5. Bonuses and Promotions Compared With Other Casinos
The bonuses and promotions offered by Casino Intense are fair, but they don't match up with the bonuses and promotions offered by other online casino software programs. Their offer includes 20-80% deposit match bonuses, which are worth looking into, as if you get lucky you can double or even quadruple your initial deposit amount. The casino software offers two welcome bonuses worth $400; this is just a tiny taste of what players can enjoy here.
6. Unique Features
Several unique features are inherent in the Casino Intense casino software. This includes the Chat Play option, allowing players to play video slots from within a chat room. These games have been modified so players can play them without downloading any games onto their computers or mobile devices.
7. What Could Be Improved
The Casino Intense casino software does not need to be improved. It already offers a wide range of options for players, including the ability to deposit with credit cards. The casino software also offers players great flexibility when it comes to playing the games on offer, so there is no reason why it should be improved significantly.
Casino Intense is a great casino software with many games to choose from. It offers more than just slots, and the wagering requirements are low compared to many other online casino software programs. Casino Intense software could be better, but it does offer an impressive amount that players can enjoy upon registration with them.
What to expect
The main thing I noticed when I logged into Golden Crown's website is its elegance and simplicity. It has a stately green background with black woven in. To keep the name's theme, the website is written in golden letters with some white words here and there.
The website is easy to use and navigate, and I could spot everything I wanted from the homepage, like game category links and the live chat feature. Everything also loaded swiftly, and every feature I needed to access was pretty easily to navigate to.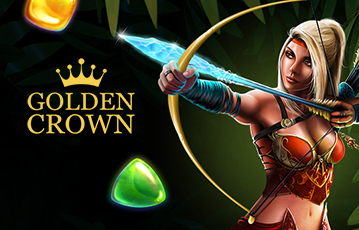 Games and software
The casino's lobby is intriguing, with many different, unique games on offer. They usually update their lobby, adding new and hotter games often to keep their player base interested and ensure they cater to all their players.
The game categories include slots, live casinos, roulette, card games, and table games. They also have jackpots and tournaments like the weekly tournament and non-stop drop that players can play to break the monotony from other games.
Players can easily select their favorite games to play, as well as use filters to navigate to all sorts of games via the way they are categorized on the site (new, popular, etc.)
Golden Crown has done a lot to stand out from other casinos, and one way they have done that is by using relatively small industry software providers. This has given them a unique mixture of offerings from providers like iG Tech, Lucky, Authentic Gaming, Play Reels, BGaming, and Belatra Games.
Games quality and quantity
One of the things I noted about the quantity of games on Golden Crown Casino is that they offer fewer than other online casinos. Within that number, their slots category has the most games, with over 130 titles. In total, they have over 2,500 games you can play with some enjoyable classics guaranteed to take every player nostalgically back in time.
License check
Golden Crown is owned by Hollycom N.V., a company registered under Curacao Laws. Its registered address is Heelsumstraat 51, E-Commerce Park in Curacao, and its registration number is 144359.
The government of Curacao registers it as an information provider to conduct gaming operations from the country. It also has remote supervision and licensing from Antillephone N.V.
Wagering requirements and limitations
The wagering requirement for their welcome bonus is 40x the player's deposit and bonus total, and the maximum the player can bet for the wagers is $1, which is low compared to other casinos.
Bonuses and promotions
After the first deposit, the casino offers a 100% bonus of up to $1,000 plus 100 free spins. For players using Bitcoin, the bonus is usually 100mBTC, higher than some other online casinos.
They also have a reload bonus available to depositors every Friday through to Sunday. The bonus is usually a 50% match up to 100 BTC or $1,000.
They also have a VIP program that comes in the form of points. Players gain points by playing slot games, moving players up six status levels with several benefits. Players can also redeem their points for cash.
Advantages
It has many payment options, including AUD, USD, Euro, Skrill, Visa, MasterCard, Bitcoin, Tether, Dogecoin, Bitcoin Cash, and Ethereum
It offers customer support via email and live chat. It also has a detailed FAQ section, plus several informative articles on the site
It is compatible with Android, iOS, and Windows
Downsides
The casino is only accessible in English
Improvements
The main thing I spotted that needed improvements was their game selection. While they have a good selection, it is less vast than other casinos online offer and could become boring, especially for frequent players.
They should also make their live chat available 24/7 for more accessible communication without players having to leave the site. They should also make their VIP program more rewarding.
Technology is opening new doors to new markets. The sports betting and online casino industries have developed digital platforms for betting from home, as well as countless payment methods to ensure the convenience of the process. As well as new companies accept gambling with BTC directly on their platforms.
The trend in the cryptocurrency world has been to provide multiple options to send and receive money safely and quickly. It is because of this that online casinos have introduced the use of a wide variety of cryptocurrencies for transactions.
Digital currencies such as Bitcoin, Tether, Ethereum and Ripple guarantee fast payments and withdrawals with little or no fees. To find out which ones are most popular at CoinPlay's best online casino, read on.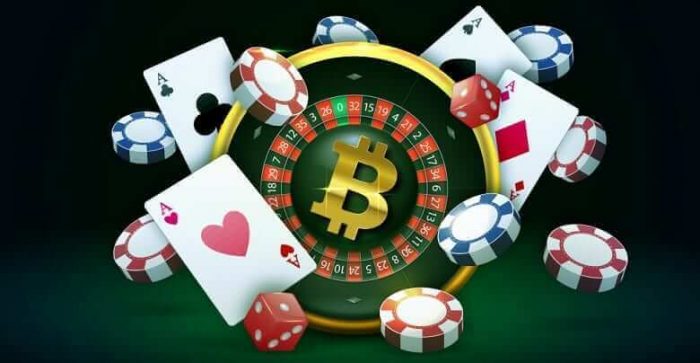 Cryptocurrencies for Betting
Online casinos are recognized as safe gambling platforms for real money gambling. Various payment gateways are available for users to move funds within the platform. It is appropriate that these options have a good reputation and reliability, just like cryptocurrencies.
Based on the different characteristics, you can easily determine which coin is best for you to start betting online. You can choose the best coin to play depending on what factors matter most to you:
If you're a player looking for more security or popularity? Then Bitcoin or Ethereum might be your best bet.
Prefer a stable coin that doesn't lose value? Then check out Tether.
Need privacy? Monero is the most untraceable.
Unlike fiat currency, cryptocurrency has many more options, depending on what characteristics are important to you.
Once you decide which coin is best for your needs, you can determine where to play by searching online casinos that offer a variety of coins and good bonuses. Casinos like CoinPlay currently offer most of these coins as an option to play and have trustworthy reviews. You can make your first cryptocurrency bet at CoinPlay today and enjoy playing many popular games such as slots, blackjack, roulette and dice.
That said, just as cryptocurrencies are offered as payment and withdrawal methods in casinos, more traditional alternatives are also available. Credit or debit cards, bank transfers and digital wallets are other forms of payment.
Best Crypto Casinos
Before you consider depositing money to play at an online casino, it's worth taking a look at the best crypto casinos. Evaluating aspects such as reputation, license to operate, payment methods, and catalog of games to participate will allow you to make your choice with more accuracy.
Some of the best casinos that accept cryptocurrency:
CoinPlay: best bitcoin gambling casino, with huge number of online casino games, secure platform, licensed. It stands out for its mobile app and promotions such as a welcome when depositing cryptocurrency. An impressive list of cryptocurrency support including the most popular ones: Bitcoin, Tether, Ethereum.
Winz.io: It is popular because of its large gambling section. The payment methods are safe, as are the game providers who guarantee unbiased results.
Thunderpick: Founded in 2017, Thunderpick has positioned itself as the best online casino to play with cryptocurrencies due to its numerous bonuses. Available in more than 7 languages and with certified games.
Betting at the proven online casino guarantees an extensive library of certified games, secure payments and numerous promotions to take advantage of. Don't forget to evaluate the casino's reliability and license before depositing funds.
How Cryptocurrency Changes Online Casinos
The benefits of cryptocurrency for online casino gaming are so fundamental and significant that it is simply amazing how the online gambling industry existed and even flourished before bitcoin came along.
Speed of Transactions
To make deposits and withdrawals via payment cards (VISA, MasterCard), the vast majority of online casino players use payment cards. If you deposit in the casino in this way, the funds are usually received almost instantly, but when it comes to cashing out winnings, the player may be in for an unpleasant surprise in the form of a long delay.
When it comes to cryptocurrency, there is no one on the way from the casino to the player's crypto wallet, hence, no one can deliberately delay your money.
Variety of Games
As a rule, many online casinos don't create games themselves, but buy them from third-party developers, which makes the cost and time of creating a gambling site much cheaper.
But with the advent and spread of cryptocurrencies, online casinos are increasingly developing their own games. Because, firstly, cryptocurrency payment functionality is easier to integrate into games, and secondly, users are attracted to exclusive games that are not available on other sites. Moreover, the game concept can be the same, but the implementation differs from site to site.
Conclusion
In addition to the coins listed above, online casinos and players also use other preferred coins for gambling, these include: Tron, Monero and Cardano. Tron is a blockchain-based cryptocurrency for gambling. And, like some other coins, it is mainly used for online gambling. Monero has guaranteed privacy, which is why players love it.
Of course, these are some of the popular coins that players use for online gambling, but there are still quite a few in the world that online casinos accept as payment and transactions. You can check some CoinPlay sites to see if the popular coins are increasing in value over time and are not too volatile.
The holiday season is upon us once again and you can almost feel the difference in the air. People are smiling a little more often. We go a little further out of our way to be nicer to each other. It's just a joyous time of year, when so much is done to spread the holiday cheer.
For the seventh consecutive year, Cardplayer Lifestyle is proud to do precisely that by offering you, our readers, this Holiday Gift Guide for Poker Players. As always, there's a lot to give thanks for. I, for one, am grateful to continue this annual tradition as I look back on what's thankfully been another successful year both personally and professionally.
We always try to put together an eclectic mix of poker-themed products, services, and paraphernalia, and this year was no exception. In the guide below you'll find a number of new, creative entries on our list as well as some annual stalwarts with top-tier wares to proffer.
Whether you're looking for the perfect gift for your poker-loving partner or, alternatively, just want to treat yourself to something nice, be sure to take advantage!
We hope you enjoy this year's guide!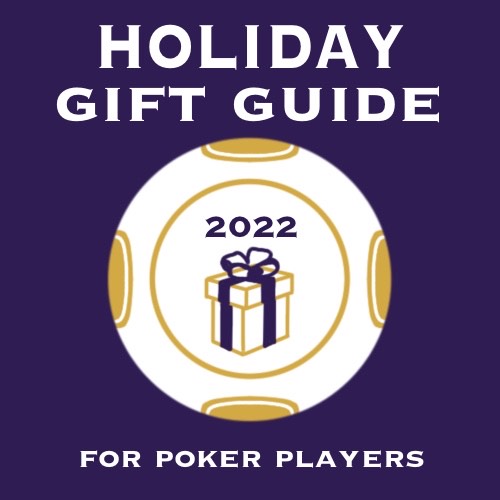 SKIP TO: 1. D&B POKER BOOKS | 2. THE GTO+ RANGES APP BY RED CHIP POKER | 3. CUSTOM ENAMEL POKER PINS | 4. POKERCODE | 5. BBO POKER TABLES | 6. RUN IT ONCE TRAINING | 7. HALL OF FAME POKER ROOM | 8. RUNGOODGEAR APPAREL | 9. THE POKER COURSES VAULT | 10. POKERGO SUBSCRIPTION |
---
D&B POKER BOOKS
D&B Poker is the leading poker book, ebook, and audiobook publisher in the world. With over 40 poker books in print, many others in production and 19 audiobooks, D&B is where poker players go when they want the highest quality content, written by the most respected authors in the poker world.
Some of their bestsellers are pictured and described below.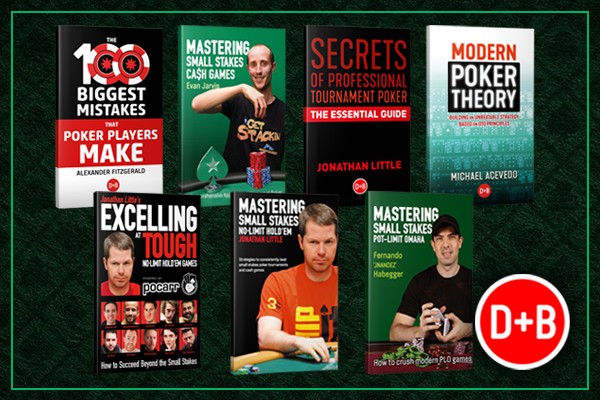 Modern Poker Theory – acclaimed by many as the best poker book ever written, Modern Poker Theory, has made an impact that few poker books ever have. this truly remarkable book is the ultimate guide to no-limit hold'em poker based on GTO principles.
Secrets of Professional Tournament Poker: The Essential Guide – a landmark in poker publishing and undoubtedly THE definitive guide to tournament poker.
The 100 Biggest Mistakes that Poker Players Make – written by highly experienced professional player and leading poker coach, Alexander "Assassinato" Fitzgerald.
Mastering Small Stakes No-Limit Hold'em – Jonathan Little constructs a basic strategy to crush small stakes games and also identifies the adjustments that need to be made when facing more competent opposition.
Mastering Small Stakes Pot-Limit Omaha – a thoroughly comprehensive guide that will give you all the tools you need to gain a huge edge at lower stakes play.
Jonathan Little's Excelling at Tough No-Limit Hold'em Games – a must-have book if you have ambitions to move up the stakes.
Mastering Small Stakes Cash Games – Renowned poker coach Evan Jarvis shows you how you can achieve your goals to become a better cash player.
D&B books can be purchased through all retailers. Their books, ebooks, videos and audiobooks can be purchased directly from their website: D&B Poker
All of the company's books make for excellent stocking stuffers, so be sure to treat yourself to some of their finest, most popular titles this holiday season.
---
THE GTO+ RANGES APP BY RED CHIP POKER
Not all preflop ranges are created equal. Solid GTO poker charts are both complex to set up and costly to run, and that's before trying to visualize them!
This is why the team at Red Chip Poker spent more than a year developing The GTO Poker Ranges App. This app was released in 2022 with a complete suite of preflop ranges for 6max and live cash game players, along with tournament ranges – and the app has only gotten better.
Since launching, Red Chip added the "world's-first" most complex live GTO solve allowing for multiple callers which took the server multiple months to compute running 24/7 on a custom server with 2TB of RAM (not a typo!). There have also been two additional tournament GTO solves added for both 40bb and 60bb stack depths.
Red Chip's server is still running and there are new ranges slated to be released in 2023, including solves for straddle pots and additional tournament ranges too. The free version of the app includes all open-raising ranges, and the paid version gets you everything from preflop calls to 3-bets to 5-betting ranges.
Learn more about The GTO Poker Ranges App here, or search for it in your Android or Apple app store.
---
CUSTOM ENAMEL POKER PINS with FREE DESIGN SERVICE
Poker is a way of life, not just a hobby or a career. If you have a friend or relative who loves to play poker, or earns a full-time living at it, honing in on multiple poker tables or online poker rooms every night, often sacrificing money, comfort, and sleep in pursuit of their dreams, they're very important to the World Series of Poker. As much as the rest of us focus on the Super Bowl, the World Cup, or the Oscars.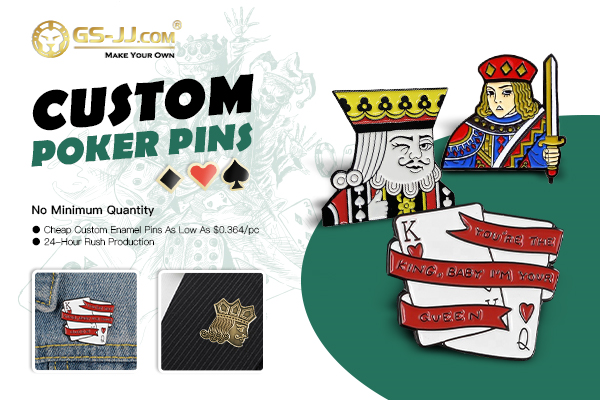 The ideal gift for poker players is not only to express their passion but also to make a stressful lifestyle easier, more fun, and more comfortable. High-grade customized lapel pins – these have a unique process of hand sanding to a glossy finish. Besides the delicate surface, the enamel is vibrant, giving people a sense of noble luxury. The price is also very affordable. This material is widely used in the company's high-end pins, high-end commemorative pins, high-end collection pins, etc.
GS-JJ.com is an enamel pin manufacturer with 20 years of production experience. Order No Minimum Hard Enamel Pins from them and enjoy the best quality and factory direct prices. Custom enamel pins made by them are of the highest quality and are made exactly to your specifications. Card dice and poker chip pins as well as a variety of hobby and interest pins support a free design service. Let them make your poker tournament and personalized card pins, allowing your recipient to add a sign of his/her passion for poker to the pin, perfect for poker players, poker tournaments, or event volunteers!
---
POKERCODE
Treat yourself during the holiday season and take your game to the next level with Pokercode. The mastermind behind this powerful all-in-one poker solution is none-other than Fedor Holz.
Pokercode is way more than just a poker course. It combines all the building blocks of successful poker in one place: Premium poker content, live coaching by some of the game's best, excellent ranges, and at the heart of it all access to the exclusive Pokercode community.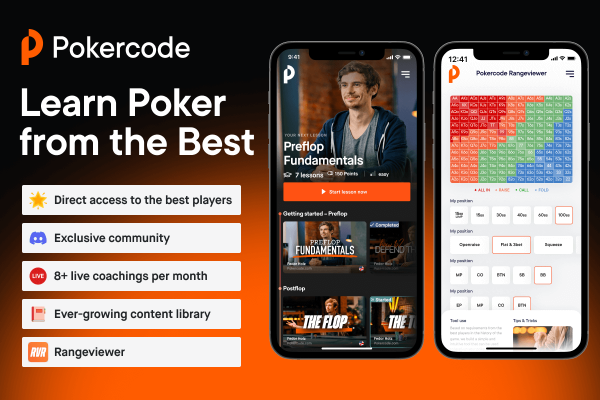 On their buzzing Discord server, you can talk strategy with thousands of members and take on challenges to drill preflop and postflop spots. You can also take part in community events and free home games (with nice prizes). But most importantly, you have direct access to your mentors Fedor Holz, Matthias Eibinger, and Steffen Sontheimer.
You can fuel your poker development with not one but two top-of-the-line masterclasses. Tournament poker is covered by strategy wizards Eibinger and Holz, whose track records speak for themselves. Cash games are taught via a unique holistic approach designed by Sontheimer, the Purple Jacket Winner who has been crushing the games for years.
Everything is rounded out by multiple world-class live coaching sessions every month, which range from streamlining your fundamentals to taking a deep dive into advanced concepts. Pokercode covers both online and live play, regular tournaments, and knock-out formats to give you an all-around poker education to excel in every area.
---
BBO POKER TABLES
The ultimate thoughtful and lasting holiday gift for the poker player in your life is a personalized BBO poker table. BBO is the leader in customized poker tables and their tables are guaranteed to invoke table envy!
Choose from the largest selection of armrest materials, custom layouts, and accessories to create your own dream poker table, hand-built in Las Vegas. They are the only poker table company that offers free shipping and a lifetime guarantee and have been powering unforgettable poker nights for over 15 years.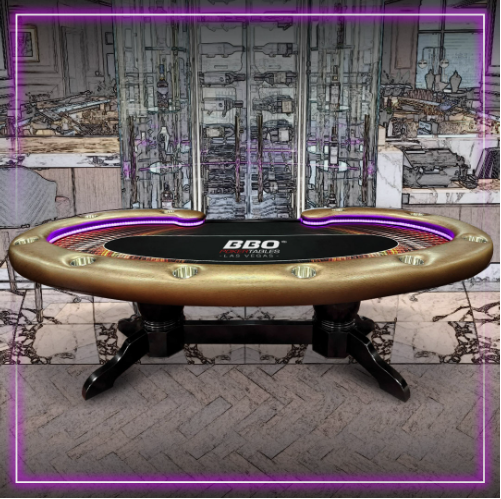 Your BBO poker table will utilize exclusive materials and can even feature customized layouts as well as hi-tech built-in USB chargers. They've been recognized as the premier supplier to many of the biggest names and events in poker, including the World Poker Tour!
They are currently running holiday specials for a very limited time so head over to BBOpokertables.com and build a dream table for the special poker player in your life, or for yourself!
---
RUN IT ONCE TRAINING
If you want to start taking your game seriously in 2023 you'll find everything you need to back up your commitment at Run It Once Training. Launched in 2012 by high stakes legend Phil Galfond, Run It Once has always been the place for dedicated poker players to advance to the next level and stay ahead of their opponents.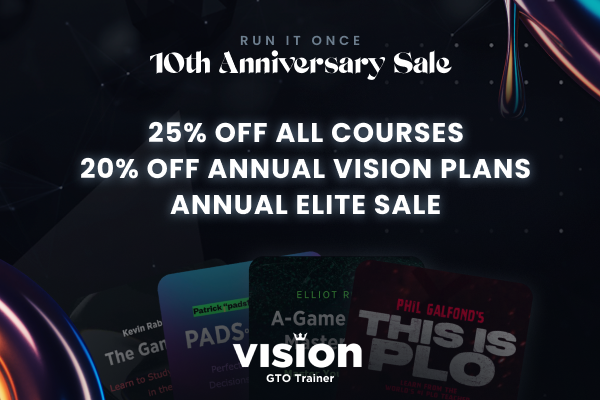 The slogan 'Train With the Best' doesn't only reflect that you'll learn from the highest tier coaches like 2022 Main Event Champion Espen Jorstad, Kevin Rabichow, or Phil Galfond himself. It also means you'll benefit from a community of students that have the highest aspirations in poker and are often professional players themselves.
Members of Run It Once Training Plans get access to an expansive library of over 7,200 training videos, with two brand new videos every single day to make sure you're always learning the newest strategies. No matter which form of poker you play or which area of your game you need to work on, Run It Once has you covered.
Just starting out in poker or want to transition to a new game format? Run It Once Courses were specifically designed for new players who want to start learning poker from the beginning, the right way. The courses follow a carefully crafted learning journey until you have the proper foundation you need to expand your game to the highest levels.
All of these courses and many other products are on sale until Thursday, December 1st, so don't miss your chance to save 20-50% on some of the best educational material available. All you need to do is enter and apply the code happy-birthday at checkout.
---
HALL OF FAME POKER ROOM HORSESHOE LAS VEGAS
The Hall of Fame Poker Room at Horseshoe Las Vegas, home of the World Series of Poker, features 18 tables and offers many exciting varieties of live poker suited for the recreational poker player or the seasoned veteran.
You are sure to find your favorite with games ranging from $1-$3 to $5-$10 No-Limit Hold'em, $3/$6 and $4/$8 Limit Hold'em as well as Pot Limit Omaha and Omaha Eight or Better.
Our High Hand Madness promotion pays $200 every 20 minutes for the highest hand of that period of time.
Players earn $1 per hour and 17 tier credits for $1/$3 No-Limit Hold'em and $3/$6 Limit Hold'em, or double that at $2 per hour and 34 tier credits for any game $2/$3 No-Limit Hold'em and above.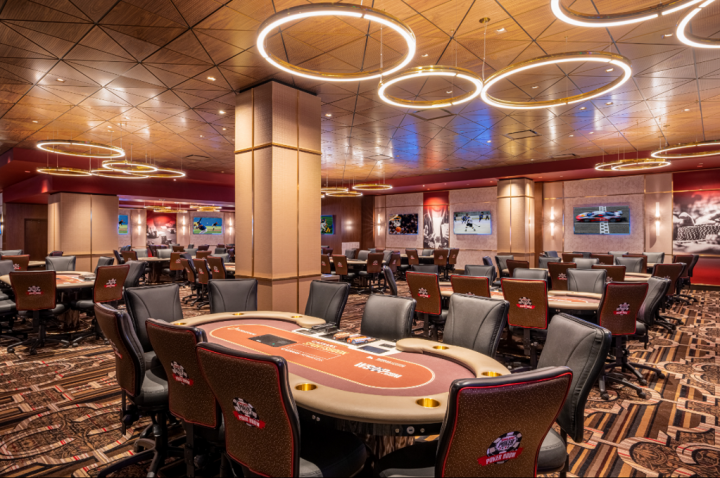 Test your luck with six exciting tournament times daily, highlighted by our Horseshoe Saturday Special with a $5,000 guaranteed prize pool.
Call 702-976-4403 and get your name on the Hall of Fame Poker Room waiting list this holiday season.
---
RUNGOODGEAR APPAREL
RunGoodGear is poker's premier clothing line for apparel both on and off the felt. Based out of Tulsa, Oklahoma, and founded by Tana Karn in 2012, our clothing line goes hand-in-hand with the two-time Global Poker Award-winning RunGood Poker Series, where we do regular apparel giveaways to some of our events.
We carry your favorite items including our ultra soft flagship RUNGOOD Classic tees in a multitude of colors and sizes up to 4XL, priced at $20 across the board for all sizes (some long sleeve T-shirt options are available as well). We also stock a variety of sweatshirts including hoodies, crewnecks, full zips, and quarter zips in plenty of colors and styles that are all priced at $50. Our hats are a top-selling item and we have both flex-fit and snapback mesh back trucker cap options, and those are $25.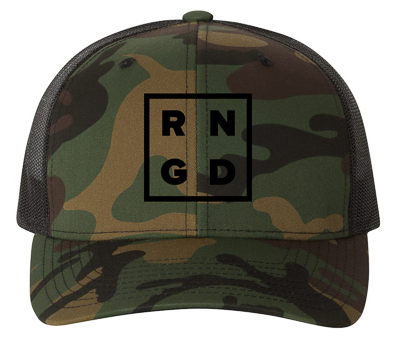 We pride ourselves on staying stylish and comfortable while remaining affordable to low-stakes NLH poker room grinders. We also offer a few other items like golf shirts, drawstring bags, and Oakley brand backpacks.
Use code RUNGOODFREESHIP for free shipping on all orders placed within the United States!
---
THE POKER COURSES VAULT (FROM SPLITSUIT)
There are few poker coaches more prolific than James "SplitSuit" Sweeney. From his VLOG to his hosting of the Red Chip Poker podcast to his excellent free poker quizzes – you'll find training content for all cash game players.
So SplitSuit bundled up all of his best courses and put them together inside of a membership he calls "The Vault". Vault includes 24/7 streaming access to courses like The Hand Reading Lab, The One Percent, The Mental Advantage, and more.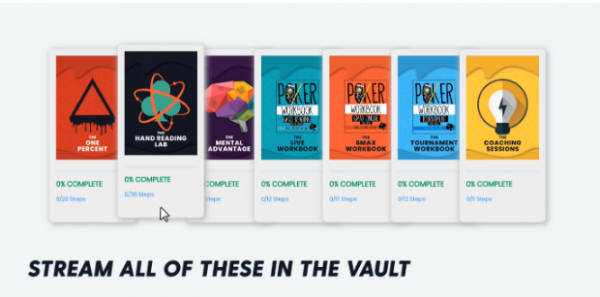 Instead of paying hundreds of dollars per course, you can study everything for just one monthly price. On top of the courses, you also get access to a private Discord server, homework, and pay nothing extra for new books & courses he releases in the future.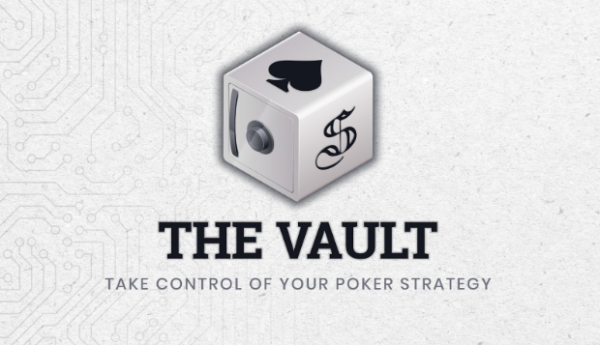 Join The Vault today and take control of your poker training for 2023.
---
POKERGO SUBSCRIPTION
If you are looking for the perfect poker player gift, or just want to treat yourself this holiday season, look no further than a PokerGO subscription. Think of PokerGO as the Netflix of poker. Home to the iconic High Stakes Poker, poker's hottest new show No Gamble, No Future, World Series of Poker live broadcasts, and an enormous portfolio of live and on-demand content, PokerGO is an absolute must-have for any poker enthusiast.
PokerGO offers monthly, quarterly, and annual subscription plans. The best deal is an annual subscription. At a regular price of $99.99, a PokerGO annual subscription breaks down to less than $9 per month — less than the price of two grande peppermint mochas for all you Starbucks lovers out there. But, for a limited time, Cardplayer Lifestyle readers can get an even better deal.
Purchase a new PokerGO annual subscription using the promo code CPLHOLIDAY2022 at checkout to save $20 off the regular annual price. That will give you the gift of unlimited PokerGO access for $79.99 for the year, which comes to less than $7 per month. If you're already a PokerGO subscriber on a monthly or quarterly plan, you can use the CPLHOLIDAY2022 discount code to upgrade to an annual plan for some cost-saving.
The best holiday gift for a poker player is a PokerGO subscription. Head to get.PokerGO.com to purchase one today.
*Ed. note: Enter our contest to win a FREE 1-year PokerGO subscription. Details here.
Raminder Singh may not be a name known in the poker echelon along the likes of Hellmuth, Negreanu, or others, but his success in his section of the poker world is unmatched. With a trophy case that contains a whopping 74 titles, just under $2,000,000 in career tournament earnings, and many other accomplishments, including a win at the RunGood Pro-Am last fall, "The Raminator" is one of the most successful players in Florida's history. And he's earned those accolades and money all at primarily small to mid-stakes buy-ins.
Just last week, Singh, who calls himself the "True Poker Amateur" on Twitter (@PokerTrue) won his ninth title at the Seminole Hard Rock Hollywood Hotel and Casino in the WPT Rock 'N Roll Poker Open $600 Deep Stack Turbo event, upping his own record for most trophies won at the property. That's more than names like Brian Altman, Yuval Bronshtein, David Prociak, Michael Newman, and Gabe Ramos, who each hold seven titles.
The reason you may not have heard of him is that Singh is primarily a recreational player in Florida. He primarily focuses on his family life with his wife Delia, and their two kids, daughter Sonya (14) and son Shawn (11), along with his work as the CEO of a management consulting company.
Humble Poker Beginnings
Singh was introduced to the game in 2006 by his then-boss when he worked for another company. His boss taught him the how to play poker and put the rank of hands on the back of a napkin. They then went to a bar poker tournament. With what he said was beginner's luck, Singh won the tournament with 65 offsuit, cracking pocket kings, and was hooked from there.
"I found a lot of similarities between tournament poker, business, and life in general. There are ups and downs. While I was building my business, I learned how these ups and downs worked, and I could apply these life lessons into poker and vice versa."
While that first victory may not be recognized by the HendonMob, Singh has 332 cashes to his name since then, totaling over $1,983,000 in career earnings. With so much success on the felt, it may seem strange that Singh hasn't taken the plunge to play poker full-time, but his commitment to his family and business keeps poker as a very successful recreational pursuit, for now.
"That thought has crossed my mind. I love the game, but coming from my background in India, to tell you the truth, my parents wouldn't want to see me, even though I'm 48 years old, they wouldn't want to see me as just a professional poker player," Singh said with a laugh and a smile.
"Nothing's wrong or negative about it, but in general when I have a successful business, I want my kids to also follow the same (path)."
Singh also said that he's waiting for his kids to go off to college before considering going from "True Amateur" to professional. These life lessons and ideals Singh also passes along to his nephews and other young players that he coaches.
"I tell them to have a foundation, have a side income at least, and then focus on poker because poker has variance. I want my kids to go to college. I love the World Poker Tour. I rarely travel for poker, but that's one of my goals for the long run, but for now I'd like to continue on with the same journey."
The Birth of Team Singh
Community and a good collection of friends or family with whom you can discuss strategy and life in poker is key to any player's success, and that is something Singh has well covered. 'Slum Donkey Poker' (a play on Slumdog Millionaire) started as a group of Singh's close friends from when he started going to Vegas to play poker early in his career and has expanded to include several top professional poker players, including WPT and WSOP champions.
Anytime Singh is playing, you'll see him proudly wearing a 'Team Singh' shirt, with a fierce lion logo designed by his nephews Harry and Jason which represents his inner circle of family and their friends who share poker discussions and strategies.
"Team Singh was born predominantly because of my nephews who play poker as well. Harry, Jason, and Sandy, and along with them, all their friends their age, they became my nephews too, so I'm a universal uncle now. There are many more who reach out to me for advice on poker and I love to help them. So, it just became Team Singh and a brand."
Singh attributes much of his success to a great work-life balance. One of his nephews did an analytics project which focused on his uncle's results, and they discovered that the majority of his tournament wins and successes have come toward the end of a given year, when work and client pressure and his family responsibilities are less.
"When you have nothing much in the back of your head in the last quarter of the year and you can focus, you've done well in the year, your kids have done well, your family is good, there's less to worry about and you can focus more on poker."
A great example of this came just last December, when surrounding his win at the RunGood Pro-Am, he first won three nightly tournaments in four days in Florida, then also won an Aria daily and a $450 Wynn Survivor tournament while still in Vegas after winning RunGood. An incredible six wins in eight days for just under $30,000.
While his success in Florida can be seen throughout the state, including a WSOP Circuit ring win at the Palm Beach Kennel Club in 2017, Seminole Hard Rock Hollywood is where Singh has had his most success, with the nine major tournament wins, including his largest-ever score of $200,000 in August, 2019. It's a property Singh says feels he has a true home-field advantage at.
"The property is great, one of the best. The staff here have become my good friends. I feel like it's home here, and I feel welcomed and positive, so that really helps me with my game."
With so many trophies to his name, just where he keeps them all was what needed to be known, and he acknowledged he does keep them in a special place but has bigger plans for his trophies that include his kids.
"In my house, the only thing that's dedicated to me is my bar, so I have my bottle of scotch, and rum and all, and alongside, I have all my trophies sitting there for now. But I do have a very healthy competition with my son and daughter in their respective sports. My daughter is big into piano and ice skating, my son is into swimming. So, we have a trophy competition going on and down the road, we have plans to build a trophy case not just for my trophies, but also for my kids."
Winning 74 tournaments and having nearly $2,000,000 in career tournament earnings at predominantly three- and low four-figure buy-ins as a recreational player is certainly impressive, but above any specific strategic tips, Singh credited mindset when asked for advice that other players at that level could take.
"There will be ups and downs, like in life, so they've got to keep that in mind. There will always be downturns, but then if they continue working hard on their skills, on their game, in the end they're bound to succeed. One line I strongly believe in is, success is never ending, and failure is never final."
Singh also echoed again the importance of having a group of friends and colleagues to discuss hands with and learn from, but when pressed about some of the specifics of in-game play, Singh admitted that he isn't a big fan of pure GTO play and instead suggested focusing on developing your own unique style.
"I don't believe in GTO to tell you the truth. I'm going to tell you straight up; I think GTO has destroyed a lot of people's careers in my opinion. Ace-five suited lately by GTO is the new ace-king. That's never in my mind. Don't over-listen to the standard, define your own. Many times, you've got to do your own research. Do what your heart tells you, and what you believe in, and apply that. Come up with your own strategy in the long run. That's the only way to succeed in this game in my mind."
My discussion with Singh was filled with wisdom and reflection and when asked about one final thing that he'd like people to know about him, he again referred to his humble upbringing in India and loving family for where he is today.
"First of all, I never thought I'd be in the USA. Thirty years ago, when I came to this country, I never believed I'd be playing a game at this level with these great players around me, so always believe in yourself. I'll give the credit to my father, who was an auto-rickshaw driver in India. My mom was a housewife. He always believed in himself and helped his family a lot. Even though we didn't have birthday cakes for our birthdays, we always had books and supporting materials for our studies, so they gave us the best education possible. I give all the credit to my father and my mother obviously."
Blackjack and poker are well-known casino games enjoyed by many. If you've never played either game before, they might seem similar. But those of us who have tend to distinguish them quite easily.
It's clear that the two games require totally different skill sets from their players. To win at blackjack, players must mostly rely on their skills in following a strict strategy with a dash of luck.
On the other hand, poker is a game that pits players against each other in a battle of skills, psychology, and deception.
Both poker and blackjack are entertaining, and you can try these games at caziwoo USA casinos. Also, it is important to weigh them against each other. This article will see the most critical differences between blackjack players and poker players.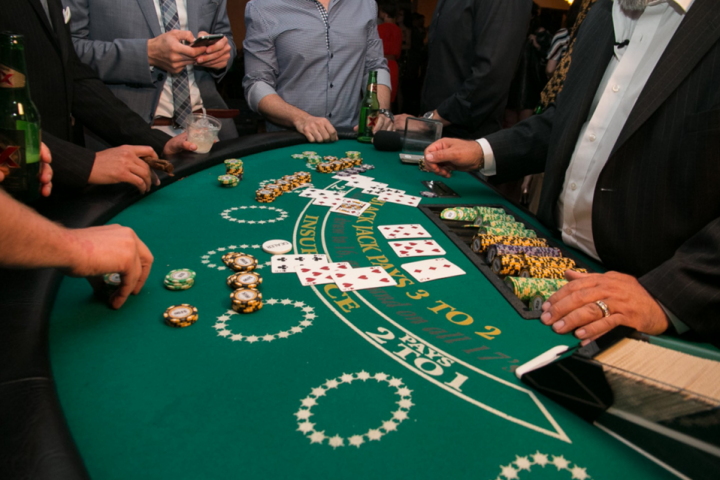 Blackjack players are more likely to take risks
Blackjack is often seen as a game of chance, but there is an element of skill involved. Players who can master the basic strategy of blackjack have a much better chance of winning. But even with perfect play, the house still has an edge. This means that blackjack players must be willing to take risks to win. Players who are too conservative are likely to end up losing money in the long run.
On the other hand, players who take too many risks can quickly deplete their bankrolls. The key is to balance taking risks and playing them safe. Blackjack players who can do this tend to be the most successful.
Poker players are more patient and calculating
The game of poker requires a lot of skill and strategy. Players need to be able to read their opponents, control their emotions, and make quick decisions. This thinking can be applied to other areas of life, and poker players often find that they are more successful in business and personal relationships. One reason for this is that poker players are more patient and calculating. They know they need to wait for the right opportunity and are willing to take risks when the potential rewards are high. As a result, poker players often have the edge over their opponents in both business and life.
Blackjack players rely on luck and chance
Despite what many people believe, blackjack is not entirely a game of luck. While it is true that the outcome of each hand is ultimately determined by the cards that are dealt, there is more to blackjack than simply relying on chance. To be successful, blackjack players need to understand basic strategy well and know when to take risks. Chance plays a role in blackjack, but it is not the only factor determining who wins and loses. Players willing to put in the time and effort to learn basic strategy can give themselves a significant advantage over those who rely on luck. With a little practice, anyone can learn to play blackjack like a pro.
Poker players use their skills and strategies to win
Many people think of poker as a game of chance, but skill and strategy play a significant role in who comes ahead. Professional poker players spend hours honing their skills, studying odds, and practising bluffing techniques. They know when to hold onto a losing hand in the hopes of turning it into a winning one and when to fold to preserve their chips. They also know how to read their opponents and use this information to decide when to move. As a result, poker is as much about mental prowess as it is about luck. So the next time you sit down at a poker table, remember that the skills and strategies you use could mean the difference between winning and losing.
Blackjack is a faster-paced game than poker
For many people, the appeal of casino gambling lies in the thrill of the unknown. Will this be the hand that finally breaks the bank? But with the ever-increasing popularity of online gambling, more and more people are finding that they can get their fix without ever leaving home. And for those who crave a little more excitement, there's always blackjack. Blackjack is a faster-paced game than poker, and it offers players the chance to make quick decisions that can affect the game's outcome. As a result, blackjack is often seen as a more adrenaline-pumping option for casino gamers. So if you're looking for extra excitement in your gambling life, blackjack might be the game for you.
Poker is a more complex game than blackjack
While blackjack is certainly challenging, poker is in a different league entirely regarding complexity. For one thing, blackjack is primarily a game of chance, while poker involves great skill and strategy. In blackjack, the player's goal is to beat the dealer's hand, while in poker, the player must try to outwit the other players at the table. Additionally, blackjack is played with a limited number of cards, while poker typically uses a 52-card deck. This means that more possible combinations can be made in poker, making it more difficult to predict what the other players might have. Finally, blackjack is usually played for fairly low stakes, while poker can be played for anything from pennies to thousands of dollars. All these factors combine to make poker a much more complex game than blackjack.
Conclusion
Blackjack players are more likely to take risks, while poker players are more patient and calculated. Blackjack players rely on luck and chance, while poker players use their skills and strategies to win. Blackjack is a faster-paced game than poker, but poker is more complex.
Holy crap.
Those were the actual words that fell out of my mouth as I entered the Seminole Hard Rock Hollywood poker room and saw its warm massive surroundings for the first time. From the second I walked in, I was impressed, and as with many aspects of life, first impressions are important. Poker rooms included!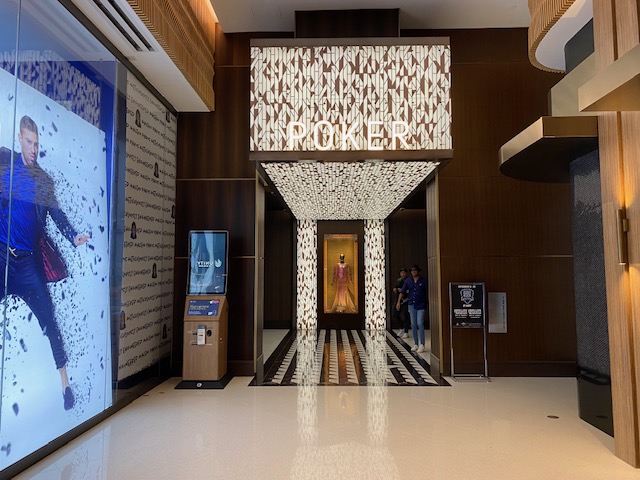 But would the steak live up to the initial sizzle of the spacious 45-table room, especially on what promised to be one of its busiest days of the year?
While I'm here for the WPT Rock N Roll Poker Open, it's also Black Friday, the busiest shopping and promotional day of the year. The Seminole Hard Rock poker room was well aware of this and loaded a high-hand promotion onto Black Friday and the following Saturday where they gave away $1,000 every 20 minutes from noon 'til midnight! That's $36,000 a day, twice!
An action-packed day was in store for not just the players, but the staff as well, as by early afternoon, every one of the 45 tables was full of players engaging in cash games ranging in stakes from $1/2 to $50/100 NL with Pot Limit Omaha games ranging from $2/2 up to $25/50, with an $8/16 Omaha 8-or-Better game sprinkled in as well.
A day THAT busy provides many challenges for the staff, but credit to everyone from floor staff, to dealers, to servers; everyone was fantastic, leading to my confirmation that indeed the steak lived up to that initial sizzle.
The Poker Room Itself
So, getting back to that initial reaction of mine. That came from not just the size of the room, but from the warm décor and classy vibe, which can be tough to capture in a large room.
The primarily dark brown wooden walls house a room with well-spaced tables – again not necessarily something you find in a large 45-table room where real estate is critical, especially on days as busy as this weekend.
Going with the theme of the Hard Rock Hotel and Casino, the walls are adorned with cool artwork featuring musicians as characters on playing cards, like John Lennon in the picture below as the ace of diamonds.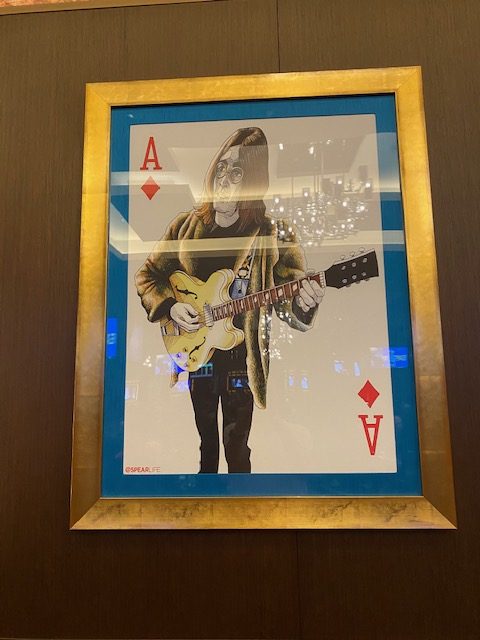 A dress from 'Poker Face' singer Lady Gaga also hangs in the entrance to the room.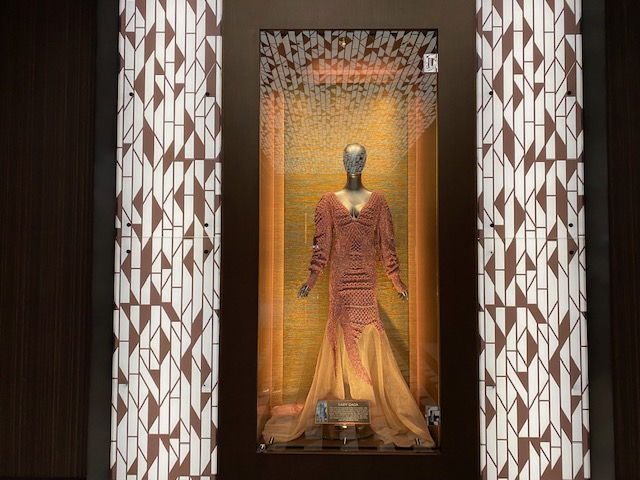 Player comfort has been prioritized, not just by the spacing of the tables, but by sticking with 8-handed play (again, they could easily insist on 9-handed, but have chosen to keep to a more spacious and comfortable seating of 8-handed), along with comfortable, high-backed swiveling chairs.
Equipment quality is great as well, with automatic shufflers at every table, clean, new felts with a nice level of compression, USB ports at every seat, and – my personal favorite – Faded Spade playing cards, with their unique card faces and satisfying snap as you peel and release.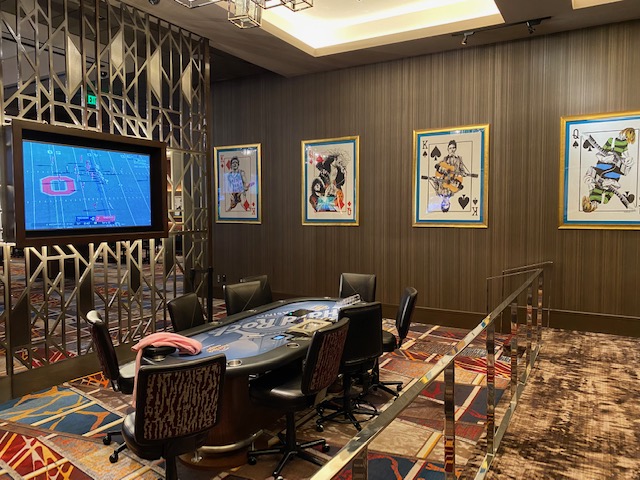 The Poker Games
I'd like to be able to regale you with tales of wild pots, huge wins (or at least a huge but entertaining loss), but unfortunately, over approximately nine hours of play at $1/2 and $2/5 No-Limit Texas Hold'em across three sessions, I was never up or down more than a couple hundred bucks, with the final tally of the day being -$15, with no high hand bonus anywhere near me. So, we won't talk about that.
I will say that the players were a good mix of tight-aggressive, loose-passive, and weak-tight players, mostly standard for low-stakes games. Above all, however, players were friendly and I didn't have a single unpleasant opponent at any of my tables.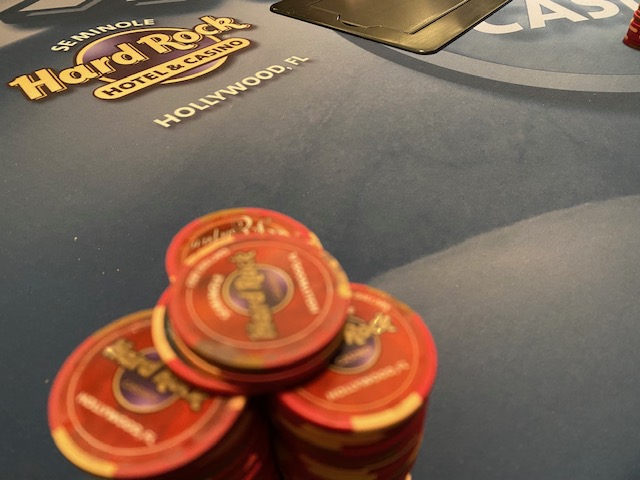 Of note, the final of my three sessions in the day was a late night 3:30 a.m. run to the room after waking up and not being able to sleep. Friday late night / early morning in a poker room should be ripe with a tired and non-sober variety of players, but they appeared few and far between in my venture there. There were only a couple of well-lubricated players at my table who busted shortly after my arrival only to be replaced by dealers from neighboring casinos who were capable players.
So yeah, no easy late-night money for me. Regardless, each session was enjoyable with good crews of players at all times of the day.
Poker Room Staff
As mentioned earlier, a promotional weekend like this with a jam-packed room throughout the day is certainly a challenge for every member of a room's staff, but the Seminole Hard Rock crew crushed it.
When I first arrived at approximately 11:30 am, the $1/2 No-Limit list was nearly 50 players deep with half the room already full. The room was well prepared for what was to come, as (expecting that I may have a bit of a wait ahead of me) I took off briefly only to return 20 minutes later having missed my call… and saw that 10(!) more tables had been filled in that time. The registration desk recognized me and put me back at the top of the list, and not five minutes later, another batch of tables were opened and I was seated.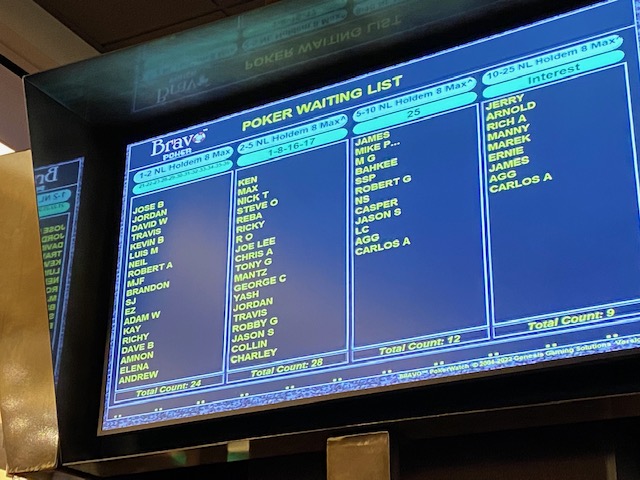 After taking a two-hour break to watch the USA-England World Cup game, I returned for session number two, and while the room was full, the list was short, and it wasn't 15 minutes until enough players had left and I was seated again.
For my late-night session, 22 tables were still in play at 4 am, and I was able to hop into a game immediately.
While initial buy-ins were encouraged to be purchased from the cage because of the volume of players in the room, chip runners were readily available both for initial buy-ins and rebuys when necessary.
Again, on a day as busy as this the depth of dealers can be challenged, but my experience saw a quality dealer hop into the box every half an hour. Games were well controlled, hands were dealt quickly, and house rules were enforced efficiently and politely. The only real challenge came from a pair of players who repeatedly violated the English-only at the table rule, and after multiple violations they had to be warned more sternly, at which point, they adhered to the rule.
Servers were doing laps of the room regularly, with wait times for cocktails much shorter than I would have expected on a day with a packed house.
From top to bottom, every member of the poker room staff is to be commended for an outstanding effort to make the playing experience as enjoyable as possible for the players.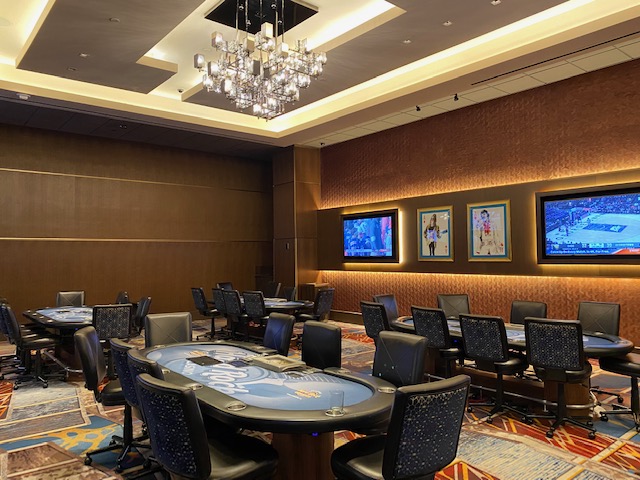 I'll Be Back
Despite an uneventful day financially at the tables, my experience at the Seminole Hard Rock Hollywood poker room left an indelible impression, quickly becoming one of my absolute favorite rooms I've ever played in.
I'd heartily recommend it as a must-visit for any poker players traveling through South Florida, and one I'll certainly be visiting again.
Like, immediately. I mean I'm here for another few days!
I'm far happier to be writing this article than my last op-ed, in which I was critical of Joey Ingram vis a vis Norman Chad.
It was never my aim to produce a "hit piece" on Joey. I'd have hoped it was abundantly clear throughout my writing just how much it pained me to be penning such biting criticism of a friend. Perhaps that's what ended up striking a chord and prompting a response; that the criticism came from a friend.
In our telephone conversation prior to my publishing of the article, Joey said he'd soon be responding in full on his channel. He did so yesterday, and I'm glad I stayed up to watch the first half hour of it, despite the stream only beginning at 3am here in Israel. While I was writing this article, he added this pinned note to the top of his latest video's comments section.

On multiple instances during the stream, Joey shared the message of that second paragraph, and as of this publication, the video has been viewed by almost 12,000 people. I clipped out the primary excerpt where he addressed the situation:
I went to sleep last night relieved and glad to have watched Joey's public apology, urging his followers not to choose the path of violence; that he doesn't condone it under any circumstances. That's the right type of message that influencers of the (poker) masses ought to be sending via their platforms.
Norman's Missing Tweets… Don't Change Anything
A number of responses to the article, including Joey's, were of the opinion that it was biased specifically for not having included Norman's (missing) Tweets, which would have better presented "Joey's side." I maintain that there was no way for me to have realistically found them while Norman's account remained deactivated.
After the article was published, Norman emailed me and shared with me the text of the six Tweets he had made over the course of a few days, which ended up leading to Joey's reaction. As I had suspected, seeing them didn't change my feelings on this matter nor would I have altered what I wrote by even one word.
Norman also wrote to me that "I just believe he was misreading the intent and context of almost all I was writing (which is partly my fault, for not writing them better; also partly the fault of Twitter, which is not the best space for nuance, irony or sarcasm)."
But to focus on the missing Tweets would be to miss the forest for the trees. The "point" of my op-ed was clear:
Where Do We Go From Here?
I do genuinely hope that at some point in the not-too-distant future, once rightfully-flared tempers have settled, that Norman and Joey will be able to talk it out, reach some sort of mutual understanding, and move forward.
I know that my involvement in this brought into focus just how careful I need to be with the words I choose.
I hope that's a takeaway for everyone who has read the piece — especially those with influence, audiences, and followings — even if said words may have been meant harmlessly in jest.
Joey echoed the sentiments of many in his apology yesterday when he said that "we want Norman back". His absence in the community is felt, and his reemergence on Twitter would be warmly received.
People Should See This, Too
Almost 18,000 people have read my op-ed from Tuesday, speedily having made it one of the most viewed articles I've ever written. Unlike almost everything else I publish, however, I did absolutely nothing to promote it beyond the initial Tweet, and yet it spread like wildfire. Poker forums, Reddit, and word of mouth are very powerful.
That's perhaps an indicator of algorithms and media consumption in the 2022 landscape. People rush to see carnage.
I truly hate that "that's the way the world just is."
But you know when "the world is better"? On a day like today, Thanksgiving.
I'd like to believe that if not for my op-ed, Joey wouldn't have acted as quickly to issue his apology. But he chose to act quickly and responsibly, and ought to be commended for it. A genuine attempt to redeem oneself ought to be recognized and appreciated.
And for that, today, I am thankful.