The heady days of the Old West and the American frontier may be a thing of the past, when spit and sawdust were part of the scenery surrounding poker players in saloons, although they created a legacy which still inspires modern poker venues.
The best poker players in the world tend to be focused on games than the décor, although their status does afford a certain level of exclusivity. This includes the utmost privacy and the most divine treatment available by staff, located within some of the most fabulous of surroundings one could ever imagine.
These luxurious poker dens are often where the high rollers tend to go, whether competing in exclusive tournaments or honing their skills as large amounts of cash change hands, often requiring high buy-ins and with absolutely no limits. These are some of the top tables around, where exclusivity is king when the cards are being dealt.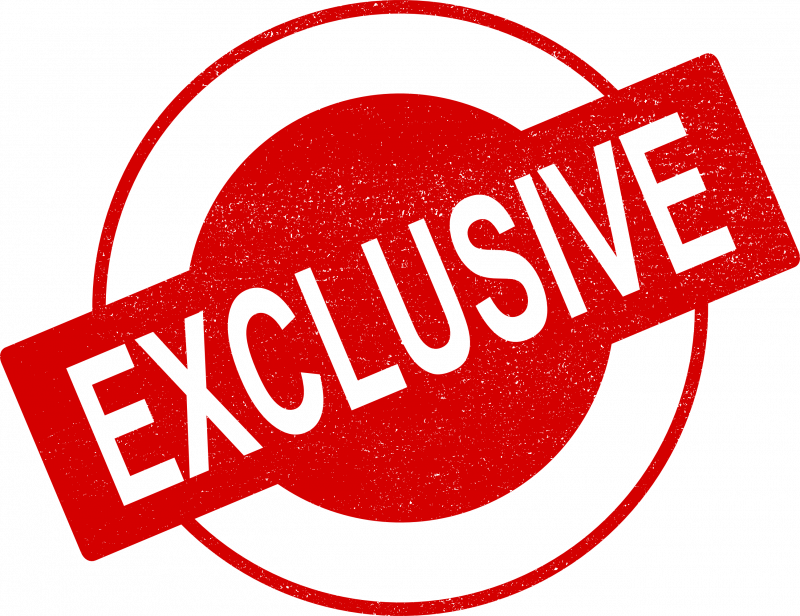 Bobby's Room at the Bellagio in Las Vegas
Amongst the high rolling elites on the professional poker circuit, Bobby's Room is the most revered poker den in the world. Named after Bobby Baldwin, winner of four World Series of Poker bracelets, he also played an important hand in designing this most exclusive of gaming venues, which features just two poker tables which provide the utmost exclusivity.
"I've never seen games where so much money is won and lost each night," poker legend Doyle Brunson once exclaimed, having been a regular in Bobby's Room. Just to walk through the doors of this hallowed poker room, you need to have a minimum of $20,000 in cash for the buy-in, which underlines the caliber of players found inside.
Salle Touzet at Casino de Monte-Carlo in Monaco
While are some exclusive poker venues which remain open all year, poker games at the Salle Touzet are limited to specific times of year, usually part of special events exclusively offered high rollers and organized by the Société des Bains de Mer. Typically, you need to be one of their preferred clients to stand any chance of being accepted.
"Pure Poker" was one of the most recent three-day events at the Casino de Monte-Carlo, taking place within the Salle Touzet, named after Jules Touzet and originally opened in 1890, still retaining all the classic charm of that period. Aside from the costs of staying at the venue, buy-in was fixed at €20,000 cash minimum, with unlimited options to re-buy for the same amount.
Poker King Club at the Venetian in Macao
Famed as one of the biggest purpose-built casinos in the world, the Venetian Macao boasts 546,000 square feet of gaming space, which means this venue is always packed with clientele. However, amidst the busy atmosphere there is a famous poker venue within, which is renowned for offering the world's biggest cash games.
The Poker King Club is owned by Winfred Yu, hosted within the Venetian Macao and has just eight cash tables, with two of those dedicated to high stakes poker and reserved for only the most esteemed clients. To give you some idea of the exclusivity here, even top World Series of Poker Main Event champions have been turned away, which means that it's not just what you know but who you know that counts.
Poker gaming at your fingertips in any location
Although the venues mentioned take some beating, they are places only few of us will ever get to experience. Thankfully, we don't even have to visit other countries or continents these days, if we want a taste of some of the best poker gaming action around. Indeed, poker pros and novices alike can often be found at games hosted by online casinos.
The best casino offers for poker players are typically provided by online sites, which means that anyone and everyone has access, thanks to a variety of promotions aimed at suiting all budgets and player preferences. Always check VSO-approved casino site reviews to find out if bonuses are genuinely to your liking, fit your bankroll management and are accompanied by fair terms.
The majority of leading online poker venues provide a broad range of options, although you should always be aware of any minimum deposit and maximum bonus requirements, along with the availability and variety of poker games offered. After finding the right online casino and games, enjoy the exclusivity and convenience of playing from any location, all from the comfort of your own desktop or mobile device.
While Hold 'em games (Limit, Pot Limit, No Limit) can be called in a mixed game, this section of Cardplayer Lifestyle's Mixed Games Poker Guide will be presented with the impression that you understand how to play Hold 'em. As such, they won't be discussed in full, only mentioned in reference to other flop games. Besides, if you're playing in a mixed game, do you really want to play Hold 'em?
In this section, we'll be covering the following 10 games: Pot Limit Omaha, Omaha 8 or Better, Pot Limit Omaha 8 or Better, Big O, Limit Omaha, Double Board Omaha, Short Deck, Courchevel, Drawmaha, and S.H.O.P. (a.k.a., S.O.H.E.)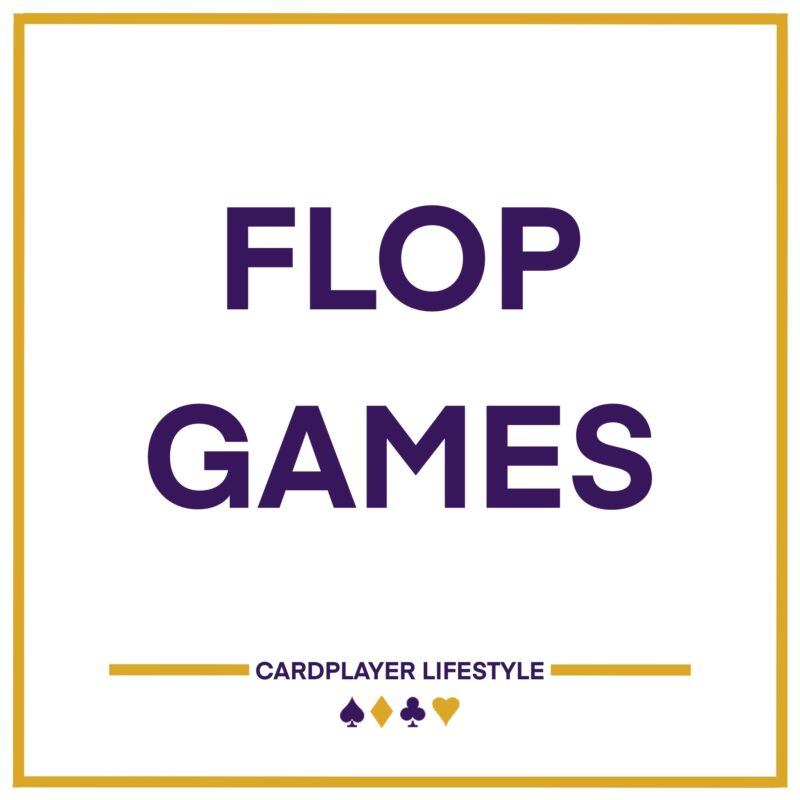 Also, be sure to check out our other Mixed Games Poker Guide articles on Stud Games and Draw Games.
THE OMAHA FAMILY
Omaha almost needs it's own section among flop games since there are so many varieties. So, we'll be treating it as such, with the two most popular versions, Pot Limit Omaha and Omaha 8 or Better getting the majority of the stroke, with all its variations following.
Pot Limit Omaha
After No Limit Hold 'em, Pot Limit Omaha (PLO) is the most widespread game in poker rooms. If you ever feel like changing things up and taking a break from the 2-card game, PLO is a natural transition.
The rules are virtually identical to Hold 'em, with the key difference of course being the four cards you are dealt instead of two. Players must use two (and only two) cards in their hand along with the five community cards to make their hand. That ace of spades in your hand along with the four spades on the board? Useless, except as a great bluff card! (More on that, below.)
The other key difference is that the maximum that can be bet on any street is the size of the pot (hence the name: Pot Limit Omaha).
Other than that? Yup, same as Hold 'em. That's why there's no need to be afraid of playing PLO. While strategies and hand strengths are impacted, the differences in the actual gameplay are quite minimal, and the added action and excitement provide a lot of appeal.
PLO Tip: Blockers, blockers, blockers!
Remember that ace of spades I just mentioned? Well, the concept of blockers really first gained steam from PLO before it became a part of No Limit Hold 'em vernacular.
With wider ranges, and so many more possibilities to make hands based on your two extra hole cards, there is an added importance on making a truly premium hand. Small sets, low straights and weak flushes are all very vulnerable to being crushed by a player holding the nuts.
As such, if you hold the one key card that prevents your opponent from holding the nuts, who's to say you don't have the nuts?! If you have that nut card to the suit on a flush-y board, you can credibly represent holding that nut flush.
Bonus tip: Follow Joey Ingram on social media. There's no bigger advocate for the "GREAT GAME OF POT LIMIT OMAHA"!
READ MORE: Interview with Joey Ingram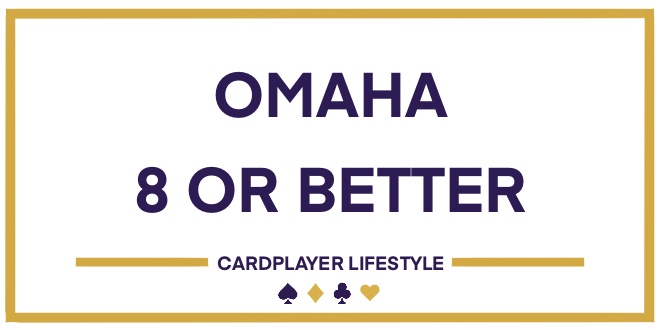 Limit Omaha 8 or Better
The next-most popular game in the Omaha family, Limit Omaha 8 or Better (O8) is a split pot game where players are also dealt four cards instead of two. At the conclusion of a hand, half the pot is awarded to the highest five-card hand, just like in Hold 'em or Pot Limit Omaha, while half is also given to the lowest qualifying five card hand (the five cards must each be 8 or lower *better*). The goal, however, is to win both halves of the pot, known as "scooping". If, however, there is no qualifying low hand, the best high hand is awarded the entire pot.
As in PLO, players must use two and only two of their cards at showdown for either side of the pot. For example, a player Holding A2KK on a board of 346KQ can use their two kings for the high, making three-of-a-kind, and then use their A2 to make 6432A for the nut low.
A player with A38K on a board of 2459K will use their A3 for both high and low, as along with the 245, they make a 5-high straight which is the nut high as well as the best possible low hand, a.k.a. the "wheel".
O8 Tip: A2 is your best friend but…
As mentioned, the goal of split pot games is to win both halves of the pot. Well, there are many ways to do it, but a lot of them can also potentially get you in trouble. Not all low hands are created equal. However, A2 is essentially the low version of pocket aces in O8. Pretty much any starting hand containing A2 is playable. If connected with two other low cards like A235, or if the ace is suited, or paired with a high pair like A2KK, A2 has huge potential to scoop a pot for you.
Once the flop falls, however, things can change drastically. If you hold a relatively naked A2 like Ah2s7c9s and the flop comes with no cards 8 or lower, your hand is essentially useless, since a qualifying low hand won't be possible.
Your A2 can also be counterfeited if an ace or deuce hits the board, and you don't have other low cards as backup. A2QQ on a K32 flop has a big problem. Unless two more low cards fall, you won't have a low, and even then, you could be beaten by a better low. If the board does run out K3247, you now lose to A5 and A6, since you only have 7432A. As for the queens, they lose to any king, so they're in danger, too.
Love your A2 but know that sometimes you have to let that love go.
So, if PLO and Limit O8 are the Mama and Papa of Omaha games, lets check out some of their wacky kids…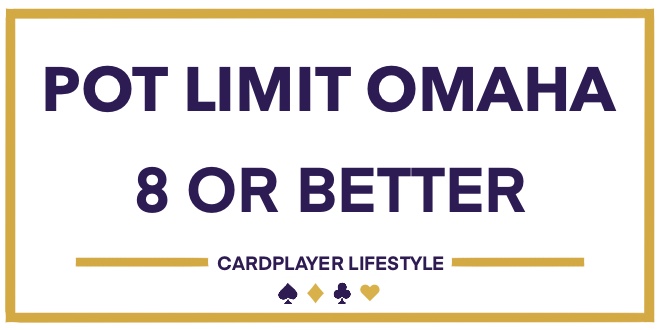 Pot Limit Omaha 8 or Better
The least wacky variant, it's exactly what it says. A merger of PLO and Omaha 8 or Better.
PLO8 is likely the next most well-known version of Omaha, but it is tough to find a regular game anywhere live. However, it is widely available online.
Hands that play well in Limit O8 also play well in Pot Limit O8, but the importance of having a good 2-way hand is magnified by the fact that the pots can get much larger with pot limit betting as opposed to limit.
As such, strong high hands and low hands with backup (A2 with another good low card) rise further in value. The ability to put more pressure on your opponents with larger bet sizing can put marginal and drawing hands in precarious situations.
Of note, there is also a No Limit version of O8 online (NLO8), that is quite popular. The game structure is the same as limit or pot limit, but the betting is No Limit.
PLO8 Tip: Don't splash around with marginal low holdings
If you're playing hands with low possibilities, make sure they're good low possibilities. Starting hands that aren't particularly great either high or low are absolute death in PLO8. In low stakes mixed games, players will be splashing around with all kinds of hands, even in the big bet games. It's crucial to be able to make the nuts or very close to the nuts against very wide ranges.
Starting hands like 4578 or 2489 can make both high and low hands, but neither are going to be particularly good, and will be susceptible to being beaten by players with better highs and lows. Plus, even if you do make a strong hand one way, it's unlikely to be the best hand the other way. You'll be putting in a bunch of money drawing live to only half the pot. In big bet variations of Omaha it's critical that you play to scoop the whole pot.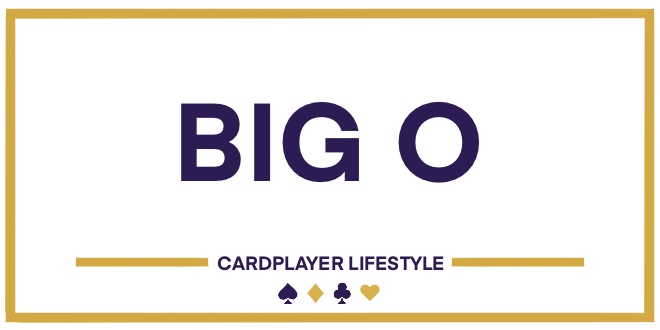 Big O / Really Big O (5- and 6-Card Omaha)
Even more cards, even more fun!
5-card Omaha games are growing in popularity, basically because as much action as regular 4-card Omaha games provide, the action grows exponentially if you add an extra hole card (or two with 6-card Omaha).
I'll put these variants together because they can be played high only or hi/lo (8 or Better), and either Limit or Pot Limit (or even No Limit, but it's very rare).
The 5-card versions are available online as well as in more and more live venues. By contrast, 6-card games can be found sporadically online, and very sporadically live, but can be called in a mixed game.
Big O Tip: Make the nuts
This may sound obvious, but the more cards you are dealt the more possibilities you have to make some sort of hand. As such, players are more incentivized to play. And if that's the case, and many pots will be multi-way as a result, It's on you to not be caught with a marginal hand while one of those opponents is likely making the nuts.
For the same reasons that in PLO8 it's critical to start with a hand that can scoop, It's even truer in 5- or 6-card versions. Starting hands with plenty of cards working together will set you up nicely for winning big.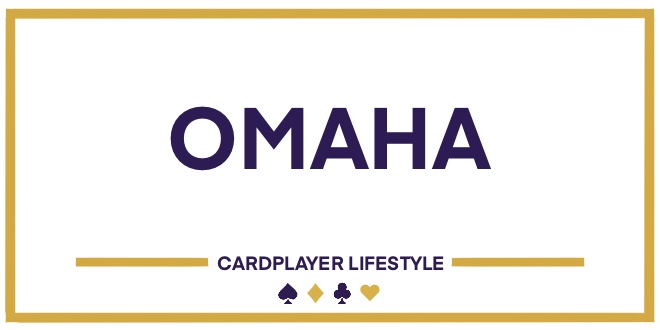 Limit Omaha (High only)
Now we're getting rare. Regular 4-card Omaha in limit form is really tough to find because frankly, there's just not as much skill in it, compared to other poker variants (although if you ask the folks playing the $4/8 game at Boulder Station in Las Vegas, they'll tell you otherwise).
Much like Limit Hold 'em, Limit Omaha is very much a math-based game, as the combination of four cards with a limit betting structure really limits creativity and offers great pot odds throughout a hand. There is virtually no bluffing, as pots will go multi-way, many until the river, in which case without holding the super nuts, someone will almost always have something that could draw out on you.
Limit Omaha Tip: Know when the odds aren't in your favor
If you insist on playing this crapshoot of a game, you have to know when that draw of yours is in trouble. There will be many instances when you'll be getting ridiculous pot odds to draw to… well, a lot of things. The key to this game is knowing when despite those odds, you're drawing dead to a better version of your hand. A higher flush, a better full house, etc. Reverse implied odds are a danger of limit games with multiway pots going to the river.
When you do have the best hand, you need to bet and raise to at least make an attempt to thin the field and protect your hand from these draws. But, yah, good luck with that.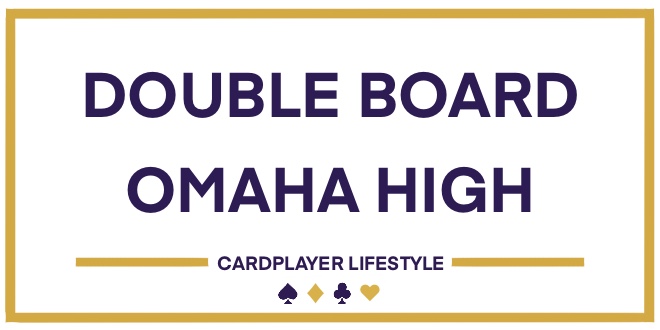 Double Board Omaha (High only)
If you've gotten this far in our guide, you may have detected that we're not necessarily the biggest fans of Limit Omaha. However, throw an extra board out there, and you have arguably the most splashy, fun and ridiculous version of poker available in a mixed game!
The issues that hamper regular Limit Omaha are precisely what make Double Board Omaha great.
It's almost as if the first person who created this game decided while playing Limit Omaha, "welp, since we're going to play a high variance game that people aren't going to fold much in, the hell with it; let's spread a second board, and crank that variance up to 11!"
Somehow it worked, and it's amazing.
Following the preflop betting, the dealer will spread two flops (followed by a round of betting), two turns (followed by a round of betting), and finally two rivers (followed by a final round of betting).
We're not going to lie to you and give you any tips or some wise strategy for playing this game. We're sure there is one, but we don't know it, and we're just fine with that.
Generally speaking, this game is primarily played in low stakes mixed games where the priority is having fun.
There will be plenty of other games in the mix that you may know better and can invoke strategy in.
Take the opportunity to go crazy and have some fun when this game gets called. Use your best poker instincts, and if that fails, make sure you have a beverage in front of you.
OTHER FLOP GAMES

Short Deck (a.k.a., 6+ Hold 'em)
Short Deck was basically born from action players who got tired of folding trash hands and wanted a higher percentage of playable holdings. How to do that? Tighten the deck by removing all the 2s through 5s! So instead of a standard 52-card deck, there are now only 36 cards in play!
Like regular No Limit Hold 'em, aces also play high and low, so in short deck they can act as a 5 to form a straight with 6789.
The differences don't stop there. Though the game can be played with standard small and big blinds, Short Deck is mostly played with antes from all players, with an extra ante posted by the button that rotates clockwise around the table. Preflop action starts to the left of the button, with players having the option to fold, call, or raise, just as in other flop games.
Other differences come in the actual rank of hands. With four fewer cards of each suit available, flushes are now mathematically more difficult to make than full houses, so they are ranked higher. Three-of-a-kind is also more difficult to make than a straight. Most rooms still rank straights higher though, but it can vary from room to room.
Short Deck Tip: Know your preflop odds and bet sizing
If you watch the Triton Series Short Deck cash games and tournaments featuring some of the best players in the world, you'll see that their preflop betting strategy is different from that of standard No Limit Hold 'em. You'll see a lot of limping as well as raise sizes that appear huge compared to the ante.
The caveat though is that with the shorter deck flops will almost always be 'wet', with your hand likely to connect with the board in some way. Games are also generally played 6-handed, so an initial limper will be getting 7:1 on the pot. Raises will appear on the larger side, usually starting at the size of the pot and often much larger.
A common mistake made by Short Deck newbies is raising in 2.5-3x increments of the button ante, and not factoring in the full amount of antes in the pot.
With a 1,000 chip ante in a 6-handed game, there will be 7,000 chips in the pot before any betting has taken place. A standard raise to the size of the pot would then be to 7,000. However, many new players will "raise" 3x the ante to 3,000 (roughly 43% of 7,000), merely building the pot size to 10,000 and still providing opponents excellent odds to continue with virtually any playable hand.
In a 6-handed No Limit Hold 'em tournament with 500/1000 blinds and a 100 ante, with 2,100 in the pot prior to preflop betting, this would be like putting in 900 (roughly 43% of 2,100) to continue if that was possible.
Bottom line: if your intention is to raise, make sure you're raising the correct amount.

Courchevel
Courchevel is a rarely-played but interesting and fun game, with elements of 5-card PLO (or Big O), with one key difference. Before any preflop betting, a community card known as a 'spit' card is dealt. Standard betting with a small and big blind then continues in a normal fashion preflop before the now 2-card flop is dealt and further betting commences. From there, the turn and river are also played as in a normal flop game.
Courchevel can be played as a high only or hi/lo split pot game.
Courchevel Tip: The spit card has a huge impact
As you might expect, with a community card revealed before any betting commences, that spit card will have a huge impact on your hand strength immediately.
Combined with the contents of your five hole cards (you can only use two of your hole cards to make your final five-card hand), you could be dealt trips, three to a nut flush, or three to a straight (and/or a key card to a wrap), all of which are very playable and can be bet aggressively.
However, when you don't connect with the spit card, you must have a very strong hand outside of it to continue. Something along the lines of a strong starting hand in 5-card PLO. If you're playing the game hi/lo, this is especially important. You'll need a strong Big O starting hand, and if the spit card is 8 or lower and you don't have the possibility to make a low hand, your hand is vulnerable. That's because other players will already have 60% of a low, and you'll very likely only be playing for half the pot.
Dra(w)maha
As the name suggests, Dra(w)maha (a consensus on the proper spelling of the game is tough to find) is a split pot game merging Draw (in several forms) with Omaha.
Blinds are posted as in Omaha, then players are dealt five cards, followed by a round of limit or pot limit betting. A flop is dealt, followed by another round of betting.
Following the flop betting, players will have the opportunity to discard any of their hole cards and draw new ones.
From there a turn card is dealt, followed by a round of betting, then a river card is dealt with a final round of betting.
In all variations of Dra(w)maha, half the pot goes to the player with the best Omaha hand, using two of their hole cards. The other half goes to the player with the best Draw hand in their hole cards.
Note that the Draw side can be played in a variety of ways, as 5-Card Draw high, as a 2-7 low hand, or as a 4-card Badugi hand, whichever is determined before the hands are dealt.
Dra(w)maha Tip: straights, two-pairs are good starting hands in standard Dra(w)maha
Straights and two-pair combos in the hole will give you a great chance at winning the Draw half of the pot. From there, you just have to hope for a board of community cards that will help you win the entire pot.
As with all split pot games, you should be playing to scoop, but if you have a virtual lock on half the pot with your draw hand, don't jeopardize it by breaking (and drawing) in hopes of improving your Omaha hand. If you have a huge Omaha hand on the flop, keep the two cards you need for that and discard as many of the other three as you need to improve your draw hand.

S.H.O.P.
An acronym for "Simultaneous Hold'em and Omaha Play", S.H.O.P. (also known as S.O.H.E.; simultaneous Omaha and Hold'em) combines elements of both. You're dealt six cards and need to split your hand into a (2-card) Hold'em hand and a (4-card) Omaha High hand.
It's a split pot game, with half the pot going to the best Hold'em hand and the other half of the pot going to the best Omaha High hand. The game can be played either Limit or Pot Limit, those some wacky home games also play it No Limit.
Other than that, the game proceeds exactly like either Hold'em or Omaha, as far as the betting and community cards dealt.
S.H.O.P. Tip: The split is key
While you can't control the cards you're dealt, you CAN control how strong your two hands are in this game.
As in all split pot games, you want to give yourself the best chance of scooping. Thus, knowing what you know about both Hold'em and Omaha, you ought to try and coordinate your two hands as best as possible such that if the right board comes you'll be in prime position to take advantage.
If you only have a strong Hold'em or Omaha hand, it's often still worth at least seeing the flop, but if you don't connect you ought to muck. If you're dealt a random collection of six cards that won't give you much of a chance to with either half of the pot, your best move is folding preflop.
The World Series of Poker will take place in autumn this year, between September 30 and November 23 at the Rio All-Suite Hotel & Casino. But what if you've already made plans to head to Vegas with your friends and/or family this summer and want to play some live poker?
Fear not, for Cardplayer Lifestyle has you covered better than the chip leader calling the all-in of a short stack!
There's a lot going on in Sin City this year as Nevada throws open its doors to the great and good of poker with millions on the line.
Let's take a look at what's on offer in the neon-soaked poker paradise in the desert.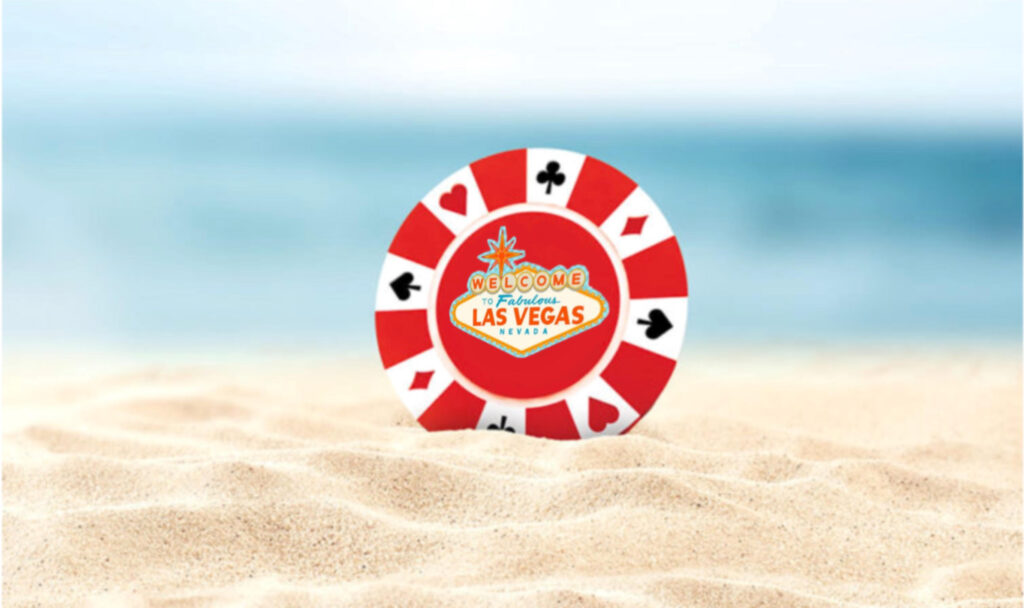 The Wynn Millions Has a $10m Guarantee
The biggest live event in Las Vegas this summer — sorry Beliebers — is the $10,000-entry Wynn Millions, which has a massive $10 million guarantee and (like Justin Beiber) takes place at the Wynn. Taking place between June 25 and July 3, it's sure to be one of the biggest events on the live poker calendar in 2021, plus the winner will surely make headlines around the world.
As part of the Wynn Summer Classic festival, there will be anywhere up to 90 poker tables in use simultaneously – a record for the venue if it happens. With a 40,000-chip starting stack and hour-long to 90-minute levels, it's one for the best in the world and is sure to attract some of live poker's finest (poker) faces. There are three starting flights, each of which have their own Day 2 before the field becomes one on Day 3. There's a single re-entry permitted for each starting flight, so if your maths are on point, you'll have worked out that anyone could in principle be in for $60,000 if they really believe in their chances of running deep.
You can check out the full Wynn Summer Classic schedule, which runs until July 13 and includes 30 events and $16 million in guarantees right here.
Victory at the Venetian?
Many big-name pros swear by attending the many tournaments that take place at the Venetian as a good warm-up for the live World Series. Even with no summer WSOP this year, however, the value is there at the Venetian.
There is a massive $3 million guaranteed World Poker Tour Main Event taking place from July 2-7  which costs $5,000 to enter and has three starting flights that take place on 'weekend days' of Friday, Saturday and Sunday. With nine levels of registration, the tournament caters well to those who won't get a chance to sit down with their chips until the cut-off of around 8:40pm.
As well as the Main Event, the ever-popular WPT DeepStacks at the Venetian boasts a $2 million guarantee and costs just $2,400 to take part in. With 40-minute levels on Day 1 and hour-long levels on Day 2 right the way until heads-up chops that level length in half, the structure is a dream and you'll be a Season 19 WPT legend if you win it!
The PokerGO Cup and Other Events
Hot on the heels of a spectacular U.S. Poker Open series won by David Peters, the PokerGO Cup is an eight-event series taking place at the ARIA Resort Hotel & Casino from July 6, with events that cater for the best in town.
The series kicks off with a $10,000 no limit hold'em event on July 6 and is followed by two more events with the same buy-in before a pair of $25,000-entry events ramp up the action. A $50,000 NHLE event is followed by a $100,000 Super High Roller event on July 12 before a $100,000 Heads-Up Championship on July 15. With more ARIA High Roller events and the Seminole events rounding out a busy schedule at the ARIA, it would be easy to remain in one place… if you have the bankroll.
Elsewhere, two more events stole our attention, with The Orleans 2021 Summer Poker Series already running from June 11 and continuing until July 22. There is a whopping $2.5 million in total guarantees up for grabs with the $600 No-limit Hold'em Championship kicking off on July 16. One fun quirk of the events at The Orleans is that players can take part in a free-entry tournament to close the series with a $15,000 prize pool – a generous bonus from organizers.
All in all, notwithstanding the delayed WSOP, there's plenty of poker to be had in Las Vegas this summer. Will you be heading out to play?
Unshuffled (Unshuffled.io) is the first online poker site built specifically to replicate the social home game experience. Borne out of the desire to help keep friends and family connected during the pandemic, the company's goal is to recreate the feeling of playing with your friends in person. It started back in March of 2020 – the first stay at home order had been announced in California. Like many of us, I moved back home to be with family, and on one fateful night I heard a commotion coming from my dad's office. I walked in to find him in front of three monitors, yelling at his friends, who were collectively coming up on 40 minutes of trying to get Zoom set up for their now-weekly online poker night.
I should probably give my Dad and his home game crew a bit of credit. First of all, they're all 60+ and to say they are technically challenged would be an understatement. Second, and more pertinent to what Unshuffled is all about, their group does NOT play Texas Hold'em or PLO. Instead, they play games called "Wally World", "Double Board Omaha", and "Iron Cross". As a result, they tried to piece together their game with three different components: one site for cards, Zoom for video and audio, and a complicated Excel spreadsheet to keep track of chip counts.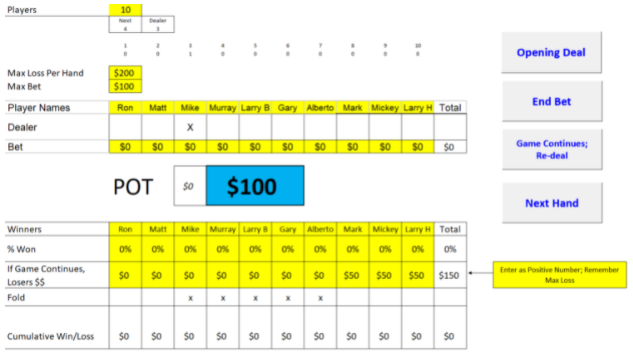 My Dad looked over to me and said, "Jake, there has got to be a better way to do this", I emphatically nodded "yes". To our surprise, however, we really couldn't find any online poker software that catered to these oddball, home games. So, we "went all in" and spent the next three hours working through how to create it ourselves. Fast forward a year and change, and Unshuffled is proud to debut!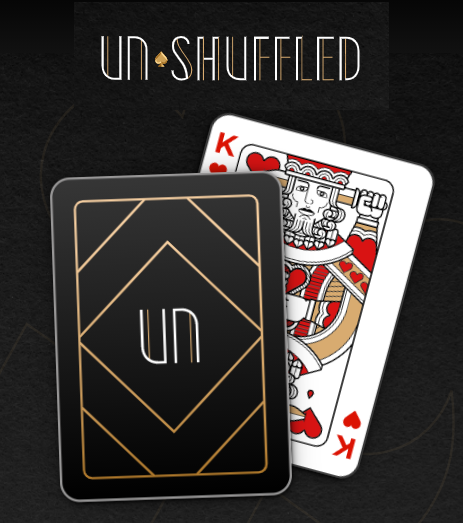 Creating Unshuffled: The Process
Building Unshuffled has been one of the most fun and exciting challenges I've ever taken on. There is an enormous amount of competition in the online poker space, so building something novel was one of our primary goals. Our team spent an enormous amount of time on refining the platform's design and brand, ensuring that it felt real and not gimmicky or like you were in a casino.
Every decision during the software development process had to pass our "play at home" test. If it felt like you were playing in person, at home, then we knew that we were moving in the right direction. Our obsession with replicating the in-person, home game poker experience is what drove us to develop the unique, innovative online infrastructure that:
allows players to build their own custom games
includes built-in audio and video
animates the cards to be positioned and to move just like on a real, physical poker table
The result is Unshuffled.io, the perfect online poker platform for social, home-game poker. Players connect automatically through our video and audio streams at their table and can select from any number of the preloaded games that come with the platform.
Want to play hold'em all night? No problem. Feel like mixing it up and letting the dealer decide the game? Play in a dealer's choice room. Critically, if you don't see your favorite home poker variant on our list, you can create it yourself! Now, for the first time ever, you can finally bring your "crazy games" that you've been playing forever with your friends, online.
We'd love for you to try it out yourself and play your next home poker game online. Sign up for free at www.unshuffled.io and start playing with your friends today!
In a prior Cardplayer Lifestyle article of mine called "Hand Reading is the Most Important Poker Skill", I laid out the steps to hand reading. The first, and most important, of these steps is putting your opponent on a preflop range of hands based on how they entered the pot.
This is easy to do while studying with range analysis software like Flopzilla Pro:
However, while playing it can be tough to visualize your opponent's range especially if you're just beginning to build your hand reading skills.
Let me give you some range visualization tricks I use when putting my opponent on a range while playing.
If I were to ask you to think of a very tight 3betting range of 3%, what hands are in that range? You might tell me JJ+ and AK. Great!
Now, close your eyes and visualize what that range looks like in Flopzilla Pro with only JJ+ and AK highlighted.  It looks like a small arrow or club up in the top left-hand corner of the Starting Hands section:
Can you visualize a range comprised of all pocket pairs and all Broadway cards? It looks like a diamond-shaped street sign:
Now add to this range every Ace along with suited-connectors 56s and higher. This is a potential later position open-raising range. What does it look like to you?  To me, it looks like a stealth bomber with a vapor trail (heavy on the suited side):
Lastly, try to envision the stealth bomber range above as a caller's range, so it will be missing the strongest 3betting hands like QQ+ and AK. To me that looks like a double fishing hook.
Also, realize that many ranges are often heavier with suited hands. So, visualize more hands in the suited yellow area (on the right above the pairs) than in the off-suit pink area, especially calling ranges.
Now that you have your opponent's range visualized, you can use it to make plays against them as the hand progresses.
Example Hand
You open-raise with TT in the cutoff and the tight player on the button 3bets you to 8BBs. You visualize his range as the arrow-looking JJ+ and AK (Figure 2 above).
The blinds fold and action is back on you. You have a reasonable read on this player and you believe he'll check-behind without an overpair or top pair hand on the flop, and you know how to exploit his fit-of-fold tendencies.
You decide to call to see the flop, even though your TT is way behind at the moment. How far behind are you? Take action: whip out Flopzilla Pro and see for yourself.
The board comes down KT5r. You flopped middle set! You realize that a large portion of his range hits top pair or better, so you check in hopes he cbets. He does exactly that with a 2/3 pot flop cbet.
How do you respond?
Give it some thought before you read on. I'm burying the answer in this paragraph, but your options are to fold, call or raise. Folding is out of the question, so it's a call or a raise. I'm raising here every time because I'm a firm believer in getting value while the getting's good. With his range visualized, I can see in my mind's eye that a majority of it hits top pair or better. Plus, given that this fit-of-fold player made the cbet, it means I can go for maximum value.
Flopzilla Pro shows us he hits top pair or better with 63.6% of his range, and we're only losing to three potential combos of KK:
Getting back to the action, you raise 3x his bet, he re-raises all-in and you snap call knowing he'd play this way with AK and AA. He turns over AK and you take down a huge pot thanks in part to your visualization of his 3betting range.
Visualizing your opponent's ranges is the first step to hand reading on-the-felt. It's going to take some practice to train your range visualization skills, so be sure to take action and visualize your opponent's ranges as you play this week.
And if you're interested in becoming a hand reading master, the Hand Reading Course within ThePokerForge.com (one of the 9 masterclass courses) will teach you how to hand read both on- and off-the-felt and use this skill to crush your opponents.
If there was any lingering doubt about the comeback of shows and conventions in Las Vegas, the third weekend in June at the South Point Hotel and Casino should put that to rest for good. Thousands of people came to South Point over the past few days, and every corner of the property was taken up by someone with a cowboy hat, bowling shoes, or casino chips… and sometimes they had all three!
The Casino Chips and Collectibles Show shared a wild weekend at South Point with a massive bowling tournament and the Pacific Coast Cutting Horse Derby, and it was exactly the kind of action that Las Vegas needed to come back into style.
Throughout the entire weekend in Exhibition Hall C, the convention floor saw a steady stream of dealers and collectors, and the casino collectibles show took on the feeling of a reunion as friends saw each other for the first time since 2019. Poker industry legends Linda Johnson and Jan Fisher were on hand to talk with guests about their long and illustrious careers on Friday, and Mark Hall Patton from Pawn Stars and the Clark County Museum stopped by on Saturday. The yearly event returned to top form after missing 2020 to COVID, and the 28th annual show was well attended by collectors and lots of curious visitors.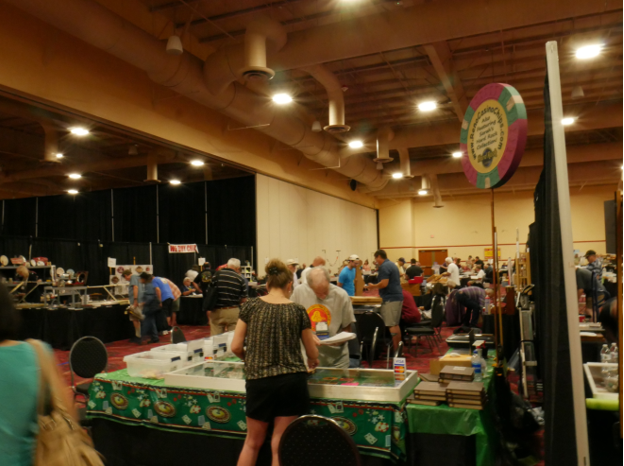 Spending Time with Linda & Jan
Johnson and Fisher were in attendance to greet attendees and take in the show on the show's first day. They both had the opportunity to spend time on the floor of the convention before participating in the club's annual poker tournament in the South Point Poker Room that evening.

Johnson, a Poker Hall of Famer, is a WSOP gold bracelet winner who has been around casinos for her entire career. She has picked up many unique items along the way, but even as a veteran of the casino industry she had to marvel at the collection.
"I have some really old Dunes chips, and I really like the Las Vegas Club chips with the baseball players," Johnson said during a break in the poker tournament. "I've been collecting chips for 40+ years and the collection that they have here is amazing. I really enjoyed walking around and looking at the displays."
Fisher, a 2009 inductee into the Women in Poker Hall of Fame, has an understandably different approach to the hobby:
"It's been great to see so many avid collectors come out and do what they love. We love to play and being back at the table is a lot of fun. I've been collecting chips ever since I've been playing poker, but I cash them out before I leave."
Both Johnson and Fisher played in the Friday evening poker tournament, which is held annually for members of the club. They offered copies of their book Winning Women of Poker as bounties, and took time on break to take more pictures with members of the club who were competing. The tournament was a hit, and the results were not very surprising. Johnson held on to her bounty and won the tournament, and the "First Lady of Poker" donated her winnings right back to the Casino Chip and Gaming Token Collectors Club.
A Growing Hobby
The 2021 show was put on by the CC&GTCC, a.k.a., the Casino Collectors Club, a not-for-profit group that has been gathering in Las Vegas once a year to buy, sell, and trade casino collectibles since 1993. Early versions of the annual event were a unique opportunity for club members to buy, sell, and trade with one another in the pre-Internet era, and a wonderful excuse for its members to visit Las Vegas once a year. The first show in '93 was at the Aladdin Casino on the Strip, and it has made a few different stops in the last few decades at places like the Riviera and Tropicana, before spending the last several years at South Point.
The hobby has grown with the internet and adjusted to it, but it's still very much an in-person experience and many members prefer to do a lot of their collecting without relying on the web. Collectors usually start with a small collection and grow very quickly from there. It's very common for members to pick up lots of extras on a casino vacation for their friends.
Casino collectibles have had a small following throughout gaming history, but casino artifacts were considered more of an oddity by most serious collectors until the early 1980s. Coin dealers dealt in a few rare casino chips, but collections were mostly personal items that someone may have kept from a trip to Las Vegas or another casino from around the world. That started to change in the 1980s as the CC&GTCC formed around a group of collectors that subscribed to newsletters written by one of the hobby's dealers, Archie Black. The newsletter and the club allowed collectors to come together and grow the hobby, and today the quarterly "Casino Collectibles News" boasts a circulation of over 2,000.

The growth of the hobby means that just about anything with a casino logo on it is sought after by a nostalgic collector today. Everything from player's loyalty cards to napkins is collectible, and a good story will always add more value to an interesting item.
The market for casino collectibles is still somewhat new, and most of it remains under the care of the collectors themselves. It's a small, tight knit industry, and there are constant efforts to keep the costs reasonable. With the exception of very rare and popular items, prices can be relatively safe from the bubbling intensity that has fueled the rising costs of collecting sports cards and memorabilia. It's an old school pastime, with a focus on companionship over money and a commitment to share and grow the thing that they love.
There are no concrete dates for the 2022 Casino Chips and Collectibles Show, but everyone expects it to be back and continue to grow into the future. In the meantime, you can explore their growing database of casino chips from all over the United States and parts of the world. "The Chip Guide" has over 269,000 items to explore, and its searchable by state on the front page. If you're interested in learning more or joining the CC&GTCC, visit their website.
John Barrows is the tournament manager for Running Aces Casino, Racetrack, and Hotel, the official sponsor of the RecPoker Podcast. John opens up to give insight about how poker fits into the context of casino profitability, specifically considering how to balance tournament structure and rake. John can be reached at [email protected] with general feedback welcomed at [email protected]
RecPoker is a vibrant and encouraging poker learning community. We are committed to learning the game, but our priority is building healthy relationships where we can not only grow in the game, but grow in our enjoyment of life. The membership website at rec.poker is awesome, but it's just a tool to help us build that community. You can join for FREE, giving you access to the groups, forums, and other member benefits. If you want to enjoy the premium content, or become part of the RECing Crew, those options are available and you can get $10 off your first payment using the code RECPOKER.
Time Stamps
02:05

Introduction to

John Barrows

. 

02:28
John's

official title

at Running Aces. 

06:27

Where does poker fit into the landscape of the casino profitability?

11:22

Why cash games are more profitable than tournaments. 

15:07

Keeping track of the tournament and its value to the casino.

20:53
John

on managing the cost of the tournament. 

24:44

Maintaining business costs while the rake does not rise. 

28:59

How rake structure, number of players, and buy-in all work together.

35:05
John Somsky:

If we don't make it so that running aces can make a profitable business, we don't have a place to play.

59:20

Home Game updates.

 
The World Series of Poker is slated to return to the Rio All-Suite Hotel & Casino in September. The greatest poker festival on the planet prepares to welcome live players back to the felt.
Could it be the start of a second poker boom, or will numbers fall short of those expected by the poker playing public and demanded by those in charge? Of course we all love a little gamble and folks are already placing bets on how big the crowds will be come September 30, the first day of the WSOP.
Now that the full 2021 WSOP schedule has been released, we've practiced a little White Magic and have put together a list of our top 10 bold predictions for what's to come when the world descends on Sin City for eight weeks this autumn.

1. The Main Event Will Welcome 10,000 players
The hardest prediction most years is exactly how many players will take part in the Main Event, but while the eyes of the world will be on the best tournament of the year between November 4-17, there are plenty more events on offer. We think that will make it a very busy year in Las Vegas.
As WSOP Executive Director Ty Stewart has said, "In 2021, the theme is 'Get vaccinated and get back to Vegas'." It may sound ambitious to officially lock in a statement that 10,000 players will play in the Main Event at the Rio, but poker players have really missed the live game, which leads us neatly into our second prediction.
2. Online Poker Players Will Reign Supreme
It's no secret that staying up to date with the techniques of playing poker for a living are vital to any success. This year's collection of live players will likely have played less poker than in many other years before they arrive in Vegas looking to win a much-coveted WSOP bracelet.
By contrast, online poker players have of course had a year at the virtual felt like no other. With a plethora of festivals moving online — including an expanded slates of WSOP online bracelet events, too — this enforced dedication through perceived value will only have honed their skills. By comparison, 'live only' players may have taken a step backwards, so anyone who isn't rusty will be ready to take advantage once the cards are in the air.
3. Over 1,000 Women Will Play in the Main Event
It figures that plenty of female poker players will be playing at the World Series of Poker if it is well attended. But while female players typically account for around 5% of the field in most events, we think a lot more ladies will be playing events in Vegas this autumn.
The line for the female restroom is always a lot shorter than that of the 'Gents', but this year, we think it'll be a lot fuller with female players looking to bag themselves a bracelet. It's a been a great year for the development of the game and plenty of female winners in Vegas would help poker work towards the equality it needs to grow the game even more.
From a brief survey of the numerous popular ladies poker groups on Facebook and other social media platforms, women's excitement to get out there and play is through the roof. We expect (and hope!) that they'll comprise close to 10% of this year's Main Event field and that there's a chance we'll see at least one woman at every table in play on each Day 1 flight.
4. The Autumn Move Will Go Permanent
This is our stand-out prediction for this year's series. The least sweltering WSOP ever will be held in autumn at the famously icy Rio, but the coolest decision of all would be to permanently move the World Series of Poker to the October/November time slot.
If you think about it, it makes perfect sense to structure the World Series at this time of year. An Online Series in the heat of summer when those who love the sun can sit out in it while they grind followed by an autumnal affair for the live stop in Vegas before an excursion to Europe to celebrate the last big World Series winner of the year before Christmas. Player feedback will be critical with this one, but for our money, we'd love to see it.
5. Big Names Will Bag Bracelets
It could almost go without saying, but we're talking the really big hitters. Looking at four of the biggest names, it's been too long since Poker Hall of Famers Phil Ivey (2014), Daniel Negreanu (2013) and Erik Seidel (2007), and future Poker Hall of Famer Antonio Esfandiari (2012), have bagged World Series gold.
With all four men looking likely to take part, each of them would appear to be due a victory. Who would bet against at least one of that 'Fab Four' winning big yet again?
There's also one more really big name we want to throw in the mix, and we've got a special prediction for him below.
6. Masks Will Unite, But Dividers Divide
Many players will not be looking forward to wearing a face mask when they arrive at the poker felt, purely down to the lack of personal comfort. But in an age where poker tells have never been more important, the fact that many face masks cover 60% of even the biggest-headed poker player's face, could help some players. Plenty of the close-ups during the all-new CBS Sports WSOP coverage will prove that, in 2021, the eyes have it.
While masks will likely be optional, the plexiglass dividers spotted in Vegas casinos of late will likely be gone by the time the Rio opens its doors. The Wynn was the first to "tear down those walls", with 90% of their staff vaccinated. Other casinos have followed suit due to player pressure and increased numbers of vaccinated staff and patrons, and we'd expect the Rio to be no different.
7. Phil Hellmuth Will Win the Seniors Event
How do you write any WSOP-related article without mentioning the 'Poker Brat'? The 15-time WSOP bracelet winner will be turning 57 this summer and looking to boost his all-time career leading numbers ever further. So why couldn't that come in the annual Seniors Event? There are fewer events on the schedule this year and if Hellmuth whiffs the WSOP Online Series then he's going to bring his A-Game throughout the live series in order to grab gold before the action in Vegas wraps.
If you think about it, Hellmuth winning the Seniors Event just makes total sense. It's logical yet left-field, unexpected right now but completely believable once it happens. Plus, it's a new achievement and the "Apex Predator" hardly has any of them left.
READ MORE: Interview with Phil Hellmuth
8. There Will Be No British Bracelet Winners
One of the great anomalies of recent years is the lack of British talent that has gone far in World Series of Poker events. For many years, it pleased this writer to no end to see fellow Brits hailed as some of the best players in the world and pound-for-pound, we'd like to believe that's still true.
Sadly, over the last decade, the number of British players playing WSOP events seems to have dwindled and the natural result of that has been a distinct lack of winners. British players have won 56 WSOP bracelets among them, a number only bettered by Canada (66) and U.S.A. (1,169), but could you name the most recent five? Until international travel restrictions are fully lifted, we'd expect this recent trend to continue.
9. Shaun Deeb Will Win Player of the Year
Over the past few years, there have been few more enjoyable battles to witness than Shaun Deeb trying to win the WSOP Player of the Year. Sometimes right, sometimes wrong, but always certain, Deeb is the anti-hero fan's choice at the WSOP.
In his frequent feuds with Daniel Negreanu, he's been highly entertaining, coming desperately close to winning the 2019 POTY title. We can see Shaun Deeb getting a new banner up on the wall of the Rio. Or will he…?
10. It'll be the Final WSOP at the Rio
The World Series of Poker has enjoyed its home being the Rio All-Suite Hotel and Casino for many years now, but could this be the 'last hurrah' for the gargantuan venue? Next year, the newly expanded Las Vegas Convention Center will be available and could add a new and exciting chapter to the long and illustrious history of the WSOP.
Deeb may have to wait for his flag to be flapping in slightly less wintry air conditioning at a new venue in 2022. You heard it here first. The World Series of Poker could take place anywhere. From Binion's Horseshoe to the Rio the WSOP has come a long way, but its home will always be wherever the players are. They're what hold the magic of the World Series of Poker together, and we can't wait to follow their journeys this Autumn here at Cardplayer Lifestyle.
In this episode of The Bernard Lee Poker Show on the Cardplayer Lifestyle Podcast Family, Bernard Lee conducts his annual Question and Answer (Q&A) show where he answers numerous questions that have been submitted to him by his loyal listeners throughout the last couple of years (as the show didn't have one last year due to COVID 19 pandemic).
During the show, Bernard discusses topics that range from his radio show, his latest book, Poker Satellite Success, WSOP advice, hosting mixed games in New Hampshire, online poker, and future plans.
0:00
Welcome to The Bernard Lee Poker Show as this week will be the show's annual Q&A show (Note: the show didn't have one last year due to COVID 19 pandemic).
0:10
Bernard talks about the 2021 U.S. Poker Open, including David Peters winning two events.
2:11
The RunGood Poker Series started again at the Jamul Casino in San Diego. The Main Event was captured by Armando Mesina.

3:32

Chance Kornuth captured the $1600 MSPT Venetian Main Event for $412,086, which had 2,011 entries over three days.
5:44
Triton Poker Tables Ad
6:41
Bernard begins his annual Q&A show where listeners sent question via Twitter (@BernardLeePoker) or email (

[email protected]

or Facebook.
7:32
Bernard discusses who were the most memorable guests on the radio show.
12:30
Bernard was asked about the One Step Closer Foundation (@1scf or www.1scf.org) and the poker tournament that we hold to help raise money for the charity.
17:46
Bernard talks about his latest book, Poker Satellite Success.
31:07
RunGood Gear Ad
31:50
Share My Pair Ad
32:23
Bernard continues his annual Q&A show.
33:01
Bernard gives advice on going out to the WSOP for the first time.
36:27
Bernard talks about the mixed game he hosts at Boston Billiards Club & Casino in Nashua, NH.
42:10
Bernard gives his prediction of the U.S. online landscape and future.
44:14
Bernard discusses his future plans for the remainder of 2021.
47:10
Bernard talks about people who he would like to have interviewed.
49:48
Bernard discusses his Metrowest Daily News Column.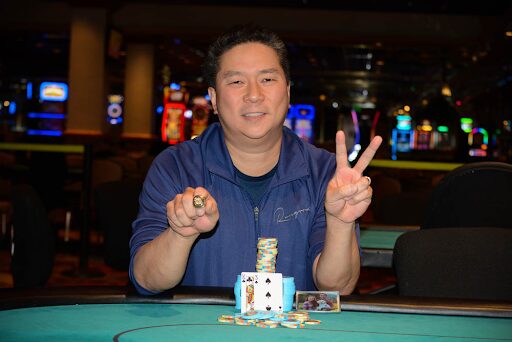 There has been a meteoric shift in recent times when it comes to the typecast of the modern poker player. Today's stars of the felt have access to hundreds of alternatives to the card game, and many of them use these options as a way to develop their skills. Some have found that mastering different games has enabled them to become better all-rounders, as the attributes they have learnt elsewhere can be applied at the poker table.
Fantasy Card Games
The list of poker players that play fantasy card games to a high level is extensive, with there being too many succeeding at both games for it to be a coincidence. The top two players in the poker all-time money list, Bryn Kenney and Justin Bonomo, both played Magic: The Gathering professionally before excelling at the felt. Bertrand Grospellier has played a variety of eSports, including Hearthstone. Daniel Negreanu has been known to dabble in the Blizzard Entertainment title as well.
There are plenty of fantasy card games to choose from, with Gwent another popular option along with the ones already mentioned. All of these games require players to go into a match with a clear strategy and to make sure they play their cards in the right order. They gain a strong understanding of value and know that the higher value cards should be saved for later rounds when they can have a bigger impact. All of these skills can be applied to poker.
Slots
Slot games and poker have a long and rich history. Some of the earliest forms of slot machines were actually video poker games, which is why slots are known as pokies in places such as Australia. Over the last few decades, the games have evolved, and now there are exciting and colourful themes to attract players. Rainbow Riches is an example of an award-winning slot that displays how far the genre has come over the years. It has bonus features and attractive symbols, which help to draw players in.
You may be wondering how slots help to improve poker players. The main way that they can be beneficial is if players use them as an outlet to reset by blowing off steam. By playing games of chance for thrills outside of poker games, players are less likely to take risks at the felt.
Chess
Chess has long been regarded as one of the ultimate strategy games, and it is one that poker players should look to master if they want to become better strategists. The classic board game forces players to think a few moves ahead, and they have to assess every eventuality when doing so. Playing it makes people slow down in their thinking, and they have to activate their system 2 brain to make the best decisions. In poker, emotions can often take over, and players need to call on this logical thinking when it matters.
Modern poker is all about being an all-round player. Yes, you need to practice the card game as much as possible but playing other games is also hugely beneficial when it comes to developing the necessary skillset to cut it with the best.
The year 2020 was a rather strange one for live poker, with all major live festivals either entirely canceled or moved online. The World Series of Poker was no exception, as the entire series was moved to the virtual realm and, for the first time ever, the whole WSOP took place online (Damian Salas' end-of-year triumph notwithstanding).
Things are looking much more promising for 2021, though. The WSOP officials have already announced that the tournament would take place at its usual location, albeit starting a few months later. So, with that in mind, we thought it would be interesting to make a list of the top five Canadian players to watch out for at the 2021 WSOP.
Daniel Negreanu
Even though he spends most of his time on the US soil and he's even acquired the US citizenship, Daniel "Kid Poker" Negreanu remains the most famous Canadian player (and arguably the most famous poker player, full stop). The Toronto -native currently has six golden trinkets to his name, and he'll probably seek to up that count during the coming World Series.
"Kid Poker" has been working hard on his game so as to be prepared for premier heads up matches with Doug Polk and Phil Hellmuth. Negreanu says he's learned a lot from these encounters (even though lessons came at a rather hefty cost), so it will be interesting to see if this newly acquired knowledge will help the Canadian dominate massive fields of WSOP events.
Mike McDonald
Better known by his "Timex" alias, Mike McDonald may be the youngest-ever EPT winner, but he is yet to add a WSOP bracelet to his poker resume. McDonald had certainly been on the grind in 2020, trying to take advantage of the online schedule, but he couldn't close the deal in any of the WSOP online tournaments.
Even if WSOP bracelets weren't a motivation enough to get "Timex" involved, he'll likely have some interesting prop bets going on the side to get involved and bring up his A game. Plus, after such a long break, this year's World Series of Poker could see a big turnaround, which will result in big prize pools well-worth fighting for.
"Timex" is definitely a big of a gambling man and likely familiar with Online Casino Canada sites. Poker is more of a skill game, but there is no harm in adding a bit of gambling into the mix with a few well-placed bracelet bets to keep the juices flowing.
Sam Greenwood
Another Canadian pro hailing from Ontario, Sam Greenwood is one of the players that definitely have big chances of claiming some WSOP bracelets. To be sure, Cardplayer Lifestyle tapped him for WSOP Online Summer Series glory, too. Greenwood is currently one of the best tournament pros around with over $22,000,000 in live tournament earnings and a long career ahead of him.
Greenwood already has one bracelet to his name but something tells me that count will increase significantly before he's done. And, having had plenty of time to rest and get ready for the grind, the Canadian will probably look to put in a big schedule come October.
Sorel Mizzi
Sorel Mizzi may have fallen out of the public eye recently, but if we're talking about Canadian players to watch for the 2021 WSOP, he deserves his spot on the list. With $12.7 million in live tournament earnings and 54 WSOP cashes, Mizzi certainly knows a thing or two about playing in big-field tournaments.
Mizzi came close to winning a bracelet in 2008 and 2009, but fell just short both times, finishing a runner-up. Perhaps 2021 will be kinder to him and he'll be finally able to add a coveted golden trinket to his very impressive poker resume.
Timothy Adams
Hailing from Ontario, Canada, Timothy Adams currently sits in the second place on the country's all-time earnings' list, second only to Negreanu. Adams has amassed over $24 million in tournament earnings over his career and already has one WSOP bracelet from 2012.
There is absolutely no doubt that Adams has what it takes to win one or two bracelets this fall and he'll likely put in a good effort towards that goal. Of course, some assistance from Lady Luck would come in handy on that journey as well, as is always the case with tournaments featuring thousands of players.
Online casinos have quickly become a very popular gambling platform for many in the United States. In 2020, the United States online gambling market size was valued at over $1.9 billion.
This figure is expected to increase by 17.32% over the next five years. This statistic is a testament to how fast the industry is growing and how popular online casinos are becoming.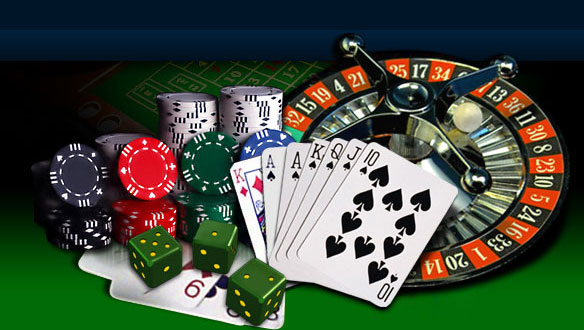 States Legalizing Online Gambling
Currently, there are just 14 states in the US that have made gambling legal. However, this is not to imply that the industry is not widespread. If you reside in America, you are probably closer than you realize to a state that offers legalized online gambling.
Even though Nevada and especially Las Vegas receive the most attention for all things gambling-related, it is currently the state of New Jersey that currently has the biggest market for regulated online casino games in the US.
Others states with regulated online gambling are Pennsylvania, Illinois, Michigan, Virginia, Colorado, Tennessee, Indiana, West Virginia, Iowa, New Hampshire, Delaware, Oregon, Rhode Island and Montana.
Increasing Number of Online Casinos
New Jersey has more than a dozen lawful and state-sanctioned online casino websites and poker rooms with an overall online market worth over $225 million a year.
In addition to online casinos, New Jersey also offers online poker and online sportsbooks. This enables all Americans and tourists to indulge their gambling urges anytime.
In 2013, Governor Chris Christie passed Assembly Bill 2578, allowing Atlantic City casinos to provide their online casinos and online poker to New Jersey citizens. In addition, they were allowed to form tactical partnerships if they liked. However, they could not work in New Jersey until a deal is made with in-state casinos.
This move allowed Americans to participate in online casino games. This led to the establishment of new online casinos in the USA. They're safe and secure, and what's more, some are operated by trusted brick and mortar casinos.
Prevalence of Online Casino Games
Major casinos in the United States have invested in casino websites. These sites offer iGaming services where American gamblers can place real money wagers and play their favorite casino games virtually. With multiple online payment options available to players and operators, real money online wagering has never been easier.
Online casinos were first established in Pennsylvania in 2019. Now, the state has a wide range of online games like table games, online slots, and poker games. Today, due to its rising popularity in America, numerous additional online casinos are on the way.
West Virginia is not to be left behind either. This state already has downloadable online sports betting software. In addition, the passing of the West Virginia Lottery Interactive Wagering Act, officially launched in July 2020, legalized online casinos and online poker games.
As of right now, there are four online casinos in West Virginia.  DraftKings Casino, BetMGM, BetRivers Casino, and FanDuel casino.
How the Covid-19 Pandemic Created More Online Casino Lovers
The COVID-19 pandemic caused the closure of land-based casinos, lottery ticket outlets, and other betting venues. In addition, with the interruption of live sporting events, online betting on live games took a major blow. To combat this new global dynamic, the industry shifted focus to online casinos.
The closure of many gambling centers necessitated this migration. Many Americans, therefore, moved their gambling to online casinos. In addition, some people who were stuck at home in search of entertainment also joined the online casino trend. This led to a surge in online casino game popularity.
Live Sports Betting
In addition to this, the live sports betting market is gaining momentum as more and more American join it. Even though live sports betting is still young in the US due to the stringent regulations in place, the demand for online gaming has forced software developers to respond.
Software providers like Evolution Gaming and Ezugi have been given certificates to offer their live sports dealer games in states like New Jersey. Due to this, global operators are entering into this market and investing greatly to increase their statewide presence and client bases further. These responses have been necessitated by the growing demand and love of playing these games.
The US Online Gambling Market
The online market for gambling in the US is highly uneven. Due to high demand from across the USA, the market has local and global operators, including companies like Caesars Entertainment Corporation and 888 Holdings PLC. Major companies are focused on acquisitions and mergers to grow their dominance in the market.
Online Casino Offers Luring more Americans into iGaming
These major companies are also open to forming partnerships to enhance their features and grow their bonuses. Freebies are almost always guaranteed. For example, in July 2018, Paddy Power Betfair merged with FanDuel, a fantasy sports company, to target the ever-growing US sports betting market. This way, they can get more clients through their doors while creating the potential to reach new and untapped markets.
Final Thought
After the discussion above, we can see that online casino games are extremely popular in the United States. However, despite this massive popularity, gambling is still not widespread enough to generate enough revenue to compete with countries like the UK and Canada. This is due to the stringent laws against gambling in most of the states in the USA.
If the USA wants to make waves in the online casino industry, it needs to enact a general law legalizing gambling like Britain did using their Gambling Act of 2005.