The game of poker has had its ups and downs over the years, but at its core it remains a fun pastime engaged in by tens of millions of players worldwide. While there's plenty of fun to be had when playing poker online, for me live poker has always been where it's at. After all, it's not online poker that attracts fans to their screens to watch. Many players watch televised poker to improve their game, but I've been more likely to tune in when I know I'll be in for some poker entertainment. Though I might be wrong, I believe that the majority of people who'd watch poker on TV are with me in terms of preferring an "entertaining" show rather than a hard core "strategy" show.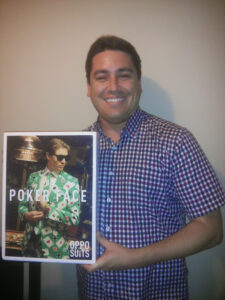 Over the last couple years, since prominent poker voices have begun wondering what happened to the "fun" in poker, there's been a marked push for creating more fun poker shows and for simply celebrating the fun aspects of the game a bit more in general. Home poker game aficionados (like me) know that the fun need not be limited to playing in poker rooms. Often, some of the most enjoyable poker games are those played when seated around the table with a group of friends. Regardless of where they're playing poker or how seriously they take the game, I'm sure most people would be happy to inject additional enjoyment into the game whenever possible. It's with that thought in mind that I decided I wanted to do something special for my dad's 66th birthday. I decided to try out my new Poker Face Suit for the first time.
Dad got a small poker game together to celebrate his birthday and I thought it would be cool to make a sort of a "grand entrance", a la Phil Hellmuth, and liven up the night a bit. Nobody knew that I had gotten the suit, so they were all completely surprised to see me show up in full regalia. Sitting and playing in the jacket, tie, and pants for the duration of the night, the suit was absolutely the talk of the table…and it has continued to be over the course of an additional few home games since then.
More People Ought to Suit Up for Poker
In the great tradition of How I Met Your Mother's Barney Stinson, I believe that we could all make poker a bit more fun if people would suit up for a game once in a while… in a poker suit. When I first discovered Opposuits' specially designed Poker Face Suit, my first thought was "I have to have one of those".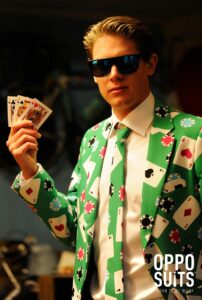 As you can see on their website, the suit comes in a wide range of sizes and it ships worldwide. It's definitely an attention-grabber, and I bet that if you saw someone walking around with the Poker Face Suit on in a poker room or on TV in a televised poker event, you couldn't help but smile.
Bottom line: I would love to see more people going all out and suiting up for poker. Even if for some reason you don't get a warm reception, at least you could say that "you were suited" :-).
Disclaimer
In the interests of full disclosure, I originally contacted Opposuits a couple months ago to see if they'd consider sending me a complimentary poker suit, letting them know that, if so, I'd be happy to write about it and my experience with it here on my poker blog. Opposuits representatives were extraordinarily kind and gracious throughout their correspondence with me. So, I'd like to use this opportunity to give specific thanks to Leon for thinking outside the box and being creative with this marketing idea. I truly believe that donning the Poker Face Suit, along with other "outlandish", "out there" ideas, is the type of thing that has the power to add a lot more fun to the game of poker and help grow the game.