The world of poker is mourning the premature loss of their annual summer camp as the 2020 edition of the World Series of Poker (WSOP) has been officially postponed. Many speculations ultimately come to an end while even more will arise with the option of a possible fall version and details yet to come.
Other poker enthusiasts are currently checking the fine prints of the bets they made with regards to the WSOP taking place:
Was it this summer, live or valid for the entire year?
Can I already cash in for one of the few bets that are still up and running as the world of sports and live poker is heavily interrupted?
Do I need to wait further and suffer from a slowroll even though the cards are already in the muck?
Was it correct to postpone the series based on the current circumstances? All available details and contemplated measures to ensure public safety indicate that it is the right call with top pair and no kicker. Many poker players may have wished that the official announcement would have come sooner without knowing many of the details that have to be discussed on a corporate level for an event of such magnitude.
2020 WSOP Postponed :
The 51st World Series of Poker (WSOP), is officially being postponed as a result of the public health emergency involving COVID-19. It is now targeted for fall of 2020, with exact dates and events to be determined.
More details: https://t.co/iaYZgSGXr9 pic.twitter.com/UVL6PQwH96

— WSOP (@WSOP) April 20, 2020
For poker players, only a few things fundamentally change. They may not be able to meet up with and play against their friends and foes face-to-face in their usual boot camp known as the Convention Center of the Rio All-Suites Hotel and Casino in Las Vegas. There may be restrictions for online poker in place that prevent people from participating in a legal way. And the chase of glory, most notably by claiming a coveted gold bracelet, will have to wait for some time.
Keep in mind that the WSOP is not the only live event that had to temporarily put their plans on ice, as many other live poker operators and casinos are equally struck by the current crisis. Poker typically only represents a small profit margin for casinos, be it online or live, while on-site staff can be heavily impacted by the lack of work available.
Only a rather small portion of poker dealers is employed in casinos while many of those you have interacted with in Las Vegas and during international poker festivals are self-employed. The same is also the case for the other on-site staff such as tournament directors, organizers, and ancillary service personnel, such as massage therapists.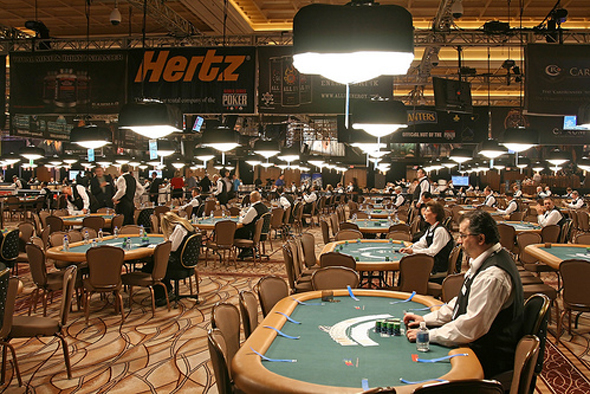 What Does the Future Hold?
As it stands right now, live poker events may very well be impacted for quite some time and nobody can tell yet how long this may hold true. It will hopefully lead to an improvement of the environment for the staff and players as procedures need to be rethought, adjusted, and even invented.
With regard to the poker media corps, a dull period of cancellation news has hit the virtual iceberg and the entire boat has to somehow scrape through. It may not sound incredibly enticing to write about the winners of online tournaments if their nicknames are "donkeychaser27" or "TheGreatest93" but for now, online poker news is pretty much the only ship still out at sea; thankfully at least that segment of our industry is booming.
Perhaps, the social experiment of displaying real names instead of nicknames by partypoker may lead to a trend in which in news recaps we can put names to a success story the way it has been done during the WSOP and all over the live poker world.
I, for one, will miss summer camp. Not only because it represents a decent chunk of my annual income, that would only be a part of the story. I'll miss being able to showcase live reporting abilities and expanding my specific knowledge base, but on top of that I'll especially miss the social factor of mingling with players and media colleagues that comes along with it.
Interactions on social media such as Facebook and Twitter all have their limitations, and while all of those may be a great tool to stay in touch, they don't replace the opportunity to witness in person how poker history is being made.