From July 12 to 17, one of the most highly anticipated tournament series of 2022 will be played out in Las Vegas: the WPT Venetian, and it's Main Event will feature a massive guaranteed prize pool of $4,000,000.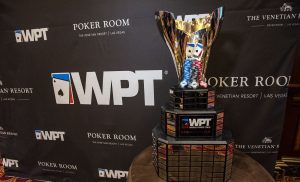 WPT Venetian
Tournament details and structure:
Buy-In: $5,000 ($4,600 prize pool + $275 entry fee + $125 staff fee)
Re-entry: Unlimited re-entry is allowed until the start of level 9
Starting chips: 50,000 (250 big blinds)
Guaranteed prize pool: $4,000,000
Blind levels: 60 minutes on Day 1 and Day 2. 90 minutes on Day 3 when 24 remain. 60 minutes during final table and 30 minutes during head's-up.
Ante format: Big Blind Ante
First blind level: 100/200 with 200 Big Blind Ante
Late registration: Available until the start of level 9 on Day 1A, Day 1B, and Day 1C
Players per table: Play will begin 9-handed. Play will move to 8-handed when 10 tables remain. Play will move to 6-handed for the Official WPT Final Table.
Action clock: The Action Clock will be used once the field is down to one table out of the money. Remaining players will have 30 seconds to act on their hand. At the beginning of play in the Action Clock portion of the tournament, each player will receive time extension chips, each worth a 30-second addition to a player's action.
You can see the complete blind level structure in this link.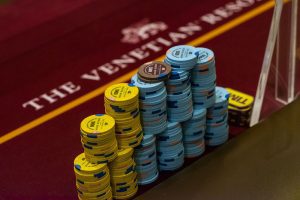 Tournament schedule:
Day 1A: Tuesday July 12 11:10 AM (11 levels)
Day 1B: Wednesday July 13 11:10 AM (11 levels)
Day 1C: Thursday July 14 11:10 AM (11 levels)
Day 2: Friday July 15 11 AM (10 levels)
Day 3: Saturday July 16 12 PM (until 6-handed final table is reached)
Day 4: Sunday July 17 12 PM (final table)
Matt Savage anticipates a successful tournament
We spoke with WPT Executive Tour Director Matt Savage about expectations for the tournament and he told us "I anticipate that WPT Venetian will be a massive success based on the response I've received from the announcement. I fully expect the number to exceed last year's number of 937 based on the numbers we've been seeing in our 20th season."
On the large increase in the guaranteed prize pool he told us: "Venetian and the World Poker Tour have put an emphasis on giving players the opportunity of a lifetime, earning entry through satellites and ClubWPT competitions."
Finally, we asked what is different about a WPT tournament compared to other tournaments in Las Vegas this summer: "I believe that the World Poker Tour and our festivals are the most player-friendly in the game and that etching your name on the Mike Sexton Champions Cup should be the goal of every poker player," said Savage.
More WPT events at the Venetian
In addition to the WPT Venetian Main Event, other side events will be played at the WPT Venetian Festival, too, including:
Event #106 WPT 1 Day / Date: July 7 / Buy-In: $1,100 / GTD Prize Pool: $200,000
Event #108 WPT 3 Day / Date: July 8 / Buy-In: $2,400 / GTD Prize Pool: $2,000,000
Event #110 WPT 1 Day / Date: July 11 / Buy-In: $1,100 / GTD Prize Pool: $200,000
You can view the full festival schedule here.
There's a MASSIVE @WPT $5K this summer @VenetianPoker with a $4,000,000 guarantee. There will be plenty of satellite winners and fun to be had! #WPTVenetian https://t.co/hSlbgNyh8X pic.twitter.com/zNeemyK75q

— Matt Savage (@SavagePoker) June 4, 2022
WPT Venetian 2021
The 2021 edition of the festival received 937 $5,000 entries with a prize pool of $4,333,625, far exceeding the $1,500,000 guarantee. The top 118 players cashed, including Lily Kiletto (110th), Sean Yu (108th), Ali Imsirovic (90th), Joseph Cheong (85th), Ryan Laplante (69th), Nick Schulman (34th) and James Carroll (13th), among others.
The grand champion was Qing Liu, who defeated Joe McKeehen (2015 WSOP Main Event champion) in the final match and won $752,880. He also joined the WPT Champions Club and got his name enshrined on the prestigious Mike Sexton Champions Cup.