Las Vegas. The mecca of gambling, nightlife, and entertainment that sees over 40 million tourists visit annually. However, with the COVID-19 pandemic sweeping the world, Las Vegas has had to shelve the idea of Sin City, and return to being just another city in the United States attempting to adjust to life under quarantine.
When COVID-19 began sweeping the United States, the state of Nevada was one of the first to issue stay-at-home orders. With the closing of non-essential businesses, one of the most visited cities in the country would be shutting their doors on tourist income indefinitely. Like many cities in the country, there was backlash. Many people complained. Others, however, embraced the idea of staying home, staying safe, and doing their part to flatten the curve.
Being a Las Vegas resident since 2012, I would classify myself as a local. Our family is also heavily infused in the gambling industry with my work in the poker industry, while my wife works at Wynn Las Vegas. Once the stay-at-home orders were issued and our family was forced to quarantine at home with our jobs indefinitely put on hold, living in Las Vegas was going to look drastically different.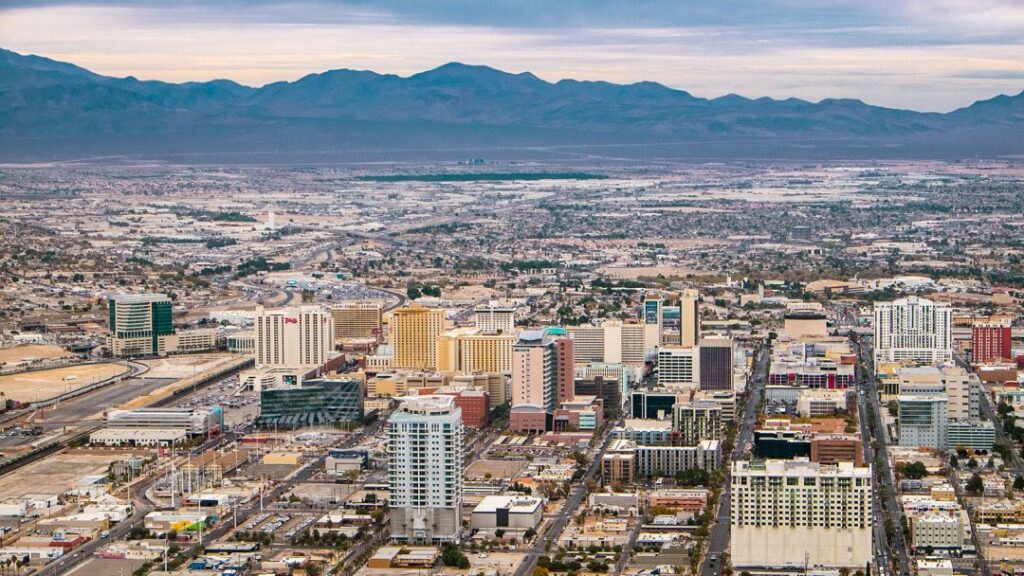 How Las Vegas Looks During Quarantine
What people tend to forget about Las Vegas is that the city is bigger than just The Strip. Driving just 15 minutes north, south, east, or west will see the massive hotels replaced by towering trees, and the man-made water features replaced by lush green parks. Although tennis courts, basketball courts, and playgrounds were closed, parks seemed to be busier than ever. Maybe it was the gorgeous 70°F weather, or maybe it was the absence of gambling due to the poker rooms and blackjack tables put on ice.
Living out west in Summerlin, I am lucky that we have multiple outdoor amenities to choose from. Walking several minutes from my house I find myself in the beautiful Mesa Park, where throwing a baseball or kicking a soccer ball was added to my schedule, along with bike rides along many different trails. Just behind our house are picturesque mountains that I would frequently hike for several hours seeing rabbits, lizards, and desert tortoises.
With no one truly knowing how long quarantine would last, it appeared as though many people looked to dedicate themselves to getting that summer body – you know, just in case the pools reopened. Any equipment workout or fitness related was sold out locally and across a multitude of big-name stores. Many people including myself threw on some sneakers, slapped on some sunscreen, and escaped the indoors for some outdoor fitness whether it hiking, running, bike-riding, or even just casual walks to soak in some vitamin D.
Back on The Strip, it could be best described using one word. Empty. Social media has been filled with videos and pictures of The Strip completely empty of cars and people. Locals began taking their family on bike rides from the Las Vegas sign all the way down to the Stratosphere as there may never be a time again where you could ride basically uninterrupted down one of the busiest streets in the country.
Lost Vegas. #vegas #COVID19 pic.twitter.com/8Yb0Lrsg9o

— Drew Amato (@drew_amato) March 31, 2020
Do I Miss "Normal" Las Vegas?
Yes and No. "Strong answer, Tim" you may be saying, but you have to understand that there are many things I miss about normal Las Vegas, and many things I don't.
It's fairly obvious that what I mostly miss about Las Vegas is probably what Cardplayer Lifestyle readers miss too: The World Series of Poker. It was always a heavy favorite to be postponed due to the logistics of running such a massive event that attracts thousands upon thousands of players each and every day, from nearly 100 countries around the world. If I'm a betting man, I would say that the WSOP will run in Las Vegas in some capacity in 2020, but the fact that the $1,500 Millionaire Maker isn't kicking off right now does put a dampener on what is normally a fantastic way to soften the summer temperatures that always exceed the 100°F mark.
Such an eerie feeling. #WSOP pic.twitter.com/oLLzjsBy7o

— Remko Rinkema (@RemkoRinkema) May 28, 2020
Not only does the WSOP call Las Vegas home during this time, but so does the NBA Summer League. Often held at the tail end of the WSOP, the NBA Summer League is an off-season competition where NBA teams try out rookie-heavy rosters in the two arenas at UNLV. With the NBA season currently postponed, so is the NBA Summer League, and unfortunately Las Vegas loses another sporting event that also includes postponed seasons for the Vegas Golden Knights (NHL), Las Vegas Aviators (MILB), and Las Vegas Lights FC (USL).
So, what don't I miss about normal Las Vegas? It is refreshing not having been inside a casino for the past couple of months – the flashing lights, the slot machine jackpots ringing. With casinos reopening now, when I eventually find myself back inside one of them, I may have the itch to roll some dice or play a blackjack shoe again.
Being a Las Vegas local, I know that our city is reliant on the 42 million tourists that visit annually. However, I don't miss the chaos that our highways and streets become during this peak time. Do you realize how long it takes to drive from The Venetian, south on Las Vegas Boulevard, and then hang a right on Flamingo to get to my favorite sushi restaurant? It's only 2.5 miles and a half dozen traffic lights, but on a Friday night in June it takes an easy 30 minutes. I guess it's how New Yorkers feel on a normal Tuesday!
When Will Las Vegas Be … Las Vegas?
August? November? March 2021? Unfortunately, I don't think anyone truly knows.
With casinos reopening along with many non-essential businesses, there seems to be a strong possibility that we'll see an increase in COVID-19 cases not just in Las Vegas, but in other major cities in the United States. Hopefully we can manage it, and hopefully there is a vaccine around the corner because having the country return to normal will result in the economy returning to normal, along with people returning to their jobs.
Not knowing when things will return means that all we can focus on is the other aspects of Las Vegas – because this city is awesome even without the casinos, gambling, and nightlife.
We have fantastic parks, plenty of tennis and basketball courts, and an abundance of hiking and mountain bike trails. Throw in weather that lets you be outside every day of the year – albeit with a hat and sunscreen during our hot summers – and Las Vegas has more to offer than tourists realize. Come here for the margaritas and blackjack switch … but get away from The Strip and see what else Las Vegas has to offer. I've been here for over eight years and don't see myself moving anytime soon!