Video poker may not be as popular as it used to be, but it is still one of the games favored by experienced casino players. There are multiple reasons for this, but perhaps the biggest one is that this group of games offers some of the best return-to-player percentages you'll find in casino games.
Video poker also involves a certain degree of skill. To get the best value, you need to learn the correct strategy for each different variation and also know what variations are the most favorable ones.
Players in the US can play video poker at several regulated casinos in a number of states, and DraftKings Casino is the one that has a presence in Michigan, and other regulated US jurisdictions. The site offers a decent number of video poker variations, and, as explained by the experts at Casinos.us, there is a sizeable DraftKings Casino Michigan bonus to help boost your bankroll.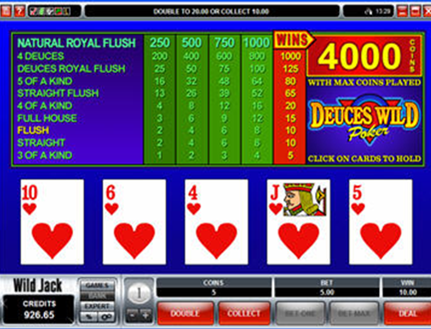 Top Three Video Poker Games at DraftKings Casino
If you're new to DraftKings Casino Michigan, you might have some difficulties locating all the available video poker games. The video poker section doesn't list all of them individually, but you'll find them inside multi-game virtual terminals named Game King Video Poker and Ultimate X Poker.
Clicking on either of these will launch the game interface, and you'll be able to choose from all of your favorite video poker variants, including:
Jacks or Better
Perhaps the most famous video poker type, Jacks or Better has become synonymous with the game. It is the simplest and most-straightforward format, where you get paid for making hands containing at least a pair of jacks.
The game offers an RTP of slightly over 99.5%, making it a great choice for those looking to minimize the casino edge. Of course, to achieve this number, you'll need to fully learn Jacks or Better strategy. The good news is this isn't complicated at all.
Deuces Wild
Deuces Wild is another popular video poker variant, and its RTP varies between 98.9% and even over 100%, depending on the exact paytable. This makes it a perfect option for clearing your DraftKings Casino bonus with very little risk.
As the name suggests, deuces are wild in this particular variation, which means they substitute for all other cards to make winning combinations. Because of this, big hands like straight and royal flushes are much more common than in Jacks or Better, but, naturally, the pays are not as high, either.
Joker Poker
Joker Poker differs from Jacks or Better in one significant way. Instead of the 52-card deck, it uses a 53-card one, and the added card is the Joker. Like in most other games, the Joker is wild, and it replaces any card you need to make the highest possible hand combination.
Like other popular variations, Joker Poker offers a very high RTP, in excess of 99%, provided you know and utilize the correct strategy. There are many useful resources out there, including some tips on the DraftKings Casino Michigan page.
Multi-hand Video Poker for More Action
Playing a single hand of video poker is fun, but playing five, ten, or more at the same time is way more exciting. At DraftKings Casino, you have the option of playing Triple Play, Five Play Draw, and Ten Play Draw, allowing you to play three, five, or even ten hands simultaneously.
In these games, you start with one base hand, but once you discard the cards, every hand receives different new cards, making it very dynamic but also potentially very expensive and much more variance-prone, and we all know how important it is to handle variance well.
That said, if you're looking to take full advantage of the DraftKings Casino promo code Michigan and clear the bonus wagering requirements as quickly as possible, this is a very viable route. The games still have very high RTP, and you're getting to see more hands per hour, so there is no mathematical downside. If you find yourself on the wrong end of variance, your session might last shorter, but as long as you're fine with that, you won't be giving the casino any extra edge by playing multi-hand variations.
All in all, video poker fans will find plenty to keep them busy at DraftKings Casino. The range of bets is very solid as well, so you can enjoy the games at the level you're comfortable with and at your own pace.