For an enjoyable time at the casino, nothing beats the thrill of classic card games. Although slots may often pay out more and take up more floor space, card games have always been a fan favorite at the casino. Part of the reason for their popularity is that they tend to favor skill as well as luck. But card games are also a lot of fun, and if you play your cards right, you can still land some big wins.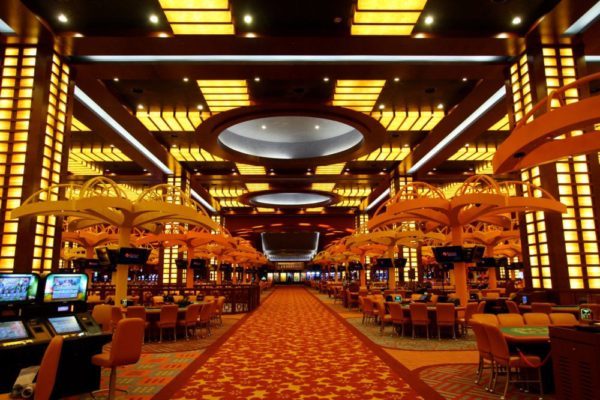 Playing card games online is also a great way to unlock a casino bonus. Check out Pennsylvania no deposit bonuses to discover the best bonuses for card games. You can use your bonus to play without risking your own personal cash.
We've put together a list of some of the most exciting casino card games. Here you'll find some of the most popular games at any online casino. We'll even let you know which are the casino games with the best odds.
Blackjack
Blackjack is one of the world's most popular casino games. Sometimes known as Twenty-One, the game revolves around trying to reach the number twenty-one and beat the dealer. Its popularity is partly thanks to the skill-based element of the game and partly thanks to its very low house edge.
Unlike a lot of casino games, Blackjack isn't is all about luck. Sure, there's some luck involved in which cards you get. But by using strategy, players can give themselves a bigger advantage.
If you've never played before, the game is pretty simple to explain. You'll start off being dealt two cards and can choose to bet, fold, or take another card. The aim is to get the highest hand possible while not exceeding twenty-one. You play against the dealer and will need to have a hand higher than theirs to win.
Baccarat
Baccarat is a little similar to Blackjack in the way that you'll be playing against the dealer to try and get the higher hand. Unlike Blackjack, however, Baccarat involves a bit more luck. Rather than choosing to hit or stand, in most versions of Baccarat, you don't get to choose.
Baccarat is also sometimes known as Punto Banco. While there are different versions, almost all require a player to reach a high hand as close to nine as possible. In Baccarat, if your hand value goes into double digits, the true value will be the second digit of the hand. So, for example, if you have a seven and eight to make fifteen, your hand would be worth five.
Before the game starts, you'll be able to bet on yourself, the dealer, or a tie. That means that even if you lose a hand, you could still win, providing you bet on the dealer beforehand. Both dealer and player bets pay out even money. Some casinos may charge a 5% commission on any winnings from betting on the banker, but this option still has the lowest house edge.
Casino Hold 'Em
Casino Hold 'Em follows the same rule set as Texas Hold 'Em Poker. The only difference is that rather than playing against other players, you'll be up against the dealer. While this may not be as exciting as traditional Texas Hold 'Em for some, more online casinos offer this game type. It's also ideal for beginner players.
Casino Hold 'Em gives new players a great chance to learn the game well before going up against lots of more experienced players in online Poker. You can play Casino Hold 'Em using casino bonuses to try the game out risk-free.
Video Poker
Video Poker is a little different from the others on this list, as it isn't played with real cards. However, most games of Video Poker use the five-card Poker rule set. Rather than playing with a deck of playing cards, this game is played on a machine.
These are perfect for beginners to play as they're easy to follow, and the rules are very straightforward. Most Video Poker games also pay out very well should you win. There are lots of different versions of Video Poker, including Deuces Wild, Jacks or Better and Wild Poker. The most common type is classic five-card Poker.
In standard Video Poker, you'll be dealt five cards to begin with. You can then choose to swap your cards for new ones as you try to make the best possible hand. In most cases, hand values are the same as in Poker. So, you'll be trying to land straights, flushes and so on.