For many poker fans out there, podcasts represent an excellent way to get their daily dose of poker. You can casually listen to them while doing something else on the side as topics covered in these types of shows are usually light and entertaining, such as those featured in the show in the Cardplayer Lifestyle family of podcasts.
If you're new to the world of podcasts or simply can't get enough of them, one you certainly ought to check out is the Red Chip Poker Podcast. Formerly hosted for a time by Cardplayer Lifestyle founder Robbie Strazynski, the show took a brief hiatus and is now back for Season 3 with longtime Red Chip Poker (RCP) personalities James "Splitsuit" Sweeney and Zac Shaw serving as co-hosts.
Delivering boatloads of fresh poker strategy content, RCP has also decided to do away with episode numbers, but this isn't a problem at all as episode titles are quite descriptive of what you'll be listening to. In this article, we'll be giving you the highlights of the first half dozen episodes from Season 3.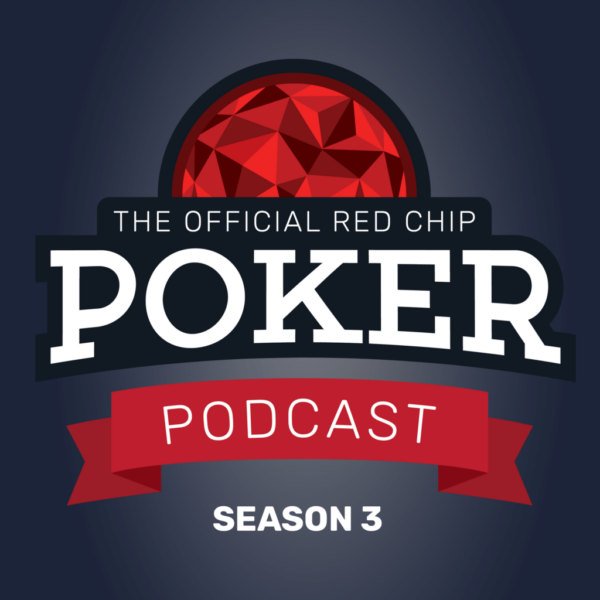 Are You Folding Too Much?
This first episode of Season 3 covers a rather interesting and always current topic. While playing tight is generally right, there is such a thing as folding too much as well and many players fall into this trap trying to stay on the safe side of things.
In this half hour-long episode, Sweeney manages to cover a broad range of topics related to building your ranges, various psychological aspects, differences between cash games and tournaments, and much more.
Shaw does a nice job of moving the conversation forward, asking questions and bringing examples from his own games. This isn't a deep lesson in poker strategy, but rather it feels more like a casual conversation between friends that you can easily keep up with and, hopefully, pick up on some nuggets of poker wisdom sprinkled around.
How Important Is a Balanced Range?
The second episode of Season 3 touches upon another interesting topic that's been very current lately: How important is it really to have a properly balanced range?
Sweeney explains the topic of balancing in a simple and understandable way for less experienced players. This is a short and sweet 20-minute episode that serves as a good introduction to balancing ranges.
Of course, with this being a really big and comprehensive topic, you shouldn't expect to learn all there is to it in just 20 minutes. What it will help you with, though, is understanding whether balance is all that important, especially in smaller stakes games.
Are Poker Workbooks Worth Your Time?
We live in a modern era featuring many different ways to absorb knowledge and learn new skills. For poker, instructional videos seem to have become the number one coaching resource. Does that mean that good, old fashioned poker workbooks are a thing of past or do they still have their place in the study process today?
This is the very topic of this third episode in which Sweeney, who's published several poker workbooks of his own, explains how these can help in your learning process. By focusing on practical drills and exercises, these books help you train your brain to recognize important patterns that can help you in actual situations.
Review: The Poker Math and Preflop Workbook
In addition to this, Zac and James also spend a few minutes of this 30-minute episode talking about the live poker scene and the changes caused by COVID-19 pandemic. They discuss consequences of many casinos shutting down across the globe and how this is likely to push more players – even home game players – towards online poker out of necessity.
The Pre-flop Checklist
Making correct pre-flop decisions is one of the most important parts of poker strategy. If you do things correctly before the flop, you're likely to have much more success on the flop and all subsequent streets.
How should you go about building your pre-flop plan, though? Leave it to Zac Shaw and James Sweeney to give you a good pre-flop checklist to use in your day-to-day play; the topic of this fourth episode of the season.
If you feel like you need some advice in this particular area or simply want to hear an approach used by an experienced player, you'll definitely enjoy this episode. You'll hear some great tips about what to pay attention beyond just the cards you're dealt, what type of opponents you have at your table, what their positions are in relation to you, who can you take advantage of their general tendencies, and much more.
4 Poker Strategies to Deal with Coronavirus
The worldwide situation with Coronavirus has affected almost every aspect of our daily lives. Things are most certainly not what they used to be and many people have found themselves in a position where they need to make serious adjustments and changes to their personal and professional routines.
How can poker strategies possibly help you with that? Well, the game of poker also requires constant readjustments and mental strength to deal with unexpected and not always pleasant outcomes resulting from your decisions or simply from bad variance.
In this fifth episode of Season 3, the hosts offer four applicable tips that can help you deal with the new reality. Without spoiling anything, this episode podcast is absolutely worth checking out, especially if you need some assistance with organizing your life or are struggling to come to terms with being in a position where you're often just a passive observer without the ability to change outside factors.
4 Poker Exploits to Use Now
The sixth episode of Season 3 of the Red Chip Poker Podcast deals with exploits. A good poker player always looks for new ways to exploit other players' weaknesses and take advantage of them to boost their profit.
In a short span of just 20-odd minutes, Sweeney talks about four important spots to look for in the games you play in to exploit them. From players who fold too much to those who just hate folding ever, there are many different situations where you can turn your opponents' tendencies to your advantage and make easy money off of them.
Summary
Season 3 of Red Chip Poker Podcast is definitely worth checking out. The Sweeney – Shaw duo has already covered many interesting topics and they'll surely continue to do so in the upcoming weeks and months as well.
While this podcast focuses mostly on poker strategy, it does so in an entertaining and relatable way so you won't have to leave everything you're doing and exclusively focus on it. Even if you're just half-listening to it, you're bound to pick up some useful tips along the way tat'll help you improve your poker performance.