I have always wanted to embark on a cross-country poker road trip. At its widest, the United State of America is roughly 2,800 miles long. If you somehow drove in a straight line going exactly 60 mph the entire trip, you would drive for 46 hours and 40 minutes without stopping. Obviously, that is impossible, as the average cross-country road trip takes anywhere from five to six days depending on the route you take and how many hours per day you drive.
I had to make this trip once out of necessity. My now wife and I moved from Los Angeles to Cape Cod, Massachusetts, so we packed our whole life and two cats into our cars and made the drive. Unfortunately, we left on day 1 of COVID lockdowns in March 2020, so we didn't get to experience the country we were driving through. We were stuck getting fast food and staying at big chain hotels. It sucked. But having experienced it once, my wife and I are absolutely going to do it again. Little does she know, the next trip is going to have a poker theme.
Now that we live near Boston, I decided to map out two cross-country routes to take from Boston to Los Angeles, one northern and one southern route. These routes hit as many card rooms as possible, while also offering some non-poker-related features. I love US history, so I am including plenty of historical highlights along the way. The plans I lay out are a bit longer than the average trip. I tried to include some big card rooms, so these aren't the fastest routes, and Boston to LA is a particularly long journey regardless. Now, let's hit the road.
The Southern Route
The southern route stops at a lot of really big name card rooms along the way. Starting with a bang, you have a choice between two notable casinos for night 1. Leaving from Boston, you can get to Maryland Live or MGM National Harbor after a long day's drive. Both rooms are impressive, MGM offering 37 cash tables and Maryland Live with a whopping 50. It's fair to say that with that kind of choice of table games, either would be a great choice to start the trip. With about 45 minutes between them door to door, you can grab a hotel room in between and parlay that first stop into a double poker session night. If you're looking for some non-poker-related scenery, it's kind of hard to miss the nation's capital right next door. Pop over to Washington D.C. and see the White House, Capitol Building, and countless monuments.
Be sure to take advantage of the continental breakfast in the morning before you make your way to the parking lot, because next up is Harrah's Cherokee Casino in Cherokee, NC. This card room hosts 32 tables and offers a tournament daily from Monday to Thursday. The tournament entry is $140 and offers great value. If you're looking for something to do off the felt, check out the Oconaluftee Indian Village. The village is a replica of the 18th century Cherokee community where guides will show you how Cherokee people lived during that time.
You then have a choice between Beau Rivage and the Pensacola Greyhound Track. If you're a mixed game player, I would go with Pensacola (it makes sense for the next stop). If you aren't partial to mixed games, then go ahead and hit the Beau Rivage. Right on the Gulf of Mexico, this casino boasts 16 cash tables and hosts daily tournaments. Feel free to spend an extra day and take a day trip out to Ship Island where you can hit the beach, or visit Fort Massachusetts which was built to defend the coast after the War of 1812. If you decide to go with Pensacola, visit the beach before hitting the felt. The Pensacola Greyhound Track offers 25 tables ready to run and is located quite close to the beach.
See Also: The Excitement of Booking a Vegas Poker Trip
Here we find the effects of our previous choice. If you went with the Beau Rivage, then saddle on up and hit Austin, TX. Austin offers plenty of card rooms to hit, Texas Card House Austin, Shuffle 512, or the ever-popular Lodge. The Lodge hosts a very interesting live stream and the action is unbeatable. I recently played there and saw someone with a straight jam his 1.5x for value on a 33346, three diamond board. He had 57o and I had A3 for the flopped quads so…yeah the action is good. In Austin, I would suggest getting a hotel centrally located and hitting as many card rooms as you can. Off the felt, find the nearest Salt Lick, and enjoy some classic Texas BBQ before hitting a dance hall for line dancing or two-stepping (it's more fun than it sounds). If you want some mixed games, head on over to Houston. Be sure to find your way to Johnny Chan's 88 Social where they always have mixed games or really any non-NLH games running. You can find lower stakes mixed, Big O, Omaha 8+, and possibly some Stud when you visit. There are also at least a dozen other rooms to play, such as Prime Social Club, Texas Card House Houston, and many more. In terms of off the felt activities, see my suggestions for Austin. It's Texas, eat some brisket, and hit the dance floor!
Unfortunately, due to this area of the country being fairly empty, you either need to buckle up for an absurdly long drive, or take a night off from poker and make a pit stop. The next poker destination is Talking Stick Resort in Scottsdale, AZ. Traveling from Austin, that's 14 hours and 30 minutes of driving, from Houston it's 18 hours. I wouldn't suggest driving that distance in one day, so I would drive until you drop then pull off and find a hotel. If you're coming from Houston, stop near Fort Davis, TX, and enjoy some more BBQ. If you are leaving from Austin, head to the Guadalupe National Mountains Park in Guadalupe Mountains, TX (real creative town name) and enjoy the scenery. Whatever you decide to do, the next poker stop is Talking Stick Resort. A room with a lot of action but capped bets, as its spread limit, enjoy one of their 47 cash tables or hit up a tournament. When you need a break to avoid the card dead and don't mind driving a bit, you can visit a real wild west town at the Goldfield Ghost Town. See the old remnants of a gold rush town and tour an actual gold mine for a day in the wild west.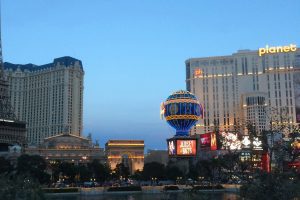 When you wake up in Scottsdale, just know that you made it. The next leg of the trip brings you to the holy city of Las Vegas, NV. You will arrive at the gambler's paradise soon. No need to list the card rooms here, as you can play your way down the strip and hit all the action. If you want a break from poker, you picked the wrong town. But if you must find something else to do, head to downtown Las Vegas or see a show. But honestly, it's Vegas…get back to the tables.
After playing poker all night and maybe sleeping for a couple of hours, it's time to hit the road again. Luckily for you, it's a short drive to tinsel town. Los Angeles has so much to offer, both on and off the felt. For poker, take your pick between The Bicycle, The Commerce, Hustler Hollywood Park, or Hollywood Gardens. If you want some non-NLH you should find games at The Commerce. If it's your first time then I would be sure to play at The Bicycle. It's a nice room and the action is pretty good. When you need a poker break, there are many things to do. My top picks would be a studio tour at Warner Brothers, a hike to the Hollywood sign, or a visit to the Santa Monica Pier. Those are all wonderful options for a first-timer in LA.
That wraps up the southern route, if you aren't partial to the heat, then grab a coat and follow the next route.
Stay tuned for part 2.