There's nothing quite like the Run It Up Reno series on the live poker festival circuit, and that's just what Run It Up founder Jason Somerville intended when he forayed into live event production five years ago.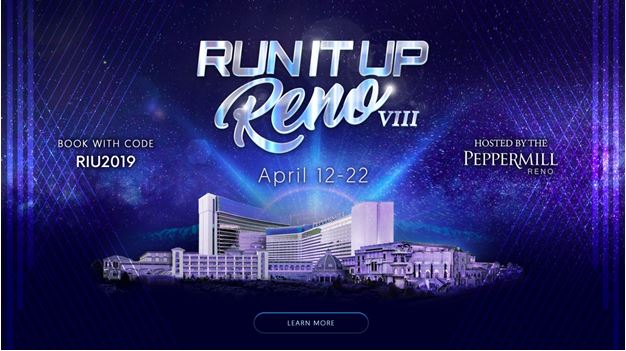 The eighth installment of the series will soon be upon us, as Run It Up Reno VIII is set to commence from the Peppermill Resort in Reno, Nevada on April 12 and continue for the next 10 days until April 22. This biannual poker festival has come a long way since the inaugural Run It Up Reno event ran in October 2015, and both of the 2018 Run It Up Reno festivals set records for attendance and prize money in their respective main events.
Last spring's Run It Up Reno VI Main Event boasted a $150,000 guaranteed prize pool for the $540+60 buy-in tournament, and far exceeded that guarantee with 500 entries and a final prize pool of $262,900. Run It Up Reno VII raised the bar even higher in October 2018, with the promise of $200,000 guaranteed prize money in the $550+50 Main Event.
we started working with @PeppermillPoker five years ago, running a single @runitup tournament with sub-$10K in the prize pool.

our last event paid over $1M 🚀

I'm proud to continue the modern, fun-oriented poker experience we've built at @runitupreno this April!

come join us! https://t.co/Oo8KTCFdQN

— jcarver (@JasonSomerville) January 17, 2019
Somerville's first go at producing a live Run It Up event was a lone $100 buy-in tournament at the Poker NV Challenge in 2014.
RIU Reno VII shattered expectations, with 687 entries in the Main Event, a total prize pool of $366,515, and a first prize of $70,000 going to tournament champion Matt Stout. The Moneymaker PSPC Tour also came through the Peppermill during the festival, drawing 825 entries.
Run It Up Reno has become an undeniable fan favorite, giving attendees the big-time poker tournament experience with affordable buy-ins and a welcoming, festive atmosphere.
"Last time we had an absolutely amazing event at Run It Up Reno, and it was helped a lot by the Moneymaker Tour event that we had there," Somerville said. "Tons of people came out for that."
"We offer a very unique poker experience at Run It Up Reno. We have all of our ambassadors there. You get to meet guys like Chris Moneymaker, Lex Veldhuis, Fintan Hand, Spraggy (Benjamin Spragg), Kevin Martin, Arlie Shaban, you name it. So many top Twitch poker streamers and influencers are there."
Did you miss any of our @runitupreno live streams? Check out this Short-Deck Cash Game featuring @andrewneeme @jaimestaples @JeffGrossPoker @ratedGTO @BostonRob @CMONEYMAKER and @JasonSomerville!  https://t.co/eEsv2FjqJu pic.twitter.com/NCZfmRvYyR

— Run It Up (@runitup) November 1, 2018
Putting the Run It Up team of ambassadors in the same room gives you, by default, one of the most impressive and influential collections of live streamers in the poker community.
Somerville himself is the most successful poker streamer of all time, and started the Run It Up brand in 2014 with the aim of promoting the game, moving the medium of live streaming poker forward, and helping other broadcasters grow their followings, as well as their influence in the poker industry.
"My original vision for Run It Up was to create interesting and entertaining poker content," Somerville said. "Something that would be not quite as educational as the training sites, but competitive with that, while also being fun and engaging and entertaining."
"With that goal I think I have been very successful, both with my own content, with promoting other broadcasters who have a similar vision, and just creating TONS of premium poker content for poker fans to watch for free on Twitch."
Evolution from Online Poker to Live Poker Festivals
It's one thing to enjoy poker online and watch entertaining live streamers play at sites such as those featured on Americancasinos.com. It's another thing entirely to actually be able to interact in person with the online poker streamers you know and love at a physical poker table in a brick and mortar poker room.
Somerville's vision to start a company promoting live poker streamers has evolved to include a live event brand that continues to grow in popularity with a worldwide fan base. The Run It Up Reno experience includes a slate of events with buy-ins starting at $100, with the largest buy-in event being the $1,000+$100 Thursday Thrilla, a tournament with $500 bounties and a $125,000 guaranteed prize pool.
Also included at the festival are non-poker events like the Survivor Watch Party, where you can gather with other fellow Survivor fans (and possibly a few former Survivor cast members!) to watch and discuss the reality show as a group. Other fan-inclusive events include Stand-Up Open Mike Night, Scavenger Hunts, and Cash Game Hangouts, which offer the opportunity to play rake-free cash games with the Run It Up crew!
The fan-friendly side events, affordable buy-in tournaments and the chance to meet Somerville and the rest of the Run It Up team make the festival truly one-of-a-kind, and poker fans have responded by continuing to put up record attendance numbers for each Run It Up Reno event.
"We have tried to take what works well at a high-stakes level and adapt it to a low-stakes buy-in, and low stakes tournaments generally, so you're playing eight-handed structures, never nine- or ten- handed," Somerville said.
"You're playing big-blind ante and four-color decks for the mixed games. We've really tried to innovate and I think our fans have responded well. We have a very friendly atmosphere, people tell me that they always have a great time at Run It Up Reno, and it's something that I'm very proud of. Creating that environment where everyone can kind of come together and have fun."
It's time for cash game hangouts! Head on over to the cash game room and lock up your seat!@JasonSomerville, @EasyWithAces, @spraggy are firing away at some shortdeck! #RunItUpReno pic.twitter.com/Ge5zsFB9oV

— Run It Up Reno (@runitupreno) October 27, 2018
The Run It Up Reno VIII tournament schedule includes a lineup of unique poker variants like the rarely seen No-Limit Omaha 8, H.O.R.S.E., No Limit Hold'em Bomb Pot, Triple Stud, Short Deck Hold'em and Taiwanese Poker. There's even a five-game mixed-game tournament that features Three-Card Super Hold'em and Five-Card PLO8 as part of the mix!
Only four years into its existence, the Run It Up Reno series has established itself as a must-attend event for any poker enthusiast, with an unrivaled, fan-friendly experience.
There's a reason people come back, and back and back and back. We have some people who travel from so far away. From Europe, and some from Australia who've come multiple times. And Alaska, and all across the world come into Reno to play in our series. It means so much to me. And there's still a lot more to come.

– Jason Somerville