The calm before the storm is what May will entail on PokerGO with the World Series of Poker right around the corner. The newest High Stakes Poker and No Gamble, No Future seasons will conclude, while High Stakes Duel will return with new players and a new concept.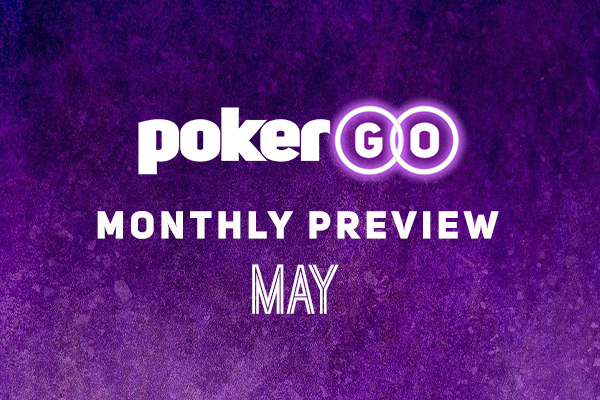 High Stakes Duel
Jason Koon wrapped up High Stakes Duel 3 in December 2022 when he defeated Phil Hellmuth in Round 5 for the $1.6 million prize pool. No challenger stepped up to face the GGPoker brand ambassador, and the series ended with Koon the champion and recipient of the High Stakes Duel 3 belt.
High Stakes Duel 4 will return to PokerGO this week with three matches scheduled. On Friday, May 5, the first-ever "Undercard" will take place with Shaun Deeb facing off with Mike Matusow in the $20,000 match. Both have previous history with each other with Deeb delivering an epic slow roll to Matusow on a past Poker Night in America livestream.
The High Stakes Duel 4 Undercard match between Deeb and Matusow is a one-off match and there are no obligations for them to play again.
On Monday, May 8, Daniel Negreanu will return to the High Stakes Duel arena to take on Eric Persson in the $100,000 match. There is currently no bad blood between these two players, but they have experience playing each other on High Stakes Poker. These two have already committed to a Round 2 regardless of the result, and on Tuesday, May 9, the two will face off in the $200,000 match.
Unlike previous alliterations of High Stakes Duel where you had to win three matches before cashing out, in High Stakes Duel 4, if a player wins two matches in a row, they can cash out. Each match kicks off at 8 p.m. ET with the Undercard being free on PokerGO's YouTube channel, while prior to Round 1 and 2, there will be The Weigh-In hosted by Ali Nejad airing at 7:30 p.m. ET.
Watch High Stakes Duel on May 5, 8, and 9, starting at 8 p.m. ET.
High Stakes Poker
Just five episodes remain in Season 10 of High Stakes Poker with the month opening with Alan Keating, Jean-Robert Bellande, Stanley Choi, Jeremy Stein, Stanley Tang, and Eric Hicks playing $200/$400 No-Limit Hold'em.
The final line-up of the season will see a three-episode run that includes Daniel Negreanu, Ben Lamb, Bill Klein, Eric Persson, Charles Yu, Choi, and Hicks playing $200/$400 No-Limit Hold'em.
The conclusion of the very entertaining Season 10 will be met with excitement for Season 11 that will debut following the WSOP. Along with episodes being cut from the Special Edition Livestream, other players that will be featured in Season 11 include Andrew Robl, Rick Salomon, Jason Koon, Farah Galfond, Brandon Steven, and many more.
Watch Season 10 episodes of High Stakes Poker every Tuesday at 8 p.m. ET.
No Gamble, No Future
No Gamble, No Future is at the midway point of Season 2 with just eight episodes remaining. Sashimi Poker, Kevin Martin, Jared Jaffee, Justin Young, and Jimmy D'Ambrosio return to play $25/$50 No-Limit Hold'em for two more episodes with Shawn Madden and James Bullimore joining them in Episode 10.
The penultimate line-up of the season will be featured in a double episode as Markus Gonsalves, Brian Okin, Straton Wilhelm, Joe Tehan, Andy Loomis, Julian Parmann, and Justin Young play $100/$100 No-Limit Hold'em.
The season will conclude with a $100/$200 No-Limit Hold'em game that includes Eric Persson, Matt Hanks, Chris Moneymaker, Eric Worre, Eric Hicks, Madden, Martin, and Gonsalves.
Watch Season 2 episodes of No Gamble, No Future every Wednesday at 8 p.m. ET.
What Did You Miss in March?
It was another busy month of April on PokerGO that saw the conclusion of the U.S. Poker Open and the continuation of the High Stakes Poker and No Gamble, No Future seasons. It also welcomed the first-ever livestream from a High Stakes Poker filming.
Seven U.S. Poker Open champions were crowned in March, while three events remained once the calendar hit April. Isaac Haxton emerged victorious in Event #8 for $432,000 and eclipsed $6 million in earnings for 2023. Dan Smith claimed his first win inside the PokerGO Studio in Event #9 for $399,500, while Martin Zamani won the $50,000 finale for $666,000. Zamani's win and four cashes secured his title as the U.S. Poker Open champion.
Season 10 of High Stakes Poker continued with a lineup featuring Jennifer Tilly, Stanley Tang, Jean-Robert Bellande, Eric Persson, Stanley Choi, Andrew Robl, and Daniel Negreanu playing $200/$400 No-Limit Hold'em.
Following the drama online that lined up with filming of Season 11, a special edition livestream aired on Thursday, April 27. The game was $200/$400 No-Limit Hold'em and included Doug Polk, Matt Berkey, Nik "Airball" Arcot, Lynne Ji, Rob Yong, Bellande, Tilly, and Persson. There were some massive hands, some very interesting table dynamics, and the following hand to kick off the night's action:
The continuation of Season 2 of No Gamble, No Future would also introduce a new line-up that included Eric Hicks, James Bord, Evan Sofer, Justin Young, Eric Worre, Eric Wasserson, and Eric Persson. Following three episodes of $200/$400 No-Limit Hold'em, the stakes would lower to $25/$50 No-Limit Hold'em where Steve "Cuz" Buckner, Jared Jaffee, Kevin Martin, Sashimi Poker, Jimmy D'Ambrosio, and Young battle away.
Connect with PokerGO on Facebook, Twitter, and Instagram.