In a groundbreaking move, MGM Resorts International has rolled out free Wi-Fi at all of its Las Vegas properties on the Strip. The Cisco System-s powered service is currently available at the Mirage, Bellagio, Mandalay Bay, and company flagship MGM Grand. Over the course of 2013, free Wi-Fi will also be made available at Excalibur, Luxor, Monte Carlo, and New York-New York.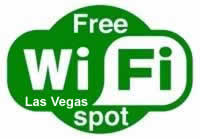 The news is groundbreaking as poker players, locals, and visitors will now be able to benefit from an excellent service that used to cost boatloads of cash. With a capacity of 120,000 simultaneous users, the MGM properties will be huge hot spots, in more ways than one.
Hailing the new service, MGM Resorts VP of Technology Strategy John Bollen said that "No one else in Las Vegas, and even the U.S., can offer the scale, quantity and quality of wireless services we now have available."
The free Wi-Fi is slated to be up and running in public areas throughout each of the MGM properties, such as pools, restaurants, and lobby areas; as well as in all their hotel rooms by March. That said, you don't even need to be a guest at any of those hotel resorts to benefit from MGM's largesse. If you do happen to be a hotel guest, however, you'll get access to upgraded service (read: faster, more bandwidth, etc.).
Benefits for Poker Players
With most poker players carrying mobile devices these days and frequenting the excellent poker rooms at many of the MGM properties, this definitely represents a raise in the stakes for customer loyalty. Now you can check your emails in between hands, or even download the free Poker Notes Live mobile app right while sitting at the tables.
Caesars Entertainment, the other big "player" in Las Vegas doesn't charge a resort fee at any of its properties, but it also doesn't provide free Internet. After this latest development, you can expect that Caesars properties will be offering something similar or at least a comparable benefit to its guests and visitors to their casino resorts.