A new game has arrived at WPT Global that is fast, fun and allows you to win big: Poker Flips.
How to play? It's very simple: just bet on one of two characters (a Cowboy and a Bull) to see which wins a random hand of Texas Hold'em.
In other words, you're not actually playing poker, but rather betting on the outcome of the poker hand. Each person has 15 seconds to place bets on the roulette-style table, choosing among a variety of outcomes, from taking Bull or Cowboy to win — or tie — and the ranking of the winning hand. Each betting option offers different odds. Both the Bull and Cowboy's hands are then shown, along with the flop, turn and river, revealing the winner and, naturally, the rank of the winning hand.
How to play Poker Flips in 3 simple steps
Step 1
Two cards are dealt face down to both the Cowboy and Bull, along with the flop, turn and river making up the community cards. Then the 15-second clock starts and the Poker Flips action is on you!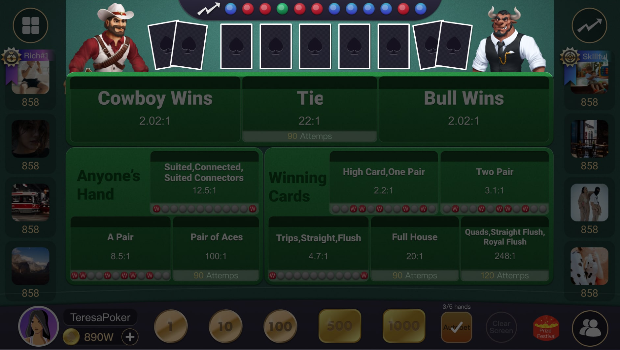 Step 2
You have 15 seconds to choose the total amount you wish to wager. Place your chips in all of the betting areas you select. All betting closes when the 15 second time bank expires.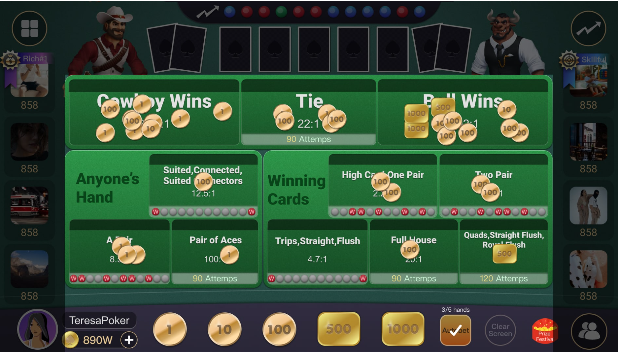 Step 3
Once the 15-second time expires, both the Cowboy and Bull's hands are shown, then the community cards are displayed. The winning hand is featured, the winning bets are shown, and the payouts are shipped to all winning players.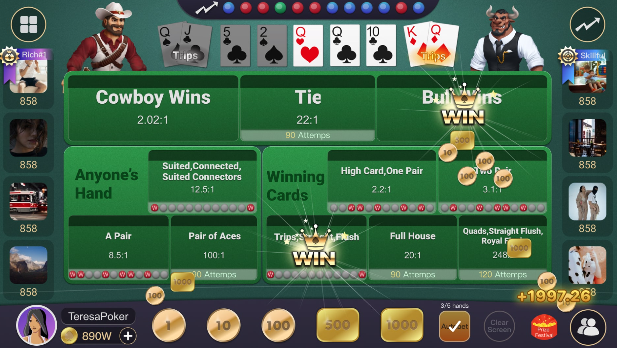 Winning at Poker Flips can take you to the WPT World Championship
Lest you think there aren't additional poker elements to this new game, there's a special promotion attached to it, too.
Every time you play in Poker Flips and win a prize, you earn points for a monthly leaderboard. The top five at the end of the promotion (September 24) will win a $10,400 entry to the 2022 WPT World Championship and $2,000 for travel expenses. There are also cash prizes for the top five players each week on the leaderboard.
The tournament will be played from December 12-18 at the Wynn Casino Resort in Las Vegas and will carry the largest guaranteed prize pool in history for a live tournament: $15,000,000. There is great anticipation in the poker world for this great event and millions in prize money will be distributed at the final table.
More About the Poker Flips Leaderboards
If you win a bet on Poker Flips, you win points on the leaderboard. For every dollar that is won on poker flips you will win the number of points shown in the table below:
| | |
| --- | --- |
| Bet Field | Point Multiplier on Winning Bets |
| Cowboy or Bull | 1x |
| Tie | 10x |
| Anyone's Hand | 5x |
| High Card / One Pair | 1.5x |
| Two Pair | 2x |
| Trips, straight, flush | 4x |
| Full House | 15x |
| Quads, Straight Flush, Royal Flush | 100x |
Those who play Poker Flips on several consecutive days will receive extra points, as per the table below:
| | |
| --- | --- |
| Activity Bonus | Points |
| Play 3 days in a row | 50 |
| Play 5 days in a row | 200 |
| Play 7 days in a row | 400 |
These will be the days of the weeks where points can be added for the leaderboard:
Week 1: August 28-September 3
Week 2: September 4-10
Week 3: September 11-17
Week 4: September 18-24
Weekly prizes for top ranked players on the leaderboard:
$5,000
$2,500
$2,000
$1,500
$1,000
Would you like to travel to Las Vegas on a fully paid trip to play in the WPT World Championship? Then take your shot at poker glory by playing Poker Flips.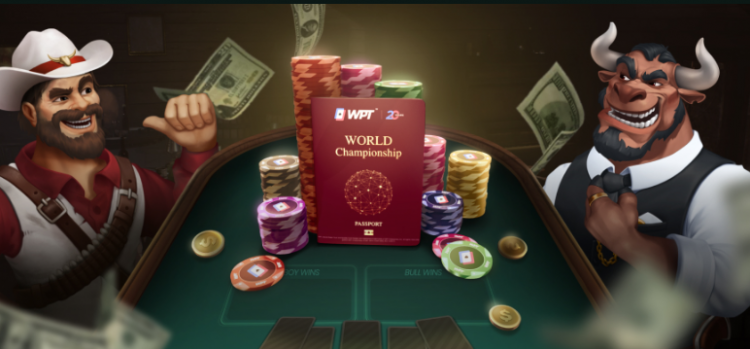 5 Reasons to play Poker Flips
It offers quick action: each game lasts just 15 seconds
It's easy: just bet on which character wins or with what hand ranking
It's fun
You can win weekly prizes
You can win the $10K buy-in and travel expenses to the WPT World Championship in Las Vegas
In addition to the Poker Flips, at WPT Global you can play tournaments, cash tables and satellites to live tournaments of the World Poker Tour. It is a platform that can be enjoyed by amateurs, professionals and high rollers alike! Don't yet have an account? Be sure to sign up and use our bonus code CPL.