As the CardPlayerLifeStyle poker blog reported back in July, 2008 WSOP Main Event champion Peter Eastgate no longer wants to be a part of the poker world.  Having made his fortune (over $9 million) in poker, Eastgate cited lost interest in the game and wishes to move on to other pursuits.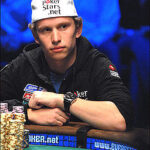 With no passion for the game anymore, it's easy to understand why Eastgate would wish to part with his championship bracelet. A true class act, Eastgate will be donating the proceeds of the eBay auction to UNICEF.
Tony G, no class act by any measure, has reportedly expressed interest in purchasing the bracelet and – get this – using it as a dog collar for his pooch. One can only hope that someone will outbid the boorish PartyPoker poker pro from Lithuania. At the time of this writing, the high bid on the bracelet is over $56,000. Whoever wins, it's at least comforting to know that tens of thousands of dollars will be going to help those truly in need. Who says no good could come from playing poker?