Have you ever wondered how to measure a player's skill in a game like poker, where variance and randomness play such a large role? Unshuffled is trying to provide a way to do just that with the announcement of the Unshuffled Cup, a series of synchronized poker tournaments where players all play the same hands and are ranked solely based on how they play each hand. With a purse of $12,500 and three different ways to win, there is ample opportunity and incentive to get in on this free, "duplicate poker" experience.
Unshuffled Founder and CEO Jake Hershfield said the idea comes from two major pain points that he had faced while playing poker with friends during the pandemic. The first, that it was impossible to judge who was "the best" amongst their regular poker group.
"None of us are that serious about poker, but we are all very serious about beating each other, and then being able to talk about how much better we are at whatever it was that we had won".
The second was that scheduling poker night had become such an inconvenience for Jake that he just stopped doing it all together.
"Most young adults work during the day, then tend to relationships or families at night. There's rarely (if ever) time to set aside 2-3 hours for poker night. And even when we could schedule poker two weeks in advance, inevitably the day would come and half our group would have to drop out".
And unfortunately, poker requires a minimum number of players to play (or at least, have fun while playing).
So how does the Unshuffled Cup solve these problems? Player's will go to the Unshuffled website or app where they can join the tournament lobby up to 20 minutes before the event begins. Each event will have a predetermined number of hands, between 15-30, to keep game time short and predictable. Once the event starts, each player will be placed at a separate table with 5, 6, or 7 computer players. The first hand is dealt and every table will use an identical deck. That means that each player will be playing the exact same hand, and all the computer players at each table will also be playing the same hand.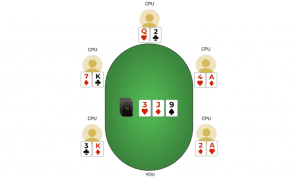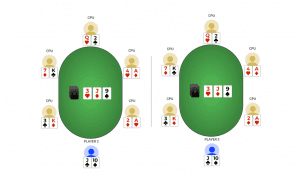 Additionally, the flop, turn, and river at each table will also be identical, meaning the only variable from table to table is the way each player plays their hand, and how the computer players respond to their play. Once a player finishes the current hand, they will be put into a synchronizing state, where they will wait until the rest of the players finish the hand before the next one is dealt. This helps reduce the ability to cheat and keeps all players in lockstep hand by hand. When all the hands are finished, a winner is determined based on who won the most chips, and that player will win cash prize ranging from anywhere between $500 and $1,000+.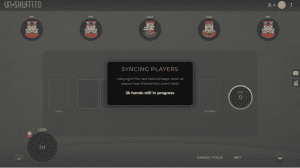 But that's not all. Players also earn Unshuffled Cup points at the end of each event based on their position on the leaderboard. Each week, players will have a chance to earn more Unshuffled Cup points in an effort to qualify for the Championship event, where they'll have an opportunity to compete for the $5,000 purse. And to sweeten the deal even more, the top 10 players in point totals at the end of the season will share a $2,500 purse.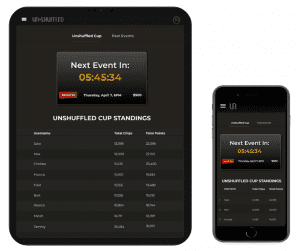 The first event is set to kick off in one week's time, on Tuesday, June 28th at 6pm PT. You can play from you computer or phone by going to www.unshuffled.io/unshuffled-cup, or you can download their app on both iOS and Android.
This article was prepared with the assistance of Reis Henderson.