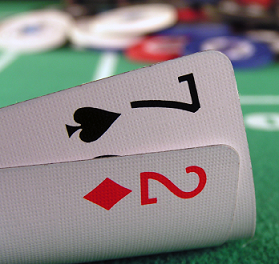 I played poker a few nights ago and one of our game's regular players asked "is the deuce–seven game on?" Mind you, we weren't playing 2–7 triple draw; we were playing Texas Hold'em. The deuce–seven game started to become popular a couple years ago after millions of poker fans saw it being played during the huge cash game sessions on High Stakes Poker. Anyhow, it got me thinking about one of the craziest bluffs I've ever seen.
For the uninitiated, the "deuce–seven game" refers to a special rule that has to be agreed upon by all present at the table: if a player manages to win a hand holding just a 2 and a 7 (the worst possible starting hand), every other player at the table has to pay them a pre-set amount of extra money (usually a couple big blinds). The extra money from each player doesn't usually amount to much, but invariably "playing the 2–7 game" adds tremendous action to your typical Texas Hold'em session, with players trying extra hard to bluff as well as catch bluffers.
Matusow vs. Hellmuth
One of the most incredible bluffs to have ever been recorded featured Mike "the Mouth" Matusow and Phil Hellmuth. Rather than spoil the fun, I'll let you watch the clip for yourselves to see just how incredible playing the deuce–seven game can be. The fact that other players at the table like Antonio Esfandiari and Phil Laak were talking about having deuce–seven almost the entire time makes the action simply unbelievable. Plus, Gabe Kaplan's commentary throughout the hand and Hellmuth's reaction after the hand is over are simply priceless.
The "deuce–seven game" Hellmuth and Matusow were playing in mandated that each player give $500 to the player who wins holding 2 and 7. While the stakes at your local home game are probably far lower, adding the 2–7 stipulation is almost certain to infuse your poker night with laughs, action, and memories.
Do you have any crazy deuce–seven stories from your home game? Share them with us in the comments section below.