With live poker back in full force in 2023, the tournament calendar has been filling up with events of all shapes and sizes. This trend is set to continue with the Spring 2023 edition of the Malta Poker Festival, set to take place during the last week of April.
The beautiful Mediterranean island country will once again play host to hordes of poker players descending on its shores for another week filled with poker action, big guarantees, and countless extracurricular activities off the felt.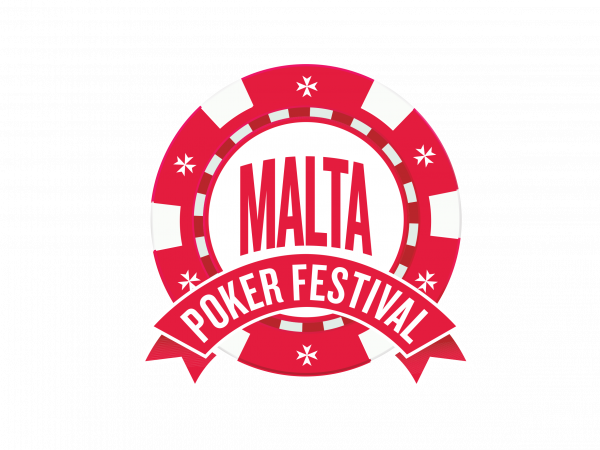 Malta Poker Festival (MPF) founder Ivonne Montealegre has done a lot of heavy lifting behind the scenes to ensure that the upcoming event will be even bigger and better than previous ones. Montealegre didn't try to hide her excitement: "This will be a very special Spring MPF. We have really let our creativity as organizers fly free. Look at the schedule: it has a bit of everything for every poker taste. A fantastic Grand Event powered by Unibet DSO, with a guaranteed prize pool of at least €300,000. Not only Texas Hold'em, but HORSE and Crazy Pineapple are on the roster, too. I am excited to show the poker world why the Malta Poker Festival is one of the fastest growing tournaments in the world. At a very affordable price point, you get to experience a five-star poker operation."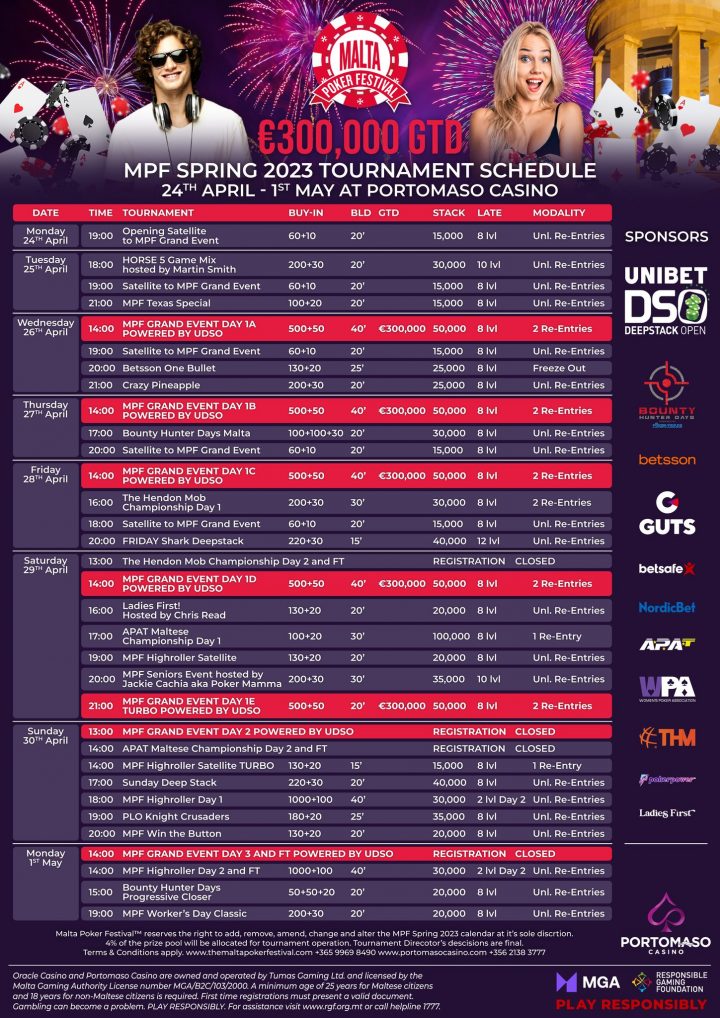 A Schedule to Fit Every Poker Taste
A great thing about the Malta Poker Festival is that it's an event for every poker fan out there. With affordable buy-ins, great organization, and super atmosphere that you can just feel in the air, it represents a perfect destination for those looking for a poker vacation spot.
This year, things have only gotten better, as the MPF has joined forces with the Unibet Deepstack Open for the €300,000 GTD Grand Event. The price to enter is €550, but there will be plenty of live satellites for those visiting Portomaso Casino, as well as online feeders available on Unibet Poker.
The Grand Event may be the one with the big guarantee attached to it, but it's just one of many tournaments on the schedule for the 2023 Spring Malta Poker Festival, with numerous side events in the offing.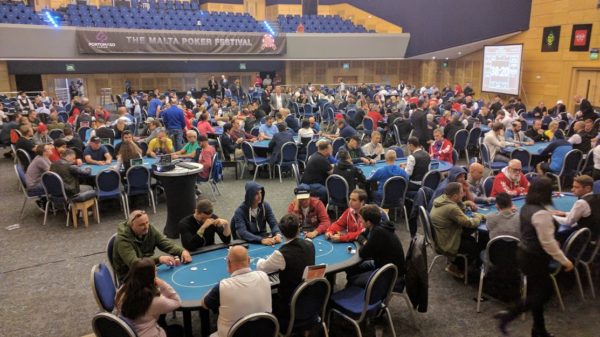 One for the Ladies
The Ladies First! event takes place on April 29 and it will be hosted by Chris Read, the last year's winner. For this one, the organizers have teamed up with Poker Power, promising yet another great tournament for the ladies to enjoy.
Talking about the event, Montealegre stated: "Ladies First! is one love of my life and the sponsorship by Poker Power is a great match. We are getting more and more women into the game we love."
Chris Read is just as excited about the event and the opportunity to welcome poker playing ladies to the island: "Last year I was lucky enough to win the Ladies First Event at the Malta Poker Festival. This year Ivonne has given me the honor of hosting the Ladies First Event on April 29th in the beautiful Portosomo Casino! If you're up for the most fabulous place you've ever played poker we would love to see you on the beautiful Island of Malta!"
— Christina Read (@chrisreadpoker) April 30, 2022
Fun With Mixed Games
Martin Smith, a Malta local, stalwart attendee of the MPF events, and a true mixed-games aficionado, will play host for the HORSE event. This will be one of the opening tournaments, taking place on April 25 and giving players a chance to show their skills in non-Hold'em variations for an affordable buy-in of €220.
Looking forward to the upcoming HORSE event, Smith was very enthusiastic:
It is really exciting to be hosting this HORSE tournament at the Malta Poker Festival. There should be a good turnout from the local poker community combined with players visiting for the wider festival who want to try their hand at these games. For those who want to try even more variants of our beloved game, there will be mixed cash games available for at least 3 days of the festival!

It is a formula I hope we can repeat and indeed grow at other events. I want operators to offer mixed games options for those of us with a passion for such fun times.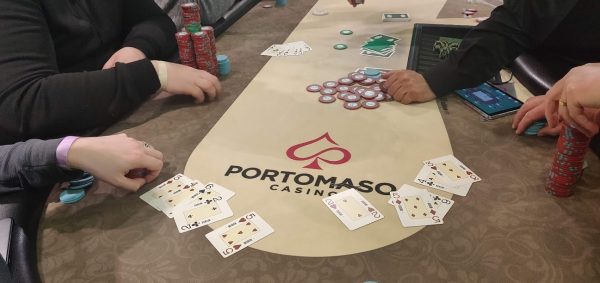 The Hendon Mob Championship is back as well, playing out on April 28 and 29, while Jackie Cachie, a.k.a., "Poker Mamma", will host the Seniors Event on Saturday, April 29.
As you can see, there will be plenty of poker to play on Malta the last week of April, with a host of smaller events and the action-packed side game action there to keep you busy,
Beyond the poker, especially if it is your first time visit, you could also enjoy some off-the-table activities, too!
Enjoy Malta at Its Finest
If you like to mingle and meet other poker players, the MPF opening ceremony takes place on April 27 at 22:00 at the Hilton Quarterdeck Bar. Feel free to pop over for welcome drinks and start your poker holiday with a nice, relaxed evening before hitting the tables.
For more fun and drinks, there is the All-In Friday event at Club Level 22. Things kick off at 22:00 on April 28 and the party will last throughout the night. All VIP package holders can enter for free, but 15 euro will get you inside regardless.
Of course, if you're visiting Malta for the first time, you'll probably want to see something outside of the drinking and clubbing scene (which is pretty amazing, to be fair).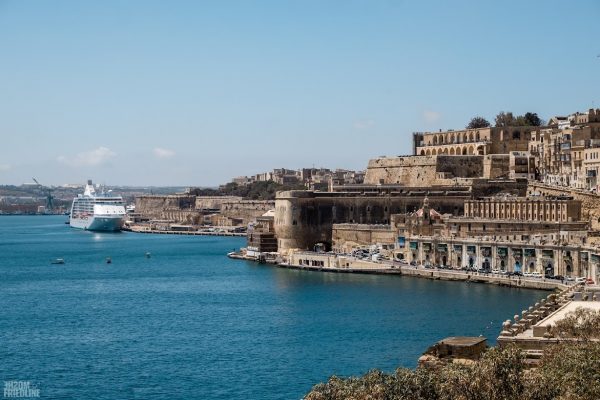 On the Saturday morning, there will be an organized Valletta Cultural City Tour departing from the Hilton Hotel. The tour will last for a couple of hours and you'll get to see some of the most important landmarks before returning to the tables later on. Just make sure not to go too heavy on drinks on the night before!
No matter how you look at it, the Malta Poker Festival this spring has plenty to offer. Great poker, vibrant night life, rich culture, and amazing weather (and I mean amazing) are just some of the reasons to pack your bags and join the fun in the sun this April!