The new season of High Stakes Poker is resonating well with poker fans. "Old-timers" like Tom Dwan, Phil Hellmuth, and Phil Ivey are back, and the newcomers are not out of place either. One of those players making their debut this season is Jason Koon. The American high roller briefly made an appearance in episode 5 and he competed again in episodes 10 and 11.
In the latest episode, Koon played two big pots against his neighbor at the table Jake Daniels. Time to take Koon to task about those two hands and his experience in High Stakes Poker season 8 in general. We spoke with the man from West Virginia via email.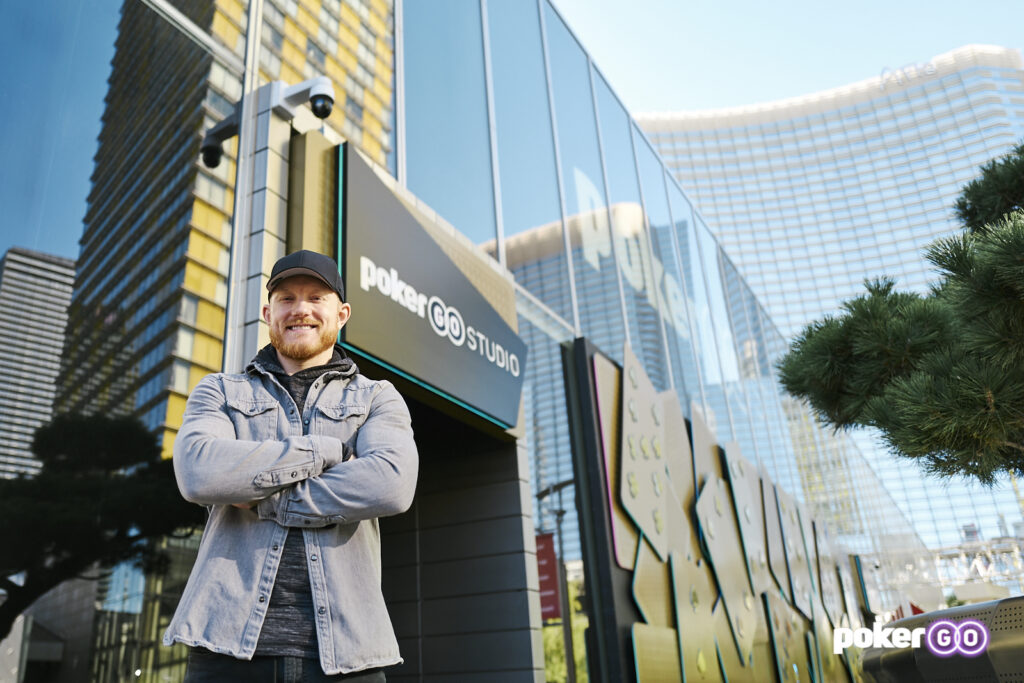 Hand #1: The laydown
Jason Koon straddled to $1,600 and the action folded to Jake Daniels in the $800 big blind. Daniels raised to $4,000 with Kc3h. Koon said he was going to call with a very bad hand and did so with Ts5d.
Daniels bet $2,700 into $9,200 on As6hTc and $8,100 into $14,600 on the Ah turn. Koon called both times in position, making the pot $32,800 when the Ac hit the river. Daniels bet $40,000 and Koon folded his full house after a moment's thought.
Hand #2: The call
Jake Daniels opened the cutoff to $2,200 with KhKc. Jason Koon on the button found QsQh and three-bet to $8,000. Daniels four-bet to $29,000 and Koon called in position.
With $60,000 in the pot, the flop came JdKs4s. Daniels with his top set bet $14,300. Koon called.
The 3s on the turn saw Daniels bet $40,000 in a $88,600 pot. Koon, now with a flush draw, called to grow the pot to $168,600.
The 2h fell on the river and Daniels shoved all-in for $128,000. Koon eventually called and the $425,400 pot went to Daniels. Koon played on with $263,000 remaining in his stack.
When did the producers reach out to you to ask if you wanted to be on the show and what was your reaction?
I actually don't remember; it was months before the show filmed.
I've always been a huge fan of HSP so I was over the moon that they wanted me on. I was open to playing any chance I had, so I had no restrictions in that regard.
In the first session, you only got to play for a tiny bit. How did that come about and what was that experience like?
I was actually playing another big game inside of the Aria but was told to test every day for COVID just in case a seat opened up. When I saw someone leaving from the set, I ran over to get the seat.
The player you replaced was Phil Ivey. Any idea why he left so quickly?
No idea why Phil left. He's a busy guy, I'm sure he had his reasons. Any time I get to have cards put in front of me I'm happy!
What did you think of the lineup that appeared in the last couple of episodes of the show?
I've played a little with Lazaro (Hernandez) and Chamath (Palihapatiya), but never with (James) Bord. I enjoyed the lineup, thought there was a lot of interesting conversation.
I know you mostly from the high roller tournaments. How comfortable are you playing cash games on this level?
For the last three years, I've played more cash games than tournaments. The average game I play is considerably larger stakes than the stakes we played for the show.
You sat down with half a million dollars (while most of the other players had less in front of them). Why was that?
No considerations on what I would sit down with. If someone was playing really badly and very deep, I would have put more money on the table.
What was your thought process in the In the ten-five versus king-three hand where you ended up folding a full house?
That was an interesting hand. I've never played with Jake before. The only thing I knew about him was that he was an amateur player.
That hand was interesting: it isn't a typical spot where people bluff enough on the river. I was very surprised to hear that he had a bluff with king-high since it can just win at a showdown sometimes. Even at equilibrium versus the river over-bet you would mix calling and folding the river some ten-x type hands. The five kicker seems pretty bad to always call with given it interacts with some airballs. I would have pure-called the bigger kickers — especially the king thinking that he would never bluff king-high.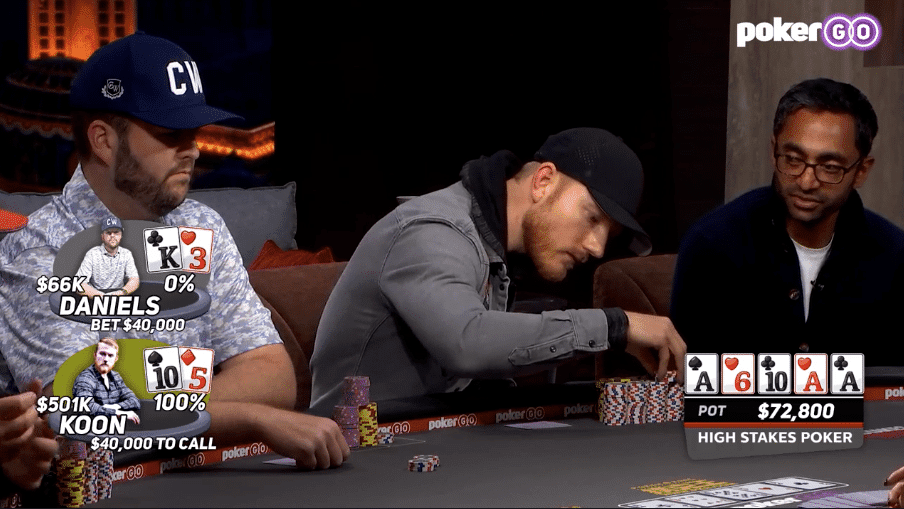 Do you agree with commentator Gabe Kaplan that your comment at the start of the hand (that you were calling with a terrible hand) played a role in the hand?
I haven't actually watched the episode, so I'm not sure what exactly Gabe said. I think me talking to Jake certainly could have played a role in the hand. You have to give the guy credit; he got me to fold a full house!
Can you please share with our readers as much as possible about your thought process in the QQ vs KK hand, specifically regarding your river decision?
The hand was pretty standard, until the river.
I actually was surprised when I took a look at an equilibrium output [and discovered] that my hand actually mixed folds on the turn versus a 40% pot bet. I definitely thought at the moment [that] my hand was a fist-pump to call the turn versus that size bet.
There are plenty of situations in poker that are extremely sensitive to how thin your opponent can be value-betting, relative to how often they can be bluffing. I ended up sigh-calling the river even though the spot felt horrible to me. [I called] because I thought it was very easy for him to back himself into a corner and feel like he needed to go for it with a bluff. And it wasn't very easy at all for him to be value betting, since I was guessing he was kind of nuts or air with very few thin value bets.
Did you reload or did you win a big hand that wasn't shown? We're asking because the final chip tracker on PokerGO showed you sitting on $555,300 again even though you had doubled Daniels.
I actually can't remember. I most likely did because I don't recall winning any significant hands. The show was filmed quite some time ago.
*Editor's note: All images courtesy of PokerGO. This article originally appeared in Dutch on CasinoNieuws.nl.