One of the greatest things about the game of poker is its potential for inclusivity. So long as you're of legal age and have a buy-in handy, you can have a seat at the felt. Regardless of gender, sexual orientation, skin color, religious beliefs (or lack thereof), all you've got to do if you want to play poker is show up.
One person who has been showing up at the poker tables for over three decades is Michelle Nastasis. Already a serious recreational player for over 20 years, Michelle made the decision to turn pro just over nine years ago. What undoubtedly makes Michelle unique is that she's the first known transgender professional poker player.
Every player has a story and Michelle has given Cardplayer Lifestyle the opportunity to share hers with the poker community.
When did you first discover and fall in love with the game of poker?
My dad, who was a Marine Drill Instructor,  and his buddies played every Friday after work. Occasionally, they let me play too. I was around seven or eight years old at the time.
You played as a serious amateur for 20+ years before deciding to turn pro. What job were you working at prior to making that decision?
I was an over the road trucker for 22 years. I played in Florida, Nevada, and California. I found success early and often. When my career as a trucker was ended by a back injury, I started playing more. Until the advent of the internet and the 'modernization' of poker, I relied upon my notes and instincts. I'm still a voracious note-taker at the table.

Do you feel that there are any particular skills or experiences you obtained from your "real world" job that have helped you over the years in your professional poker career?
Absolutely. I watch people's hands, wrists and forearms. It comes from watch people as they passed my truck.The hands don't lie. Your hands twitch unconsciously as you get more nervous. I also use a technique my dad taught me; it's called a command voice. It's voice inflection/intimidation.
What influenced your decision to leave the conventional working world, take the leap, and turn pro?
Injuries ended my career as a trucker. I was playing (and crushing) tournaments all over the Central San Joaquin Valley of California. Several of the poker room managers came to me and said that they thought I had the talent to turn pro. They put together a small group of business people to back me. I was off to Reno!
Are you primarily a hold'em player or do you also enjoy playing other variants (if so which ones)? How about cash games?
I'm a tournament grinder. No Limit Holdem is my best game, with my second-best game being
7 Card Stud
and third best being Omaha 8 or Better. I'm currently learning to play Razz so I can play H.O.R.S.E.
Grinder. I will outwork, outthink, and outplay you every step of the way. My motto is #AllGasNoBrakes and I refuse to lose pic.twitter.com/seTdYK8VBE

— Michelle Nastasis (@MNastasis) February 9, 2018
The consensus among most longtime players of the game is that poker has gotten significantly tougher over the last few years, as players continue improving. How much time/effort do you put into studying the game away from the tables? Care to share any of your study habits or resources that have proven helpful?
My ratio is 2:1. For every hour of live play,  I'm hitting the books. I use Jonathan Little' s 3-volume tournament series books.  I also lean on Alec Torelli for the mathematical analysis. I am also friends with Dr. Donna Blevins, who is one of the foremost authorities on the mental side of poker. Her book, Mindshift on Demand, is my primary source for the mental game.
What is your home casino and where's your favorite place to play away from home?
I have two local poker rooms that I play in regularly, Casino 99 in Chico and Feather Falls Casino in Oroville, California. Here's a top 10 list of my out-of-town favorites:
Thunder Valley  (Lincoln, California)
Stones Gambling Hall  (Citrus Heights, California)
Dover Downs  (Dover, Delaware)
Seminole Hard Rock Casino  (Hollywood, Florida)
Aria (Las Vegas)
Peppermill Casino  (Reno, Nevada)
Muckleshoot Casino  (Auburn,  Washington)
The Bicycle Club (Bell Gardens,  California)
BestBet Jax (Jacksonville,  Florida)
Club CalNeva  (Reno, Nevada)
You've played in a number of events at high-profile tournament series, including the WSOP Circuit, WPT, HPT, MSPT, and the WSOP itself. As a pro, you certainly are aware of the importance of game selection. How does that come into play when deciding which events to attend around the country?
My major influences are structures, starting stack sizes, prestige of the series, buy-in, and proximity and affordability of accommodations. Something else that pros are too aware of are: proximity to the airport,  RV parks, and taxi/Uber/Lyft accessibility.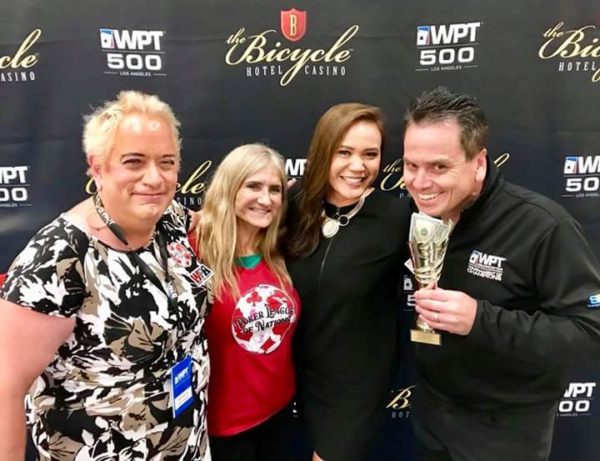 I listened to the interview you did with High Roller Radio and you mentioned that you've been to and enjoyed Run It Up Reno multiple times over the last few years. What is it that you like so much about that series that sets it apart from others you've attended?
First, it's like an extended family reunion.  Second, Jason Somerville and his staff, as well as the staff of the Peppermill Casino, go all out to make the entire series fan friendly. Third, there's always something to do away from the felt. The ENTIRE poker community in Reno gets involved. Lastly, I've always seemed to play well at the Run It Up Reno series. When you have prior successes, you tend to want to go back and repeat them.
#TeamMichelleNastasis is pleased to announce that we are headed to Reno for #RunItUpReno and the Ladies International Poker Series Nevada State Ladies Poker Championship in April at the Peppermill Resort and Casino. @MNastasis has been playing well and is poised for a big run

— Sue Nastasis (@SueNastasis) March 18, 2018
Let's get personal for a bit. As the world's first transgender professional poker player you have a very unique perspective. Would you say there's a difference in how you've been treated by your fellow players at the table prior to versus after your transition?
As I said in the High Roller interview, I used to get the "Oh look, it's a guy in a dress" comments. Then, once they saw I had some skills, the comments pretty much stopped. When I am at the table, I dress professionally. Dresses, skirts/tops, heels, full makeup. One of my favorite sayings is, "Don't fight your femininity at the table, EMBRACE it and use it to your advantage." One thing I have learned — Thank you Jennifer Tilly! — is that men are going to look at a: tall (I'm over 6 foot 3 in heels), voluptuous, blonde, with long legs wearing a dress and high heels. If men are looking at my "assets," they're not paying attention to the cards. That's when I attack.
Via your online presence and your membership in the popular Poker League of Nations group, you actively champion the cause of trying to increase poker's popularity among women. Why is this important to you, personally?
Let's start with a tournament I played in earlier this week at Casino 99 in Chico, California. There were 93 entries. Total number of women entered: 1 (me). Typically, I am the only woman entered. In fact, for Casino 99's player of the year tournament, where the top 50 in points make it, I am the only woman in the top 75. (For the record, I am 24th in points. I only started playing there in late June of 2018.)
At the 2018 WSOP,  the total number of women entered was 3.9%.
I've been blessed to see poker from both genders. I was also one of the invitees who participated in the first Women in Poker Summit hosted by the WPT this past August. I am in 100% agreement with Poker League of Nations founder Lena Evans' statement: It's not environmental factors that keep women away from poker, it's financial." To that end, the Poker League of Nations is working feverishly to fix that through hosting regional satellites for entries into bigger events.
A very, very big thank you to all who participated in the first-ever WPT Women's Poker Summit, led by our very own @AngelicaHael. It was an inspiring day, and we look forward to the positive strides that are to come. pic.twitter.com/uoj44DcGGZ

— World Poker Tour (@WPT) August 27, 2018
What's your favorite memory from all your years at the poker tables?
Becoming close friends with Seattle-based professional Steve Roselius. At the last RunItUpReno, we FINALLY were seated at the same table at the start of a tournament. It was the first time in 53 tournaments that it happened. Steve was also my tag team partner during Run It Up Reno. We finished 4th out of a field of 120 that included Lex Veldhaus, Jesse Capps, Kevin Martin, and Chris Moneymaker. Steve and I called ourselves "Team LGBT."
You've mentioned to me that your poker nickname is "The Ice Princess" and that you've often been told you have the scariest stare in poker. How do you use that sort of image to your advantage?
The Ice Princess nickname came from my wife Sue. It's because of the way I play. Ice cold. No emotions and the heart of an absolute assassin. When I have you on the run, I stare you down and apply tremendous mental pressure in doing so. I have three basic rules at the table:
Attack the limpers
Attack the short stacks
Attack the drunks.
As mentioned earlier, I also use voice inflection and intimidation. Some of the players at Casino 99 call it "Evil Michelle." I think my Instagram post below captures it quite well.
View this post on Instagram
Anyone can visit the Hendon Mob site and find your player profile. You've mentioned that you've played in 1,000 daily tournaments. Without meaning to be disrespectful, I would think that ought to translate to more than $925 in cashes, no?
The vast majority of the poker rooms I've played in over the last 8+ years do not report results to the Hendon Mob, especially for their daily events. Even bigger, well known poker rooms, such as BestBet Jax, Hard Rock Tampa/Hollywood, Peppermill,  Aria, etc. do not report daily events. National,  regional and touring series are reported.
What sort of activities are you involved in away from the felt? What keeps you busy when you're not playing poker?
My family is my main source of fun and relaxation. My stepdaughter is autistic. She shares my passion for movies and music. I play guitar – badly. My sports interests are: baseball  (Boston Red Sox and Colorado Rockies); football  (NFL – Denver Broncos); college football (South Carolina Gamecocks and my alma mater Houston Cougars); and basketball (Golden State Warriors).
I played competitive golf for years until my back injury. My wife has her own business as well as running Michelle Nastasis LLC, which is the marketing and merchandise arm for my activities.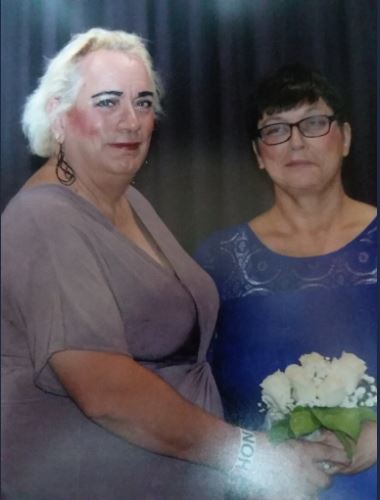 It's pretty rare that I get approached by someone asking to be interviewed. So, in closing, I'd be interested to know what it is that you wished to accomplish by having this conversation. Is there perhaps a particular message that you wanted to share?
My main goals for this interview are twofold. First, transgender people do extraordinary things every day. We're teachers, actors, actresses, activists and, yes, professional poker players.
Second, my journey and my story is far from complete. It's been fun so far. I have goals and dreams to accomplish, too.