The poker industry is full of dedicated, hardworking people and one such individual is Paul Campbell. Best known for his work over the last couple of years at the Aria Casino Poker Room, Paul's work is well regarded by the professional poker community and appreciated by recreational poker players "just passing through" during poker trips to Las Vegas. As the Aria Poker Room's prominence continues to grow in the poker world, so, too, does Paul's renown.
As such, it felt like the timing was right to speak to Paul and learn about his career in the poker industry as well as a bit about his personal life away from the job. While helping to run the World Poker Tour Season XVI Tournament of Champions, Paul was kind enough to sit with me for an interview. Without further ado…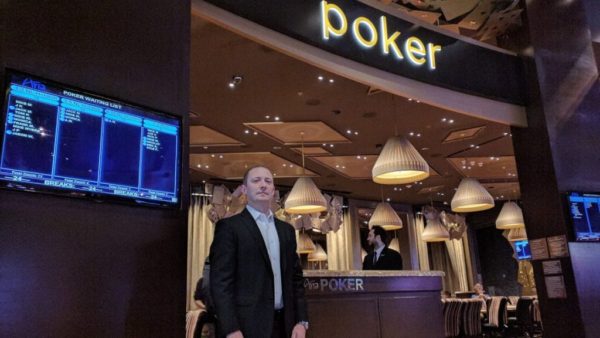 So how did you first get into the poker industry, and for how long have you been working in it, and at Aria in particular?
Well, I'd always been interested in gambling, even back in high school playing with my buddies. I was always a casino rat. I'm from Wisconsin, and they had casinos and card rooms in the Midwest that I would frequent. I had a mathematical background from school, so the whole gambling aspect always interested me and I just loved the casino lifestyle. I'd played a lot of poker and even when I was first getting into poker, as much as I was trying to learn the games itself and the strategy, I was instantly drawn to the administrating and the rules side of it.
I moved out to Vegas about 12-13 years ago, in 2005, and I actually played poker as my main source of income for a while, but I found that I didn't really enjoy it as much as I thought I would. I didn't do great, but I didn't do terrible either. It was pretty much like a lateral move monetarily for me and while I didn't enjoy it as much as I thought, I still loved being in card rooms. So, I thought, let me try being on the other side of it. I dealt for a month or two and moved up pretty quickly.
Where did your poker industry career start out?
Well, I dealt the Orleans Open, just to see if I wanted to get into it. Back then, the Orleans Open was the event prior to the World Series. They were like the only two summer series. At that point I felt like the industry was definitely for me. Then I got hired at Binion's, and within a month I was the tournament director. So I'm much more talented on the administrative side than I am on the playing side.
Interesting. So, just to backtrack for one sec, you said it was a lateral move for you monetarily. What did you do before getting into poker and what was the transition like for you?
It wasn't poker-related. It was at a manufacturing facility back in Wisconsin. I was a trainer/shift manager, but it had nothing to do with gaming and certainly not with poker. I loved my job, actually, and at that time, poker was my hobby. It was my passion; it was what I did in my spare time.
The games were really good back then, I'm not going to lie. So, you didn't have to be a world-class player to show a nice return; you just had to not be terrible. So I said, you know what, this is great! I love doing this, maybe I should just do this full-time. I was at a good position in my life to take a shot and I'd always wanted to move to Vegas. I was young and I didn't really have anything tying me down. So, I moved to Vegas, played for a living for about a year, and I found that I didn't care for the lifestyle as much as a lot of people do. A lot of people like to have freedom, they like being their own boss. I liked that, too, but I found that I actually need some structure in my life because back then I wasn't disciplined enough to do it myself.
I was maybe a little too reckless and cavalier when I didn't have a commitment where you need to be at your job at 9 o'clock. My sister was actually here in Las Vegas, but that was it; I didn't know anybody, I didn't have any friends. That's always the most difficult part about moving to a new place. I've always been a believer that when you move to a new city, generally, your first friends are the people you work with. Then, you branch out from there. In my case, however, I had moved to a new city and had no job. Literally, the first people I'm meeting are people who are trying to win my money. It just didn't feel like a very healthy relationship.
I can understand. Well, how about these days? Do you still play at all, like in a home game maybe? For what stakes? Which poker variants?
Oh, I love playing. I like no-limit Hold'em tournaments and any non-no-limit-Hold'em game. I like playing mixed games. I really like playing PLO. Recreationally, of course. Stakes-wise, it's usually in the $100-$500 range. I'm probably a break-even or slightly better than that player. But no, certainly not world-class. Nor do I have the really time or desire to put in all that effort to try to be world-class, which I might never be able to do anyway. So I'm pretty realistic about my own play, but I still love playing. My players, they see me out all the time, playing cards with them.
READ MORE: Mixing It Up with H.O.R.S.E. and Other Mixed Game Variants
What hobbies do you have outside of poker?
Well, I'm a big sports guy, so I'm passionate about all the Wisconsin teams all year round.
What about the Golden Knights, as you've been living in Vegas for so long?
Oh, for sure, man! This is quite a season! Probably the biggest mistake I've made in the last 10 years was not getting season tickets. Wisconsin is cold, of course, but hockey isn't as big in Wisconsin as it is in Michigan and Minnesota, since the state doesn't have a professional team. Wisconsin Badger hockey is big, but the difference between college hockey and professional hockey is night and day. So, I enjoyed hockey, but I wasn't passionate about it. I found that I just needed to have a team and a vested interest. Now I'll watch any hockey game on; I love hockey. I've been to probably 12 Knights games. I actually went to every playoff game prior to the Jets series. That's when WPT festivities started. Things have been really busy work-wise here at Aria, so hopefully I'll be able to sneak away to a Stanley Cup Finals game.
READ MORE: 5 Sports Bets Poker Players Can Place During the 2018 WSOP
Cool. Well, you said you're a Wisconsin guy. Does that mean Packers all the way, or when the Raiders move here to Vegas it'll be "Go Raiders"?
Nope. I'm a Packers guy, no matter what. Once the summer's over and then football season starts, I go home. I go to at least one Packer game a year.
It'll be an interesting dynamic to see the Raiders move to Las Vegas. You know, one thing about the NHL opening up a team in Las Vegas is people had been saying "OK, it's such a transient city; I don't know if they're going to embrace this team." Well, it's unbelievable. This city has fully bought into this team. They are so passionate about it. I'm actually impressed with how quickly the fan base has become knowledgeable about hockey; these are well-educated fans! They've taken ownership of this team. It's so exciting.
I'm interested to see if the dynamic with the Raiders will be similar. I actually don't think it's going to be, because yes, they play in Las Vegas and their name is going to be the Las Vegas Raiders. But will they really be "our team?" They played in Oakland, they played in LA, they played in Oakland, then back to LA; they go back and forth. But the Knights, this is our team!
So getting back to poker, we're at the Aria poker room, of course. What would you say are some of the unique characteristics that make this poker room special among other Las Vegas poker rooms?
I've been at Aria for about two and a half years now and it is a premium, luxury property. Our staff takes a lot of pride in the guest service aspect of it, knowing that it's a luxury property. Because of that — the beauty of the property and the poker room, and the very specialized guest service that we offer — we do attract the largest games in Las Vegas. We run the biggest cash games, we have the largest recurring tournament in the Super High Roller Bowl every year, with a $300,000 buy-in. We just ran our first $10K event. We run the High Roller series, which are the regular, $25Ks, and occasional $50Ks and $100K buy-in tournaments.
Setting up the extra poker tables for the summer! 😎

Notice it's right outside the @ARIAPoker Room! pic.twitter.com/T2hLemTyzk

— Paul Campbell (@TDPaulCampbell) May 14, 2018
You host tournaments with buy-ins of that level every month?
Yeah, it is every month. It's real exciting running these tournaments for all the high rollers. What's nice is, I think I've come to have a really good rapport with all the high roller players. They trust me running their events, and it's a lot of fun. They're a great group of guys, and they appreciate how much dedication I put into their events to make sure they run smoothly. They appreciate that I take a lot of pride in it and the guest service that not only me, but my entire staff, gives them when they come play.
Aww…thanks @MariaHo, and well said. Lot of working parts to make this a great experience for the players and the viewers, and everyone brought their A game. 😎 https://t.co/HsDVUaQ6bq

— Paul Campbell (@TDPaulCampbell) May 31, 2018
You mentioned that a lot of different series pass through this room throughout the calendar year. Is there any one in particular that stands out to you personally as the one that's your favorite to manage or preside over?
My two favorites are for completely different reasons. There are two and they're kind of tied. One is the Super High Roller Bowl, because it's a unique event, and just watching world-class players play a really deep structure, short-handed, is just so enjoyable. The production quality, and working with Mori Eskandani's team, and just to actually see the finished product at the end — it's so cool. I love watching it, and I love being there. I love being a part of it. I love putting on a good product for these players. And then I love watching it later, and being like "This is so unbelievable; this is so cool! I wish I was there!" And then I say to myself, "Holy cow, I was there! This is great!" It's kind of surreal, it really is.
.@TDPaulCampbell getting loose on the @WPT #TOC final table stage! 😂 pic.twitter.com/58Rw3DaYtV

— Cathy Zhao (@CathyZhaoyuan) May 27, 2018
When you're in the moment, you're just trying to get the best product you can to the players. And then when it's over and you get to take breath, exhale, take look at what you did, and be like "Is that me onstage? I'm standing right behind Phil Hellmuth and Jake Schindler! This is crazy."
You said there was another event you loved for a different reason?
Yes. The World Poker Tour 500 (WPT 500) is also my favorite event because these $500 buy-ins, these are more like what I can afford. These are my kind of people, you know? Not a lot of people can afford $10,000 tournaments, $300,000 tournaments. Most people in the poker community can afford to take a shot at a $500 tournament. So, to me, I kind of feel like it's our National Championship, where anybody can get in. We get thousands of players in. It's a World Poker Tour event. You get to play for $500 bucks, and being called a WPT winner is pretty cool. I like the whole dynamic of that tournament, with all the different starting flights, and you combine them on the Day 2, and you play down the field sizes.
It takes place at the tail end of June. The whole WPT 500 last about 10 days. We have a week-long series of Day 1 flights that the players can play in. Whoever advances from each flight, we combine them all into a Day 2. Both WPT and Aria do a great job of making these players feel that this is such a great event. The service they get and the attention that tournament gets for a $500 buy-in is incredible. I've become friends with a lot of our tournament players, a lot of our daily tournament players who are playing the $200 to $400 range. To see them be involved in a World Poker Tour event, watching them run deep, is always exciting for me. I always root for them, the recreational players and the grinders.
Fantastic. So, we promised you a specific question about this. With the opening of the PokerGO studio, your responsibilities were increased. On a practical level, what does this mean in terms of your day-to-day responsibilities?
I have two titles, now. Tournament Poker Manager and Aria Studio Manager. In terms of our tournament schedule — daily tournaments, tournament series — I handle running what we consider our major events: our WPT events, high rollers, $10,000 and higher, and the Super High Roller Bowl. Those are very, very hands-on roles. From the tournament managing aspect, I'll make the schedule for the summers, but I have an incredible tournament staff and basically I just let them do their thing.
With the announcement of the @PokerGO Studio we need a manager to oversee gaming operations. I'm proud to announce @TDPaulCampbell promotion into this role. Paul will still handle @ARIAPoker tournaments but now will coordinate cash game/tournament operations in The Studio.

— Sean McCormack (@ThePokerBoss) April 7, 2018
For the studio manager aspect of it, anytime we're playing poker in the studio, I'm going to be there. The 2018 Super High Roller Bowl is the first multi-table tournament run in its entirety in the studio. We also just wrapped up the WPT Bobby Baldwin Classic, in which we brought the final table over into the studio. After that, we will be running our Poker After Dark cash games, on which I'm also the lead.
You're often grouped and pictured together in a united front with Sean McCormick and Mike Williams who, like you, have each earned great reputations in the poker community in their own right. In what ways do your roles complement each other, and what do you enjoy the most about working with those two gentlemen?
Working with Sean and Mike has been a real treat the last couple of years. We all came in at the same time. Sean came in and he hired Mike and me probably within his first two months. We have a lot of respect for each other, we get along real well, and we have very common goals for the future of the Aria poker room.
We come from different poker backgrounds and different areas of the country. I came from the Midwest poker scene, Sean came from the East Coast poker scene and now has been in Las Vegas longer than anyone, while Mike came from the Southern poker scene. So, not only do we have a lot of joint expertise, we have a good feel for what players want because poker dynamics are a little bit different in different parts of the country. So, cumulatively, we really feel like we have a good understanding of the product the players want.
I have learned a tremendous amount in my two years, not only from Sean, but from Mike, and I feel the converse is true, too. I feel like they've learned a lot from me. Sean has an incredibly strong cash game background. I have an incredibly strong tournament background. Mike was like 50-50; he has run tournaments and been shift manager, so he came up going on both sides. And we've all worked at both small and large properties, so, we kind of have all the bases covered.
It is one hell of a team. It's really strong, and they're a fun group of guys to work with. We have a good time with it. But obviously our No. 1 goal is to provide the best product and the best service for our guests.
That leads perfectly into my last question. So, what is the message that you would like to be imparting to share with poker fans who have never been to Aria's poker room before? Give us your 30-second elevator pitch on why they should come and visit.
Just touching back to Sean and Mike, one thing that we love that we offer our players, is that our philosophy is to make poker fun again. We want players to enjoy themselves, but also for them to know that at Aria, you are protected. We are incredibly knowledgeable, we offer the best product, we make sure that you have the most game integrity here. Nobody wants to play and be worried about "is this person doing their job right, is this person doing their job right?" You just get to relax. You're offered a good product. I promise that there is no one on the planet who cares more about the quality of the tournament or the games that they provide than the staff at Aria.
Fantastic. Thank you very much, Paul.