Finnish celebrity and former Miss Finland Sara Chafak has scored big in terms of popularity in the poker world. The video of the bluff she pulled off against Ronnie Bardah on an episode of Shark Cage went viral in late 2014 and was considered one of the best poker moments of the year.
Chafak is a beautiful woman of many talents. She studied marketing and economics. She is also a model, a singer, a songwriter, and a TV personality. She even hosts her own cooking show! And, of course, she enjoys playing poker. While she has skyrocketed to poker world celebrity, she is also grounded, confident, and determined.
I sat down for an interview with Sara Chafak back in December just before she joined the field of the EPT Prague women´s event. We discussed her dreams, ambitions, beauty pageants, poker experience, and much more.
Please briefly describe Sara Chafak to me.
Sara is a weirdo package, running back and forth. I am into so many things, but I love it.
And I´m present. What else?
Well, that´s usually enough to be present. Could you tell us a bit about your family background? What did you want to become as a kid? Did you have a dream, a vision of yourself?
I had so many dreams and I still do have them. I feel like without having a dream I would suffocate.
I come from Finland. I was born in Helsinki. My father is originally from Morocco and my mother is Finnish. My parents broke up when I was around 9 years old. I had quite a hectic childhood, but I believe I turned out fine.
I did dream about becoming Miss Finland, enlisting in the army, and playing poker. Of course, whatever I do, I want to do it 100%. That´s my motto, although some find it to be a cliché. That´s how I am. All or nothing. No middle ground. I´m a perfectionist as well. Sometimes I make it very hard for myself in terms of pushing myself too much, but that´s who I am; that´s where my drive comes from.
You said you dreamt about becoming a beauty queen. Where did that come from?
Yes, I did. I was 6 years old when I decided I was going to be Miss Finland – not necessarily that I was going to participate in a pageant. I said to myself: I´m going to be Miss Finland, and – many years later – it happened. It was crazy! Of course I´d dreamt about it all my life and I used to be bullied because of it as well. Other kids were like: It´s not a job. It´s not a calling. I want to be a doctor. I want to be a police officer. And I said: Yeah, I want to be Miss Finland and a singer. I want to be in the entertainment industry.
Tell me what exactly is the role of a beauty queen? What kind of profession is that? Beauty pageants seem to be superficial contests, but if you are successful, you can use the platform for other things.
That´s true. You can do so much. Basically, being in a beauty pageant means also being a role model, especially for kids, young people. It´s even better to have talents outside the "beauty world", or to be highly educated. You set an example and represent your country as well.
How did poker fit into this? How did you start?
I started with home games first. It was fun. I won a lot and thought to myself: Why am I not playing for real? And then I turned 19 and I started playing in different pubs in Finland. At that time, it was still legal to have these small poker tournaments. I won a couple and one of them awarded a seat at a final table. I couldn't make it, as I had a severe flu. I even asked my doctor if I could attend while wearing a mask and gloves, and she said: "No! You can´t go there."
As it was the biggest achievement in poker for me at that time, I was very disappointed. The winner would get a ticket to the Main Event! After that, I stopped playing for a while. I finished school and started university studies. Poker was not priority.
What happened next? When did you cross paths with poker again?
I went to university in Estonia, but then I won the Miss Finland pageant and returned to Finland. While there, I did have some free time and eventually I started playing poker again.
It was a funny coincidence that led me to PokerStars. In Finland, PokerStars runs this "speed poker competition," this event for 10 celebrities. I was hesitating at first. I didn't want the publicity, but they talked me into it. So, I agreed to do it on my own terms. I was going to sit at the hairdresser, have my hair done and play in the event. They filmed it as I was just sitting there, hoping my hair would not burn with all the color on it; and I won it! I got a ticket to the Barcelona Estrellas Main Event. This was my first ever major poker tournament. I got through to Day 2. I was on fire. I got spotted by PokerStars people and the media and did some interviews. It was at that point in time that PokerStars staff members started playing with the idea of putting me on Shark Cage. My reaction was – Ok, well, let´s do it!
That´s where you pulled that amazing bluff! What an incredible, viral video!
Yeah, this first hand I played I took a huge risk. I knew what I was doing. The people who know me, they can see it in my eyes – my adrenaline level was going through the roof. I had to do it; the situation was perfect. It was just me and Ronnie, and I chatted with Ronnie before we started.
I met him backstage and he introduced himself: "Hi, I´m Ronnie, are you hosting the show?" That was so funny. He made the whole thing so much fun on TV as well, he´s a huge personality. Of course, I didn't think it would go viral and get as much attention as it did.
Are you enjoying being a part of the poker world?
It feels like home to me. I´ve always enjoyed it. Even before the Shark Cage experience and all the buzz around the bluff, I had enjoyed it. It's sort of weird, because I am ADHD-kind of person, and you have to sit still a lot. Poker keeps me focused.
Do you feel comfortable surrounded by men 95% of the time? That´s obviously a bit different than a beauty pageant.
True, but I have five brothers. My best friend is a man. I don't mind. I´ve always been into boyish stuff – football, army, etc.
How often do you play poker? Do you play online?
I play on PokerStars anytime I´m free. I´m a night person, so I like to play their tournaments. You can see me playing online a couple times a week. I don't grind almost 24/7, like professionals, but someday, I will get there, too.
How do you prepare for a live poker tournament?
I´m a bit superstitious, so, I need to go through my routines. Always. I need to get my sleep. If I don't sleep, I´m screwed. I read. I try to relax as much as possible because if you are stressed out, you are not concentrating fully. I cannot drink coffee. It doesn't work for me. I´m overly sensitive to caffeine; I start shaking and can´t concentrate. Other than that, just basic things really; I enjoy a good shower, I need good food. I´m foodie and I´m also a professional cook.
Basically, no drama before playing poker.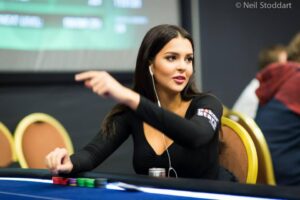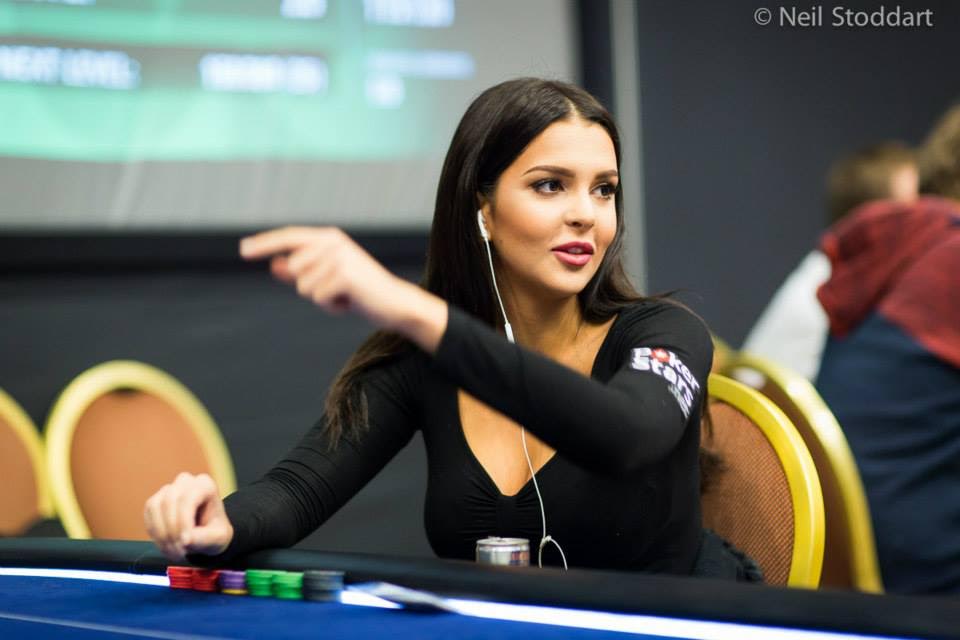 You mentioned you are a professional chef. Where do you show off your cooking skills?
I have my own cooking show. It´s called From Salt to Saffron. The salt in the title represents Finland, and saffron represents Morocco – reflecting my roots. It is produced for FOX and broadcast in Finland and a couple of Baltic countries.
You don't compete in beauty pageants any longer, but what was it like to represent Finland at the 2012 Miss Universe pageant in Las Vegas? What did you think of the female competitive environment?
It was hectic and it was exactly what I was expecting it to be. I had the best roommate ever. She was from Denmark and she looked just like my mother when she was young, which was a bit funny.
Girls are girls, lionesses, protecting their territory. They may not show it in public, but their claws are always ready. But it was fun.
What kind of people do you like to surround yourself with?
Calm, confident and humble people. I don't like drama, gossip and BS.
What is the first thing you notice about people when you meet them?
Kindness, humbleness. I believe you can sense a lot from the beginning of a conversation.
What´s your definition of beauty?
This is a cliché to say, but I must say it. It comes from within. A good person is never ugly.
Last question: What aspirations do you have in poker?
The biggest! That´s why I play. Time isn´t only money, because you cannot get back time. But in poker, it is different and I am very competitive. I play to try and score the biggest achievements. Why else would anyone do it?