Some of my earliest memories as a child are of me learning how to play card games like Crazy Eights or Go Fish. Its not poker but it was the start of my journey as a card player. I remember summer days on the front porch playing games like Phase 10, learning how to shuffle. Soon after, playing cards started to be used and I learned games like Kings Corner, Speed, and Bullshit. I figured out how to read people and read their hand. Then the games started to get more complex with games like Gin Rummy and Cribbage where I learned how to identify pairs, sets, straights, and flushes. I found out about more competitive games like Hearts and Spades. These games taught me how to value my hands by bidding and counting cards. As I got older, I started to learn things like how to grip a deck and some sleight of hand. Over the years I have learned how to play many card games and forgotten how to play just as many.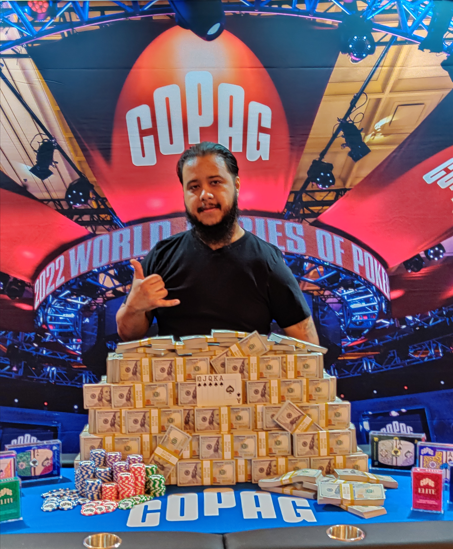 Hello, Poker
I was first introduced to Poker in middle school. I remember sitting in the back of my history class while we were having a movie day and a friend showing us how to play poker. We didn't have any chips to use for betting, so we used snacks like bags of chips and cookies to make our wagers. We played 5-card draw, there was just one round of betting which acted more as a price to draw and show. Sometimes there were rules on how many you could draw, for example, you could only draw four cards if you had an Ace in your hand. As I grew older, my skill in card games also grew. I became a formidable opponent in many games. Often finding myself sitting down to play a game at a cookout or party. It wasn't long before money started to be wagered on the games I played. It was never a large sum of money, just enough to have some spending money when I went to hang out.
One day I saw something called the World Series of Poker on TV. They were playing something called No Limit Texas Hold 'Em. I was amazed by this card game, it looked complex, it looked challenging. I had to find out more about this game. It didn't take long for me to find websites where I could play for free, and I stumbled my way through learning how to play Texas Hold 'Em. Playing online was OK but it didn't compare to what I saw on TV. I wanted to be able to hold cards and stare my opponent down, but first I needed to learn more about the strategy to playing well. I went to my local library and checked out all the books that I could find on Poker not realizing that I was about go down a very deep rabbit hole. These books were the first time that I learned there were so many different variations to poker. I read about draw poker, stud, low-ball, high-low split, limit Texas hold 'em, and no limit Texas hold 'em.
I had just turned 18, so I was not old enough to go to the casino yet. Fortunately for me I had heard about a free poker league that I could attend. The catch was that I could only go when they were at a local sports bar & grill. It was my first time playing live, but it was also the first time that I played something other than 5-card draw with other people. It was here that I learned about a poker variation called Baseball. During the break, players would grab a deck of cards and for a couple bucks a hand they would deal out a round of Baseball. Because players were usually just wagering one or two dollars per hand the preferred variation was No-Peek Baseball. A fun way to gamble while keeping it within the game of poker. The biggest difference between No-peek Baseball and Baseball is that in No-peek, players are dealt seven cards face down instead of five. Usually there is a round of betting after each time the high hand is set but since we were playing for fun, we just wagered a single bet and played out the hand. The pot would go to the player with the best hand.
My Further Development as a Poker Player
I was determined to get become a better player and win a tournament. I started to use online sites like Full Tilt for practice and experience. It helped and soon I was making deep runs in my poker league tournament. Playing online I found out about games like 7-card stud and Razz. I found these games captivating and played them as often as possible. I even went back to some of the library books that I read to go over the stud and Razz sections. Stud was the game of choice before Texas Hold 'Em became the popular choice. There is something enticing about knowing your opponents' cards while in the middle of a hand. When you bluff your opponent, it is that much more satisfying to know that they folded a hand that beat you because your hand appeared to be stronger. Then there is Razz the complete opposite, you are looking to make the lowest hand possible. Just as interesting as playing 7-card stud, but now you are using everything you know about making a high hand to play bad hands. I never had much of an opportunity to play either of these games in a live setting but any chance I had to play stud, I would always take the opportunity to play. I tried to get my home game to play stud but they just found it confusing and didn't want to play stud again. It would be many years later until I played stud again.
READ MORE: Stud Poker Mixed Game Guide
More Wacky Mixed Game Poker Madness
Over the years I learned about different variations of poker. Some of them didn't make sense to me and others were fun, but the problem would be the lack of players interested in playing. I remember learning how to play the Good, Bad, and the Ugly in a dorm room and wondering why anyone would play it.
Then there was the time that a friend of mine taught us how to play "Throw Away" Hold 'Em, which was a big hit with the home game, what we didn't know at the time is that he was teaching us Crazy Pineapple. It's a great game I highly recommend to any Hold 'Em player who is looking to mix up the monotony of Texas Hold 'Em. There is not a lot to learn because it is Hold 'Em but with an extra card. In Crazy Pineapple you discard one of your cards after the betting has completed on the flop. This gives you the chance to see how the board interacts with your hand. It can make for some crazy hands. This is what has always attracted me to learning different variations of poker.
Each time it's a new puzzle to figure out how your opponent is playing their hand and what sort of strategy you should be playing. Its like taking your morning bagel and coffee and adding a new spice to it.
Day 15 WSOP, I went to @PokerRoomRWLV to play the Mix Game Festival. I got the chance to sit at a table with the one and only @FossilMan. I learned about the ultimate degenerate game called Watermelon. Come join the fun today with @cardplayerlife #poker #pokerlife #WSOP2022

— Criminal Bizzy (@Criminal_Bizzy) June 15, 2022
The Poker Journey Continues… I'm a Professional Card Player
I always had the dream to play in the Main Event and win it. Something that I think any poker enthusiast would dream of accomplishing. Realistically speaking I never really pursued poker beyond just trying to be good enough to brag that I had a winning session. I read poker books here and there about how to improve and, in my opinion, I was one of the better players at my home game. Of course, if you asked them, they would disagree. I never imagined for a second that I would be living in Las Vegas with so many options for poker available to me. To be honest, poker had become another card game that I played. Life was happening and on Sunday afternoons you could find me at a friend's cookout playing Conquian for $5 a hand. Occasionally we might have a spontaneous poker night where other friends would play but if you wanted to seriously play you would go to the only option in town, the casino. Moving to Las Vegas didn't feel like it would be much different. I do miss the variety of card games that I played but I think it's a good exchange for the amount of poker that I play as professional low stakes grinder.
My intention was not to be where I am today, only because that was not something that I had really thought about since my early twenties. I tried to do the 9 to 5 when I moved to Las Vegas. I managed to get a few contracts but nothing that was long term. Slowly I started to play poker on a regular basis. Eventually I found myself wondering if I should play poker professionally and my wife even suggested one night that I give it a go. I don't think either of us really knew what kind of journey I was about to embark on, but we talked about what it would look like if I played professionally. I am grateful that I have such supportive partner in my life because I don't think I would have been able to take the leap of faith that I did to pursue poker.
As a player I believe that I do have what it takes to be successful, but I have also realized that being successful in poker means more than just playing the game. I think it also involves finding a way to give back to the community. Promoting the game and bringing growth to it. The life of a card player is layered and changes from person to person. Poker as a card game is one of the few card games around that you can always find someone that can relate to it. Now that I have been pursuing my dreams for the past couple of years, I have realized something about what I am doing. I don't want it to stop. It's a game that has given me the opportunity to meet all kinds of people from different walks of life, how to think critically, and thickened my skin. No matter what happens, I want to stay in this industry and find a way to contribute to Poker the same way its contributed to my life.
Day 17 WSOP: Got to see @cardplayerlife who had stopped by to get a few more hands in before heading to bed. The Mix Game Festival finally came to an end when the game broke around 6:30 AM. I had the honor of picking the last game and called baduecy. #poker #pokerlife

— Criminal Bizzy (@Criminal_Bizzy) June 17, 2022