Whichever way you slice it, 20 years is a long time. I just turned 40 years old, so that's half my life. Cardplayer Lifestyle just turned 12 years old, and (to me at least) anything that happened in the poker world before we were founded certainly feels like ages ago. Indeed, 20 years is basically a lifetime in the poker world. PokerStars, the world's largest online poker site, is currently celebrating its 20th anniversary and I imagine that few of us aged 45 or under can even remember a poker world without them being a huge presence in it.
We all have our own memories associated with the brand, be it from endless hours of online cash game and tournament play, play money battles with our home game buddies, swag and merch we've collected, or the multitude of live events they've hosted over the years all over the world. That said, PokerStars employees undoubtedly have a very unique perspective.
A foursome of PokerStars employees were kind enough to share their reflections with us for this article. We'll learn what it has meant to them to be a part of the company's odyssey in the poker space, peek behind the curtain at the special "family vibe" at company HQ in the Isle of Man, and even get to hear from someone who has been along for almost the entire 20-year-long ride.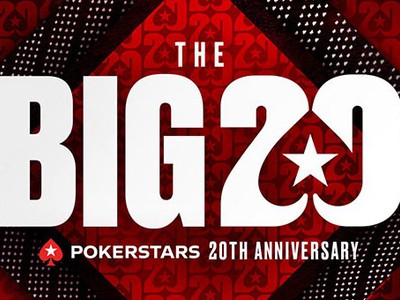 Jenni Devine, Head of Internal Security
I've worked with the Group for 11 years on the Isle of Man. I joined as an analyst not long after graduating from university. I've worked in the Internal Security team the entire time and can honestly say I still feel the same passion about the company, players, my role and team as the first day I started. We've had a lot of interesting cases over the years and have helped improve procedures, processes, and implement policies in that time! I've gained further qualifications and having recently been made the Head of the department, I'm really proud of the professional journey I've been on. I have some great mentors and have learnt lots from some of the best in the industry over the years. Every day I learn something new/something changes and that keeps work exciting.
Personally, a lot has gone on in those 11 years. My partner and I bought our first house, got engaged, married and have had two beautiful girls. These are all milestones I've shared in joy with my team, colleagues and friends around the company.  More importantly though these people have also been there for me and lifted me up when times haven't always been so great. Hopefully I've been able to support others during their times of need as well as celebrating their wins. I truly believe the people are what has made PokerStars so special and successful. I hope the next 11 years are just as exciting. 😊
Tim Lawson, Senior Manager, Operations planning and analysis
I started playing at PokerStars online in 2003. It was an exciting time as Chris Moneymaker had just won the WSOP and online poker started its boom. I deposited $50 for a $50 bonus, with just 50 Frequent Player Points required for its release. I bought a PokerStars t-shirt which I still wear, for those 50 FPPs too!
One of my first major promotions was the 1 billionth hand, and the PCA tournament was held on a boat. It was my dream job to work at PokerStars, and when they opened up an office in Sydney in 2006 I was quick to apply.
I eventually moved from the Sydney office to the Isle of Man office and the office was like an extended family. Everyone worked together and helped each other out.
One great memory, was when, the UKIPT made its way to the Isle of Man. Who should show up to the High Roller event, but none-other than former PokerStars owner, Isai Scheinberg. The whole office seemed to be there on the rail cheering him on, and he took it down. When it came time for the trophy photo, the staff charged the floor for the iconic moment. The respect that Isai had from the PokerStars staff, years after he had left the business, was testament to the values in the business he had created.
Some time on and our business is growing and expanding, and we now offer Casino, Sports and Social games as well as our mainstay of Poker.
Ellis Romero, Resource Manager, Operations
20 years of PokerStars.  Wow – what can I say!
My PokerStars journey began on February 20, 2002 when I registered as a player. I had been playing live poker for a few years and I had been working in the local casino in Coventry for the previous four years or so. At the casino I was, amongst other duties, responsible for running the card room. As I became a father, the night shifts eventually took their toll on me and I took a job with an online bank as front line customer support. A great mix of skills for anyone wanting to get a job with an online poker company!
In October 2003 I joined PokerStars as employee #22; the first employee hired in the United Kingdom. At the time, definitely the biggest drawback for working for PokerStars was the fact that I would no longer be able to play on PokerStars. The biggest plus point was the fact that I was being offered the opportunity to work from home, which ultimately allowed me to play a much closer part in the upbringing of my children than if I was a "regular 9-5 Dad". It is quite ironic that I have watched the full circle of the company starting out with many remote workers, moving to office-based staff, and then transitioning back to hybrid work of late.
At PokerStars I started out as a mix between a Game Integrity Specialist and Customer Support agent, became a Shift Leader then a line manager of a team of remote staff, before side-stepping into my current role as Resource Planning Manager.  I remained a remote employee until June 2016 when I finally took the plunge and made the move to the Isle of Man with my wife and five children to finally start working at an office.
It's safe to say that I have seen a fair amount of change during my time here at PokerStars. Lots of colleagues have come and gone, but being around the people of PokerStars has absolutely enriched my life for the better.
So, what does "20 years of PokerStars" mean to me? I'd say: It's a constant of the vast majority of my adult working life – I wouldn't change anything for the world!  Let's look forward to the next 20 years of PokerStars and more!
Ellen McGirr, Programme Planning Manager
I'm not being overly dramatic when I say that joining this organisation has changed my life for the positive in so many ways. When I started as Office Manager of the Isle of Man office back in 2011 I couldn't have known how many lessons, opportunities, friends and even family it would bring me. 😊
I have had the enormous privilege of working with the warmest, most talented, driven, intelligent and varied group of people I could ever have hoped for. So many nationalities, so much by way of life experience from different countries and backgrounds; working for PokerStars on the Isle of Man has been akin to being back in university – an education together with people from around the globe, lifting each other up with their skills and smarts.
People came from literally everywhere – sometimes from our offices elsewhere in Sydney or Costa Rica, sometimes just plucked fresh from a poker table or tournament – and they were wrapped up in the warm arms of the PokerStars community on the Isle of Man.
And then there was everyone else, all the lovely people from our offices in London, Toronto, Malta, Dublin, Costa Rica.  It was really very special.
I could ramble on and on about how much I love PokerStars and what it's done for me, but it's mostly about the friends I have made from being part of this. The fun we've had both inside and outside the office – the great community spirit and big heart that this company has always had. PokerStars was well known on the Island for pushing its people to work hard, and they were rewarded for it. PokerStars staff stayed for the community, for the socials, for the charity and community work we did outside of Stars on the Island, and for friends and colleagues.
We are family, and always will be. ❤