The 2017 Poker Hall of Fame finalists list has been released. Not surprisingly, Phil Ivey headlines the pack. Mori Eskandani joins him as a new finalist.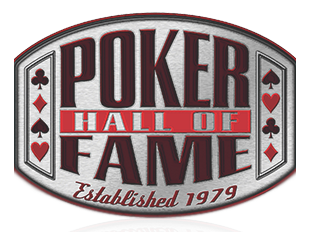 Now it is up to the Hall of Fame panel to select up to two new members. In reality, they are voting for one new inductee, as the first slot is unofficially reserved for a player who should have already been in.
Phil Ivey FINALLY Gets In
Does this even need discussion? If not for the passage of the Chip Reese rule in 2011, Ivey would likely already be in the Hall of Fame. He's finally 40 years old and is a lock to get in on his first ballot.
READ: Interview with Phil Ivey
If you need some reminding as to why he should be in the Poker Hall of Fame:
$23.85 million in tournament earnings
10 WSOP bracelets
1 WPT Title
3 Aussie Millions $250K Challenge Victories
Over $19 million in online poker earnings at Full Tilt pre-Black Friday
Considered by many to be the greatest poker player ever
This pick is a no-brainer, so there's no reason to discuss it further.
The "Happy to Get Nominated" Club
Every year we have finalists who are indeed worthy or poker's ultimate sign of recognition but have little chance of actually being inducted. Below is a list of players who I feel are in this year's "Happy to Get Nominated Club":
Mike Matusow
David Chiu
Thor Hansen
Max Pescatori
Ted Forrest
Huck Seed
Let's be clear: Every person on that list has the credentials to get into the Poker Hall of Fame. The one that some would perhaps argue against on this list would be Mike Matusow. Personally, I like Mike and would love to see him in the Hall.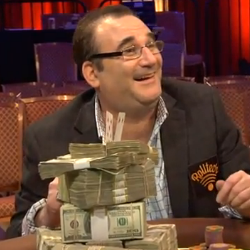 My personal feeling is that his strong performance this summer after a two-year lull due to illness is the reason he's on this year's list of finalists. One knock against him has been consistency. Also, one can't help but wonder if the bad blood between him and Negreanu might influence some votes.
However, Matusow is approaching the $10 million mark in live earnings and has four WSOP bracelets. If he can continue to play well over the next couple of years or so, maybe he'll start getting some support.
Granted, I said the same thing about Todd Brunson last year. Had you asked me to bet money on his induction, I would have refused and gambled that money on video poker at online slot sites. I'd love to be proven wrong like that about Mikey, but I doubt that will happen.
Best Shot for DevilFish to Get Into the Hall?
I'll admit that I've never been the biggest supporter for David Ulliott as a Poker Hall of Famer. He was a great player, but I never really viewed him as "Hall of Fame caliber". Over the last year or two, I've begun to see why there's been such widespread support for his induction, especially from the international community.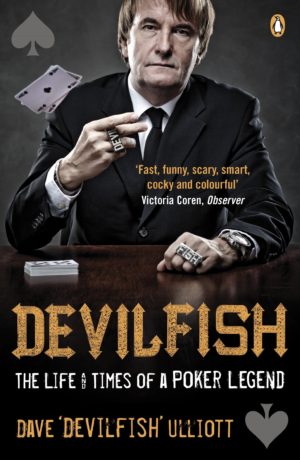 Ulliott was instrumental in helping to grow the game in Europe and that fame eventually spread over to the United States. One has to wonder what he would have accomplished had he not been struck down at 61.
Personally, I feel that Ulliott has the best shot of being nominated to the Hall of Fame out of this class for two reasons:
First, the player class outside of Ivey isn't overwhelming and none of them have the last name Brunson.
Next, it would be a nice touch to put DevilFish in at the same time as Ivey to help diversify the Hall of Fame and recognize the accomplishments of international players.
Up until 2015, I would have said that DevilFish would have had no shot, as the pattern of induction was one player and one builder or player/builder. However, over the last two classes we've seen two players inducted each year so, if that pattern holds, DevilFish has the best shot to go in with Ivey.
The Builders: Savage or Eskandani? Flip a Coin
If the Hall of Fame goes back to the past pattern of electing one player and one builder, then either Matt Savage or Mori Eskandani will be inducted this year. Which of the two deserves the induction more? Personally, I'd just flip a coin because both are deserving of induction.
For the average poker fan, Eskandani would get the nod because he's produced several popular poker programs including Poker After Dark, High Stakes Poker, the NBC National Heads-Up Championship, and the WSOP on ESPN.
READ: Interview with Mori Eskandani
From an industry standpoint, Savage is deserving of induction for his tireless work at improving the game. He was one of the founders of the TDA and is the most recognized Tournament Director in the world. Few have had as broad of an impact on poker tournament innovation, especially rule innovations, as Savage.
WATCH: Interview with Matt Savage
Out of the two, I think Eskandani will get the nod because he not only has helped to grow the game, but also the brands of countless poker players and professionals.
My Prediction: Ivey and Eskandani Get the Nod
Once the ballots are cast and tabulated, I believe we will see Phil Ivey and Mori Eskandani inducted into the Hall of Fame. Yes, DevilFish will likely get snubbed yet again. Ivey is an obvious selection and not selecting him would make the Hall a joke to many fans.
I know that many of you out there already think that the Hall of Fame is a farce due to the lack of international players, and you have a great argument. Sadly, I feel that the diversification of the Hall is going to be a slow one. Notice how Bruno Fitoussi and Chris Bjorin failed to make the list of finalists this year…
Eskandani's popularity and body of work in poker TV production is going to gain him enough favor amongst eligible voters to get him into the Hall of Fame on his first ballot. Poker fans and media will gush over Eskandani's induction.
Personally, I think builders should be nominated and inducted separately, like in Major League Baseball. That would ensure that we get a regular stream of deserving players (and builders) into the Hall of Fame.
As today's stars age, it won't be long before we have such a huge backlog that some players will never have a reasonable shot to get in. By continuing to allow non-players a chance to fill one of the two annual spots, it ensures that some deserving players get snubbed and fall by the wayside.