Lots of new mobile poker apps regularly debut, but in today's online poker industry it's rare to discover one that truly offers something unique. Beluga is a new mobile app that gives players the chance to win real money, every day, for FREE. I had a chance to preview the app, which will run daily hyper turbo tournaments with cash prize pools of either $1,000, $5,000, $10,000 or $50,000. They will also have a free "spin-and-go" style game called Whale of Fortune with a $1 million jackpot prize! With that kind of cash on offer for free, I have to admit that I was skeptical, but it's legit: Beluga Poker really will offer players a free shot at ONE MILLION DOLLARS.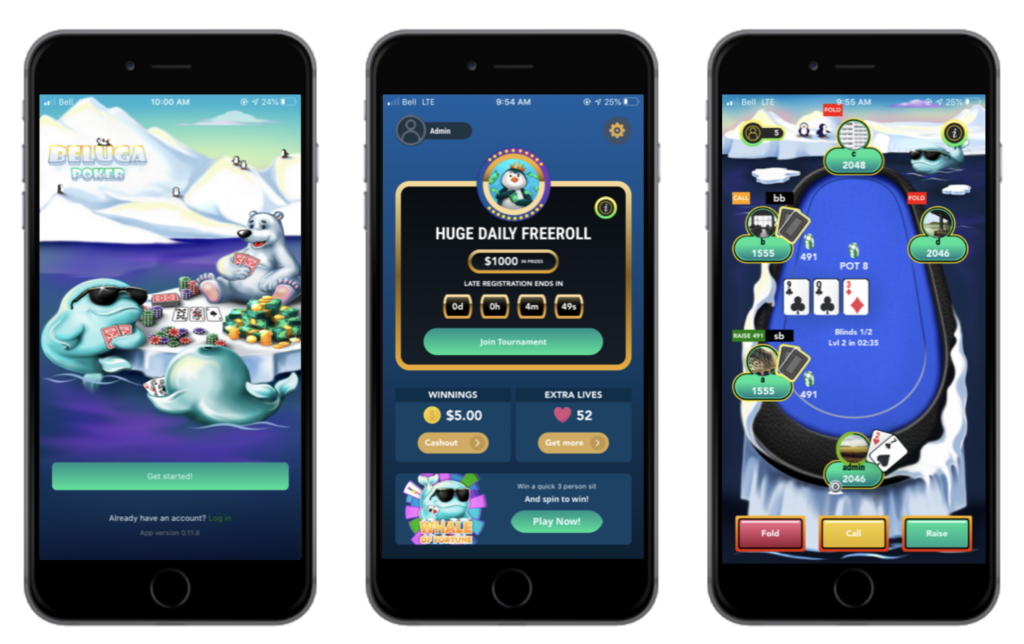 I reached out to Beluga Poker's founder, Andrew Shore, asking what inspired him to build the app. "The idea for Beluga came from the trivia app HQ, which gave players the opportunity to win life-changing amounts of money for free." Andrew saw the millions of people flocking to the app every day to compete in their contests. "I always loved the model of giving something great away for free to hit critical mass."
Shore realized this concept could be applied to poker so he leveraged his knowledge and experience to build Beluga Poker. "I remember sitting in my future co-founder, Ryan Mandel's basement and floating the idea that I wanted to build HQ for poker. He instantly loved the idea and offered to invest on the spot, which gave me extra confidence to go ahead with it."
Andrew's got the right type of experience, both in app development and the poker world, as he used to be a high stakes online poker player and is a co-founder of Drafters, one of the world's largest daily fantasy platforms.
When I asked him how Beluga Poker could afford to give away so much money in poker tournament freerolls, he responded very confidently: "The app generates revenue by selling extra lives, chip add-ons, and tournament sponsorships. There's enough volume to sustain our daily giveaways."
Obviously the main draw of Beluga Poker is that you can win large sums of cash for free, but I also asked Andrew what he felt were some of the app's other most unique features. "I really focused on making the app simple and user-friendly. I feel that online poker is pretty intimidating to new players and I wanted to make the app easy enough to use that beginner players would enjoy using it as well. All of our games are also very quick, with our big tournaments only taking about 20 minutes and our mini game only taking about 2 minutes. This makes it more exciting and appeals to everyone."
Being an avid poker player myself, this is obviously a major departure from traditional online poker tournaments, most of them tend to take 4-6 hours or more to complete. Offering games that takes either 2 or 20 minutes is certainly innovative; who doesn't have a few minutes a day?
In 2006 the Unlawful Internet Gambling Enforcement Act (UIGEA) made real money online poker in the United States illegal. It's since become legal on the state level, starting with Nevada in 2013, and subsequently opening up to Delaware, New Jersey, Pennsylvania, and Michigan. Nonetheless, legal online poker is still inaccessible in much of the United States, as well as numerous other jurisdictions around the world.
Beluga Poker, by contrast, will be 100% legal to play all over the world, including throughout the United States, because all of its games require no purchase necessary to join, so it's not considered real-money poker.
Shore added, "To me, this is probably the biggest opportunity I wanted to capitalize on. There are millions of online poker players in the world who are no longer allowed to play on the big sites like PokerStars and partypoker and have nowhere legitimate to play for real money. Beluga legally and accessibly gives these players their online poker fix."
Free-to-play poker apps, like Zynga Poker, have been on the market for years, and they've retained their popularity, so there's no reason to think that another new one won't be able to carve out a slice of the market share, especially as it has so much more to offer in the potential of winning free money. With quite literally nothing to lose and everything to gain, playing on this mobile poker app seems like a no-brainer.
Beluga Poker is set to launch in mid-August. You can sign up for the beta release at belugapoker.ca to reserve your spot. And yes, indeed, the prize giveaways will begin immediately upon launch.