Las Vegas has turned into a ghost town as authorities scramble to stem the spread of the novel coronavirus. The famous casinos on the Strip have been forced to shut their doors, the Elvis impersonators have hung up their jumpsuits and the concert halls are gathering dust.
The coronavirus lockdown has also unfortunately plunged the 2020 World Series of Poker into jeopardy. As of this publication, the first two gold-bracelet events are scheduled to get underway on May 27 at the Rio, but poker faces an uncertain couple of months, as WSOP director Gregory Chochon said it is too early to make a decision on whether or not it will go ahead as originally planned.
While we await the fate of the 2020 WSOP, it's as good a time as any to look back at some of the best WSOP moments in history.
Johnny Chan Vanquishes Erik Seidel
A then-unheralded 24-year-old by the name of Erik Seidel picked off his opponents one by one in the 1988 Main Event. He displayed poise and aggression throughout, seeing off grizzled veterans until eventually the field of 167 – the largest in the event's 19-year history – was whittled down to just two men. Seidel found himself locking horns with the legendary Johnny Chan, who won the Main Event the previous year.
Seidel seized the upper hand when he prevailed in a record breaking 1.2 million chip hand, with his 9-9 narrowly beating out Chan's 8-8. Chan had just a few chips left, but he worked his way back into the chip lead, turning the tide in his own favor. In the final hand, Chan limped in with Jc 9c. Seidel held Qc 7d and flopped top pair when Qs, Td, 8d was dealt. Chan bet 50,000 and Siedel decided to min-raise another 50,000, so Chan called, safe in the knowledge he had flopped the nuts, a straight.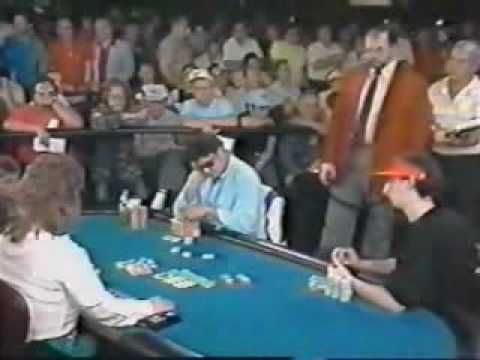 The turn yielded 2s and Chan checked once more. The aggressive Seidel smelled blood and, excited by a perceived sign of weakness in his rival, decided to go all-in. Chan immediately called and stood up. The rest is history. Chan won a second consecutive main event, and the hand was immortalized in the poker movie Rounders. Seidel, meanwhile, went on to become a legend in his own right, a Poker Hall of Famer with eight WSOP bracelets to his credit.
Chan remains the last man to secure back-to-back Main Event victories, a feat that now stretches back over 30 years. He almost made it a hat-trick in 1989, only to lose heads-up to young upstart Phil Hellmuth. Chan is of course a certified poker legend, but that 1988 hand remains his career defining moment. He later said that he knew he would take all of Seidel's chips if he simply checked on fourth street. Seidel took the bait, hook, line and sinker.
It's All Over for McBride
Scotty Nguyen's all-in triumph over Kevin McBride in 1998 is one of the most iconic moments in the history of the game. Nguyen was penniless when he emigrated from Vietnam to California in the mid-1970s, but he always dreamed of making his fortune at the poker table. He was expelled from school for spending too much time in underground poker games, and eventually moved to Las Vegas, where he became one of the leading faces on the scene.
Nguyen's fortunes fluctuated wildly: at one point he was winning hundreds of thousands of dollars a night and living in Caesars Palace, but he was totally broke by the time he arrived at WSOP 1998. He did not even have enough money to buy into a small satellite tournament, but Mike Matusow saw the potential in him and stumped up a third of his buy-in. It proved to be a smart decision. Nguyen progressed through the event and eventually found himself heads up with a big chip lead against Kevin McBride for the title.
The final hand was legendary. As the psychological warfare between the final two combatants at the felt reached a fever pitch, Nguyen went all in with the chip lead and McBride mulled over his options. "You call, it's gonna be all over, baby," warned Nguyen. McBride called, and the Prince of Poker turned over the winning hand to became the Main Event champion.
Chris Moneymaker Wins the Main Event
An accountant from Tennessee ushered in a brave new era for WSOP when he secured a stunning victory over seasoned pro Sammy Farha in 2003. Chris Moneymaker invested just $86 to buy his way into the tournament via online poker satellite on PokerStars. He ended up topping a field of 839 entrants at Binion's Horseshoe in downtown Las Vegas and walking off with a cool $2.5 million.
It all boiled down to a battle with Farha, the proverbial card shark with the hopes of crushing Moneymaker's dreams. One of the showdown's most memorable hands will be etched in our collective memories forever.
The accountant had a slight chip advantage, and raised to 100,000 with Ks 7h. Farha called with Qs 9h. The flop came 9s 2d 6s and they both checked. The turn was 8s and Farha led with a large 300,000 chip bet. Moneymaker raised to 800,000 and Farha called. Moneymaker missed both his straight and flush draws when the 3h hit the river, and Farha had the best hand with a pair of nines. However, the situation was precarious, so Sammy checked.
Then Moneymaker pulled off the bluff of the century with an all-in move and Farha chose to let go. The pro had been thwarted by a stone-faced amateur. It changed the momentum of the match, and Moneymaker eventually won with a full house in the final hand to Farha's two pairs. Moneymaker quit his job to become a sponsored poker pro and ambassador for the game. His win lives on and inspires thousands of hopefuls to enter the WSOP Main Event every year, pushing prize pools up into the stratosphere and changing the event forever. You can play here if you too want a shot at trying to win some cash.
Sammy Farha Busts Oliver Hudson
Two years later, Farha displayed brass ones of his own when he gunned down Hollywood actor Oliver Hudson, son of Goldie Hawn. It was the very first hand of the WSOP Main Event and Farha was holding Ah Td. He raised to 200, but Hudson – who was holding pocket tens – re-raised to 450. Farha called and the flop came Ac Ad Th, giving both men with full houses. Fireworks then ensued.
They were both jubilant. Chips went cascading into the middle. Hudson's joy quickly turned to despair when he realized Farha had the stronger full house. Eliminated, it turns out in retrospect that he paid $10,000 to play in one hand at the WSOP Main Event and leave with his tail between his legs. Farha would only finish in 316th place, but he cashed for $21,000.
Antonio Esfandiari Pulls off His Greatest Trick
The WSOP Main Event traditionally offers the largest first prize of any poker tournament. It peaked at $12 million in 2006 and stood at $10 million when Hossein Ensan emerged victorious last year. However, that was dwarfed by a new event called the Big One for One Drop in 2012. It was organized by One Drop, a charity dedicated to providing people with access to clean water, founded by Cirque du Soleil boss Guy Lalibertè. The buy-in was a record $1 million, and WSOP waived its usual rake, allowing $111,111 from each entry to go directly to the One Drop foundation.
There were 48 entries, meaning a total prize pool of $42.67 million, with more than $5 million going to charity.
The tournament featured many of the biggest names on the scene, including Hellmuth, Sam Trickett, Mike Sexton, and Brian Rast, as well as wealthy businessmen like Richard Yong and Laliberté. The star of the show, however, was former professional magician, Antonio Esfandiari, who made his opponents disappear one-by one. He reached deep into his box of tricks to vanquish an unprecedented collection of financial minds including "billionaires accustomed to eating their adversaries for breakfast".
There were poignant scenes as he hugged his father and brother after the event, bringing tears to the eyes of many viewers. Laliberté managed to finish fifth in a field that featured 28 poker pros, while Helmuth finished fourth, David Einhorn third and Trickett second, earning $10.1 million for his runner-up spot. Yet Esfandiari took home the main prize of $18.3 million, a total that has never been bettered.