Across disciplines, there are certain defining factors that all champions possess; focus, determination, intelligence, and the desire to win being foremost among them. That's why those who achieve massive success at the poker table are often successful in other areas of their lives, too. What they have, above all, is 'the X factor' – a unique quality that sets them apart from us mere mortals.
We can see this characteristic in everyone from world-class athletes to multi-business owning entrepreneurs, which is why we think it would be interesting to discover how some of the biggest names in hockey fared if they ever decided to take a seat at the table. Possessed of all the traits that make a champion, here are five of the names we'd particularly love to see in action.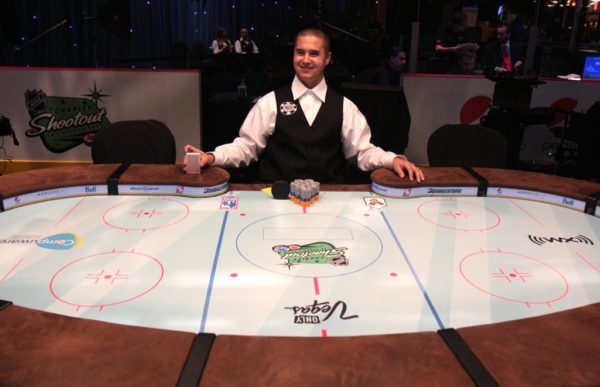 Phil Kessel
A two-time Stanley Cup champion, Phil Kessel knows what success tastes like. Standing at six feet tall, the 32-year-old Wisconsin native is one of the finest right-wingers of all time, but his talents extend beyond the rink. He clearly has a competitive streak – one that would stand him in good stead if he decided to take a seat at the start playing poker even more than he already does. After all, we've seen this buddy of Daniel Negreanu turn up at numerous charity poker tournaments and even the WSOP already!
Today we played the $1500 PLO Bounty Tournament and ended up at the table with friend and NHL All Star Phil Kessel. Full version here: https://t.co/iIhoZduJ40 pic.twitter.com/TeD62tqY7c

— Daniel Negreanu (@RealKidPoker) July 7, 2018
William Karlsson
Las Vegas is the inarguable home of gambling. A place forever associated with glitz, glamour, and gaming, it seems only right that at least one of the names on this list plays for the city's NHL team, the Vegas Golden Knights. Enter 27-year-old Swede William Karlsson. Nicknamed 'Wild Bill', this incredibly talented center is the team's all-time leader in terms of goals and points, making him a natural candidate for any NHL-inspired ultimate poker line-up. Can you imagine trying to get a read on THAT poker face?!
Alexander Ovechkin
In the world of gambling, success can be determined by either luck or skill. In the case of slot games like Wheel of Wishes Jackpot, for example, there are some elements within the player's control, such as the size of their bet and whether they choose to use promotional bonuses. Ultimately, though, winning the available $2 million "WowPot!", $50,000 Major or otherwise is dependent upon fickle fortune. On the flip side, a game like poker combines the two: a good hand helps, but talent has a higher chance of triumph.
With this in mind, Alexander Ovechkin is an ideal addition to this list of NHL players we'd like to see at the poker tables. Captain of the Washington Capitals, the 34-year-old Russian has represented his country at 11 World Championships and three Olympics over the course of his career, with a whopping three wins under his belt. Competitive, clever, and focused, he's a player we have no doubt would be tough to beat at the tables.
Connor McDavid
Though just 22 years old, Connor McDavid is widely believed to be one of the best NHL players today by colleagues, commentators, and hockey enthusiasts from across the globe. Currently playing as center for the Edmonton Oilers, the Ontario native is already a two-time winner of the Art Ross Trophy, as well as having claimed both the Hart Memorial Trophy and the Ted Lindsey Award (as voted for by his fellow players) twice over. Exceptionally talented and undeniably competitive, he'd no doubt make another great addition to our NHL poker dream team.
Sidney Crosby
Did you really expect us to leave the inimitable Sidney Crosby off a list like this? Widely considered to be one of the greatest hockey players ever to have lived, the 32-year-old Nova Scotia native has it all: determination, brilliance, and – most importantly – an unwavering drive to win. Not only would these factors make him a force to be reckoned with around the poker table, but we think he'd also have some incredibly interesting stories to share about his dazzling career and back-to-back championships. Poker is, of course, a social game and it would be quite something to have a fascinating conversation going with one of hockey's all-time greats.
If you were picking out your own NHL poker dream team, which players would make the cut?