Ed. Note: Cardplayer Lifestyle would like to thank Glenn McCrory and Brittany Paige for contributing this article. As longtime supporters of grassroots poker, we're happy to publish this event notice as a public service and we wish the best of luck to all the participants in the 2018 Bar Poker Open National Championship! 
While the hysteria of the WSOP is taking place across town, the Bar Poker Open is making waves in its own original fashion. The Bar Poker Open is a unique grassroots movement that has been garnering more and more attention and participation.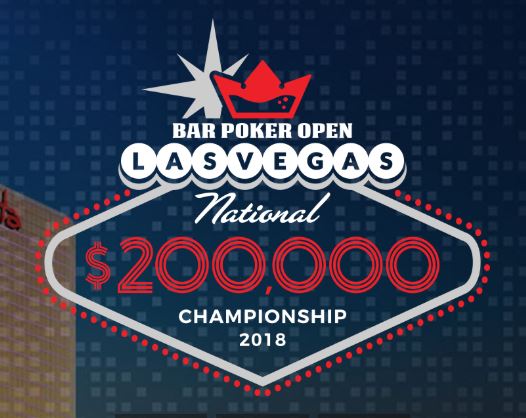 In just a little more than three years of operation, the Bar Poker Open has seen massive year over year growth. This impressive expansion is attributed to the world class experience that the players receive at the championship and the short qualification structure used to "earn" a seat at their local bar.
When league owners use Bar Poker Open properly as a tool to market and promote their events, our leagues have seen exponential growth.  We have some leagues that have gone from 3 events a week, to over 50 games a week by embracing our championship and working hard on their bar poker business.

Glenn McCrory, Managing Partner of Bar Poker Open
This unique process has helped leagues grow their local live poker games sometimes as great as three times their average numbers before their involvement with Bar Poker Open.
McCrory, founder and owner of Eastern Poker Tour, the largest poker community in New England, is spearheading the Bar Poker Open along with Andrew Griffith, the owner of Riverchasers Poker Tour, one of the more successful bar poker leagues in the country based in in Pennsylvania.
If you run a bar poker league, and do not work with Bar Poker Open, what are you doing with your life?  Bar Poker Open has literally tripled my attendance.

Sissy Murphy, Nevada Poker League
With over 40 growing leagues across the country, players compete in affordable buy-in weekly tournaments that bring back the essence of what it means to be a "card player." The word "Bar" in the title is there for a reason. Picture the modern day Wild West Saloons with men and women going head to head at over 800 of their local bars to duke it out for their chance to win entry into the $200,000 National Championship.
The invite-only National Championship takes place annually in the Mecca of poker, Las Vegas. This years hosting casino is The Golden Nugget, famous in the poker world for being home to the legendary televised poker show High Stakes Poker — with its High Roller Suite bearing witness to some of the biggest and most dramatic pots in TV history.
This year's Bar Poker Open series takes place 
June 10-14, 2018
 in conjunction with the Golden Nugget's Grand Poker Series. There will be many "open" cash tournaments featuring affordable low buy-ins. This is a great opportunity for poker fans to get their feet wet without the intimidation factor felt by many larger tournaments against the "pros."  With over 1,000 Bar Poker players coming into town, there will be enormous prize pools with huge guarantees, that have the feel of a home game. The Bar Poker Open participants are personable, lively, and genuinely happy to be playing the game they love. There is an air of excitement and camaraderie that is hard to find in such a competitive setting. Players are rooting for each other, with monetary goals on par with just having a great time.
Already Planning for Next Year's Event!
Though it's too late to qualify for this year's record breaking championship event, there's a simple, and fun, process to qualify for next year's. Anyone of any commitment level, has a very legitimate shot to win a seat.
To qualify for the Bar Poker Open, you just need to accomplish 2 Simple Steps.
Step 1: Head to a local bar poker league hosting BPO events and finish in the Top 3 that night.

Step 2: Redeem your "Top 3 Finish" for a seat into a weekly online free poker tournament hosted on Bar Poker Open's own software where they give out 4 seats with every 100 players participating online. Usually it is 700–800 players every week, so you would expect to play for 28-32+ seats every week into the $200,000 Championship.
First place includes the Ultimate Vegas Package. Along with entrance into the elite $200K National Championship, the winner receives a fully expensed trip that includes Six Days Hotel, and $400 Travel Reimbursement!  In fact, over 120 players are coming into town that have earned that package, this means that players have already won over $100,000 in hotel and travel accommodations before the first hand was even dealt!
Championship numbers alone, in Las Vegas, have gone from 365 players in 2016 to 565 players in 2017, to now 885 unique players who have already RSVP'd their commitment to attend. The "in bar participants" have grown from about 180,000 players annually to well over 1,000,000 participants annually in the bars. All these players have their eyes on the Bar Poker Open Trophy and $200,000 Cash prize pool this coming weekend.
Family, friends, and fans alike will be able to follow along with all of the action because the Bar Poker Open goes all out for their coverage. They've hired on-site professional poker reporters to cover the entire championship daily on the BPO blog.
There will also be a state-of-the-art Live Stream of the Final Table, presented by Gorilla Gaming. The broadcast will be on a 30-minute delay with hole cards, in full HD. Commentary will be provided by Ebony Kenney, Ryan Chua, and Evan Myers among other guests. Past commentators have included Joe Ingram, Jamie Kerstetter, Jesse Sylvia, Jeff Boski, Andrew Griff, Glenn McCrory, and other well known players. This year's broadcast will be accessible via Facebook, Twitch, and YouTube.
All players from all experience levels are welcome to "Join The Party!"
For more information or a full schedule, championship details, or contact us about league affiliations or sponsorships please go to www.barpokeropen.com or email [email protected].