UPDATED on December 1, 2019
As you can see by this post's original publish date, my first Prague poker vacation took place back in January 2015. Now having just come back from another poker vacation to this great European city, it's time to update the information in this post for a couple primary reasons:
The city's poker scene itself has changed, with some older rooms no longer in existence and newer rooms having debuted.
Having now had two poker vacations in the Czech capital, I came away more experienced and have some additional useful Prague poker knowledge to share with you.
I'm just here to practice my Czech-raising. 😃🇨🇿 pic.twitter.com/ceACOh2TWO

— Robbie Strazynski (@cardplayerlife) November 25, 2019
It can be pretty tough to navigate the Prague poker scene unless you speak Czech. That's specifically why I had decided to do this write-up in the first place, and now I'm determined to provide updates to keep new visitors well informed with all the good, useful, and entertaining tips that a recreational poker player needs. Regardless of the time of year you head to Prague for a vacation, you're assured some great poker if you know where to look and a great time at the felt if you know what to expect.
So, without further ado, I'm happy to present to you the (updated!) recreational poker player's guide to playing poker in Prague.
9 Important General Tips about Playing Poker in Prague
Before I get into reviewing the three poker rooms I played at in Prague, here are a number of observations I noted while playing that you'd be wise not to ignore.
All Night He Czech, Czech, Czech
You couldn't possibly expect a complete guide to playing poker in Prague without a Czech/check Rounders joke, right? ☺
In any event, the overwhelming majority of players you'll find at your tables will be local Czechs. This language is, of course, accepted at the tables. The "English only" rule will be enforced, however, if requested/insisted upon by any player. This was never really an issue while I played, as the dealer usually called out all actions in both languages. While players often talked among themselves in Czech and a variety of other languages between hands (boy do I have a great story about that…), you don't need to worry about in-hand play getting lost in translation.
As a social experience, however, it's worthwhile noting that sitting at a player as the foreigner while all the other players talk among themselves can be a bit alienating. Being the only one not to laugh at what's clearly a hilarious joke can make you feel like the odd one out, to be sure. Interestingly, while I was the only American at the tables, I was able to forge a connection with other foreigners from countries like Bulgaria, Ukraine, China, Italy, and Greece around our shared "we don't speak Czech" bond.
Don't Expect a Poker Game During the Day
Just as with online poker, liquidity is the name of the game with live poker and when no players are around, no games will be running. Popular as poker may be in the Czech Republic, you'll be hard pressed to find action anywhere in town prior to 2 pm each day. From 2-5 pm you might find that there's one or possibly two tables running in the entire city. From 5 pm onward is when the games really get going, with activity at all the local poker rooms, both via cash games and tournaments.
Many casinos in Prague will advertise that they're open 24/7, and, indeed, you'll be able to place bets on slots and table games anytime. Nonetheless, live poker cash games only heat up as the afternoon approaches. I will say that in both my trips to Prague it was off-season. When the EPT is in town (mid- to late December) and in during the summer holidays, there's a significant boost to the amount of poker being played in the city. Also, as a rule, weekends tend to be FAR busier than weekdays.
While on your Prague poker trip, you should stay up-to-date on exactly where you'll find active games via Pokerzive.cz, as the site provides real-time information about where live poker cash games and tournaments are running in the city (see the right side of the homepage).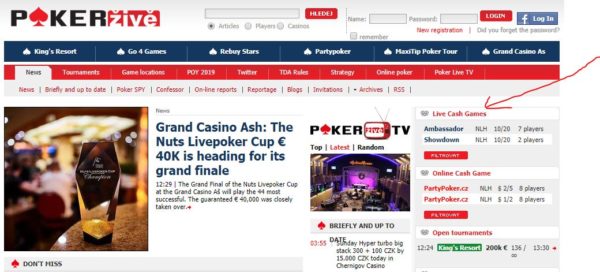 Don't Forget Your Passport
This ain't your typical local U.S. poker room and this sure as heck ain't Las Vegas. When playing poker in Europe foreigners always got to have passports on them. Usually, you'll just need to present it once when entering the casino premises. Also, you only need to be 18+ to play poker in Prague.
Once you've registered at a poker room, they provide you with a plastic credit card-sized membership card. Upon your return to that poker room, you can just present the card and then enter the premises. I'd still advise that you keep your passport handy nonetheless.
Some casinos make you check your belongings (e.g., Showdown and Ambassador), while others (e.g., Rebuy Stars) will allow you to take your bag and coat with you into the poker room.
Don't Get Taken for a Ride
Note that Prague's public transport system pretty much shuts down at midnight, so you'll need a taxi to return to your hotel if you plan on playing poker late into the night. Be smart and insist on the meter (or haggle with them on a fixed price that seems fair), as Czech taxi cabs are (sadly) known for taking tourists for a ride of a different kind!
Of course, you won't need a ride if you plan in advance to stay in the center of the city, where the three main poker rooms are all within a 15-minute walk or so from your hotel/AirBnB.
Drink (for Free!) and Be Merry
I was pleasantly surprised to find both free tableside drink service as well as a fully-stocked bar available to all poker players. I don't really drink alcoholic beverages, so just plain old water, orange juice, and the occasional soda were on tap for me, but to anyone who enjoys a good, drink, Prague's poker rooms are the perfect place to park yourself.
Google Maps is Your Friend
As good as the directions may be, when you're unfamiliar with a city, a poker room can be a chore to find. While I navigated around Prague pretty well for a first-timer, I wouldn't have found the poker rooms I visited without the help of the Google Maps app on my Smartphone. Just plug in the destination and follow the walking route once you're getting close; trust me.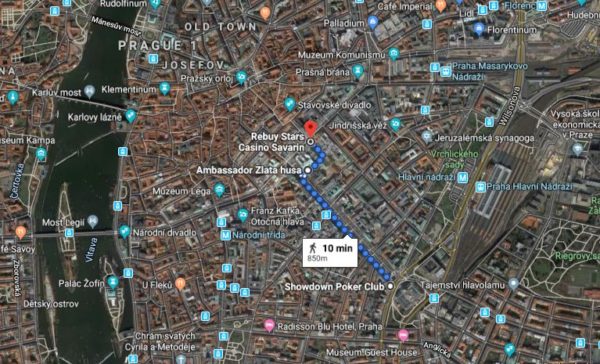 Go To Town with the Crowns
The lowest stakes Americans will usually be accustomed to playing for in a poker room are $1/2. By the same token, Europeans are likely used to €1/2 tables, while UK poker buffs are probably most familiar with £1/2 action at the felt. In other words, players from most Western nations will usually only find lower stakes action in home poker games.
Cheers, then, to the Czech Republic, which spreads Texas Hold'em at limits of as low as 10/20 KR ($1 = approx 23 crowns). I was even able to play Pot Limit Omaha at stakes of 25/25 KR.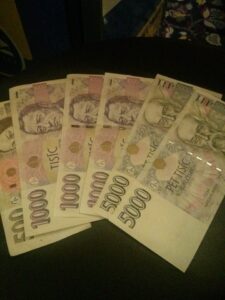 Coming from Israel, where we have an exchange rate of approximately 3.5 NIS (shekels) to $1, I must say that the opportunity to play similar stakes to what I'm accustomed to in my home games was most welcome. Generally speaking, tourists will find Prague to be a relatively inexpensive city, and poker is no exception.
If you crave higher stakes action, it will occasionally be spread (poker room managers told me they've spread games as high as 200/200 KR for No Limit Hold'em and 500/500 KR for Pot Limit Omaha), but for recreational players just looking to have a good time, win a little money, and play stress-free poker, Prague's low stakes games give you the chance to essentially "go to town with the crowns".
No Tip for You!
One thing I noticed immediately was that players rarely tipped the dealers. I was intrigued and asked if players were allowed to tip (in places like Australia, for example, it's against the rules), and was told tipping was allowed, but that dealers pooled all tips. This proved to be true at all three poker rooms I played at, as I learned that the casinos paid a relatively decent wage to all their employees, meaning poker dealers didn't have to depend on the goodwill of the players to make a living.
So, whether you're inclined to tip dealers when playing poker or prefer not to tip poker dealers, be advised that tipping is certainly not the norm when playing poker in Prague. With that said, throwing a few crowns the dealers' way is likely to get you a smile, some appreciation, and some enjoyable table conversation.
Where There's Smoke, There's Czech Poker
Boy do those Czechs like to smoke! Being used to playing in non-smoking rooms, which are the norm in the States, the smoking was the one thing that really caught me off guard about playing poker in Prague.
I probably smoked more cigarettes secondhand during my 25+ hours of play than I do in a decade. There was quite literally nothing I could do to prevent almost my entire wardrobe from smelling like tobacco. Thankfully, I was able to leave my coat checked outside the casino, so at least that didn't end up smelling too bad. Upon returning home, for the first time in my life, I actually had to run the washing machine cycle a second time on the same set of clothing just to get the stench out. I kid you not!
I joked to my family and friends that if Prague were covered by a dome, the city would look like a cloud – and I'm not exaggerating. This was the only stain on an otherwise phenomenal poker vacation for me. Culture is culture, however, and smoking unfortunately isn't likely to disappear from Prague's streets or poker rooms anytime soon.
With all of that said, at least you know what to expect now when heading to Prague to play poker. Be sure to prepare (or buy) an extra set of clothing to change into for your flight home.
Three Top Places to Play Poker in Prague
Many poker fans may be familiar with the Prague Poker Festival, during which time the EPT Prague takes place at the Hilton. The poker room there remains active throughout the year, but it seems to cater more to tourists than other poker rooms in the city, often spreading only higher-limit games and taking a higher rake. I went the "local" route, however, and tried out three great poker rooms where I enjoyed myself thoroughly.
Ambassador Poker Room
Located in the heart of Prague's Wenceslas Square is the Ambassador hotel, where you'll find a boutique casino featuring half a dozen poker tables. You can get there via the city's underground Metro, getting off at the Mustek or Muzeum stops.
Here are some of the highlights of my visits to the Ambassador Poker Room:
The staff there was quite friendly and all poker dealers spoke English fluently.
They had a proper bag and coat check room, where you were obligated to leave your belongings before entering the casino. So, be sure you take everything you need with you upstairs to the casino.
All tables were outfitted with USB chargers, a nice new addition since my initial visit four years ago.
Half of the room's tables were outfitted with automatic shufflers, and we played with two decks. This was a welcome change from my first visit to the city four years ago in which the same one deck of cards was always hand-shuffled throughout play.
"Running it twice", or as many times as players agreed upon, was perfectly acceptable.
The game of choice was almost exclusively 25/50 KR Hold'em, but occasionally a 10/20 KR game and a 25/25 PLO game would open up.
Rebuy Stars Casino Savarin
By far the largest poker room I visited during my sojourn in the city, Rebuy Stars Casino Savarin was a pleasure to visit on all accounts, for numerous reasons. Spacious, with room for over 20 tables, the complex was immaculately clean and aesthetically pleasing.
Just a five-minute walk from the Ambassador Poker Room, it's similarly easily accessible via the same metro stations.
To reach the poker room, you have to navigate your way through the numerous twists and turns within the casino itself. When you finally get there, you'll be greeted by the welcome sight of about a dozen poker tables. Venture further in, and you'll find a second, attached poker room with another dozen tables that's reserved for tournament play.
It would seem that this is the most successful of Prague main poker rooms based on sheer volume. They hold tournaments every night with nice-sized guarantees.
Here's some of what makes Rebuy Stars Casino Savarin unique among other poker rooms in the city:
They've also got a coat and bag check room, but you're free to keep your stuff with you at all times if you wish.
Remember how I mentioned the omnipresent smoking in Prague? Well, this poker room enforces a rule that smoking is not allowed at the tables themselves, but rather only in the "common" lounge areas and outdoors on the balconies. While this may not seem like a big difference, let me tell you that it actually make a world of a difference to non-smokers like me. The smell still lingers slightly throughout the building, but it's not "in your face" at every moment, which frankly makes for a much more pleasant poker experience.
The dealers were extremely professional, knowledgeable, and experienced. They were also far and away the friendliest I've ever encountered not just in Prague but throughout my European poker travels.
ALL tables featured automatic shufflers, which meant more hands dealt per hour.
While this room, too, was empty during the afternoon hours, the place did, indeed, fill up for the nightly tournament. Starting at 6 pm, a total of just over 90 entries finally gave me that "familiar full poker room" feeling I had craved. HERE was Prague poker action. The staff at Rebuy Stars Savarin runs a variety of different types of tournaments, including the progressive bounty with unlimited rebuys event I participated in one night. Inevitably, tournament busts meant that action bled over into the cash game room, and continued throughout the rest of the night.
Beyond all of the rooms highlights I've already detailed, they're also the only one in the city that (to my knowledge) offers player promotions. These include the aforementioned tournament guarantees, progressive high hand bonuses (straight flushes and up), and even a progressive bad beat jackpot (this stood at just over $25,000 when I played there) which hits when quads get beat by a better hand; you must use both hole cards.
Showdown Poker Club
Located right down the street from the Ambassador hotel, at the bottom of Wenceslas Square, it's actually easy to miss the Showdown Poker Club. The reason? The sign outside the building only says "Borneo", with the word "Showdown" in tiny font underneath. No indication whatsoever from the outside that there's any poker to be found inside. That said, it's very easily accessible, also via the Muzeum metro station.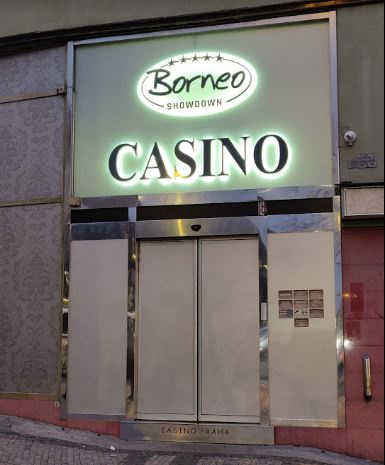 This room looked a lot more impressive on my second Prague poker trip than on my first one, four years prior. The reason for this was that it underwent an extensive upgrade. The room itself, the decor, and the tables were all new. Automatic shufflers had been installed in all the tables. Unlike in the city's other poker rooms, unfortunately you'll have to pay for your drinks at the Showdown Poker Club.
Even so, with all its new trappings, the room unfortunately still suffered from a lack of space, as they've shoehorned just under a dozen tables into way too small an area. Moreover, it seems like this is primarily a tournament-only poker room, which is a shame. There was rarely a cash game running during both of my trips, and when running it was shorthanded. Dealers and floor staff assured me things were different in the busy season, but overwhelmingly they kept saying "you'll see; it'll fill up later when we run the tournament." I didn't stick around…
Other Prague Poker Rooms
I'd be remiss if I didn't mention the two other better-known poker rooms in the city. One can be found at the Atrium Casino next to the Hilton. This is the famed venue of EPT Prague and they run somewhat higher stakes cash games throughout the year. The other room is called Rebuy Stars Luka, and is larger than it's sister room that I visited. Both of there rooms are located further our in the city, and frankly I didn't wish to travel out to see them when I was walking distance from three poker rooms right in the city center. Perhaps next time…
Final Notes
Especially as the poker action really only begins in late afternoon, I'd recommend you 1) set your expectations accordingly as far as how many hours you're likely to be playing during your poker vacation and 2) use the morning and early afternoon hours to explore the city. There's a bevy of attractions to see, tours to take (both free and paid), and memories to make, and it would be a shame to just limit your Prague sightseeing to the poker rooms and your hotel room. Get out there and enjoy yourself in the Czech capital!