Texas hold 'em (also hold'em, holdem) is the most popular poker game in the casinos and poker card rooms across North America, Europe and online. Hold 'em is a community card game where each player may use any combination of the five community cards and the player's own two hole cards to make a poker hand, in contrast to poker variants like stud or draw where each player holds a separate individual hand.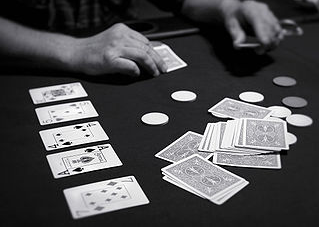 A full Texas Hold'em table typically has nine or ten players; any less and the game may be referred to as short handed. To determine who begins the game a single card is dealt to each player; high card will be the first dealer. The dealer position is indicated by a white plastic chip referred to as the button, which is also what the dealer position is called, sometimes referred to as being on the button. After each round of play, sometimes called a hand, the dealer button rotates to the left, ensuring that everyone gets to play in this and all other positions.
Texas Hold 'Em (or Texas Holdem) is the primary version of Poker played in many casinos, and it's the version seen on television shows like the Travel Channel's World Poker Tour and ESPN's World Series of Poker.