When I founded the Cardplayer Lifestyle poker blog way back in November 2009, I honestly had no idea where the journey would take me. Close to six years later, I'm thrilled to have carved out my own little niche in the poker world. With a lot of hard work, as well as some excellent submissions from my great contributors, this blog has become a go-to destination for poker fans, recreational players, and many professional players looking for interesting op-eds, lifestyle pieces, and some good, old fashioned poker entertainment. Here's hoping the upwards trajectory continues!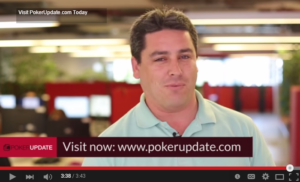 Along the way, I've also ventured into a couple other poker avenues. About two and a half years ago, I co-created the Poker Notes Live mobile app, designed to allow for quick, easy, hi-tech note-taking while playing live poker. With lots of great reviews in the poker press and upwards of 6,000 downloads (and counting), I'm happy to report that it's been successful.
Then, last year, I started co-hosting the Top Pair Home Game Poker Podcast. Putting out a new show every couple of weeks, I'm proud to have seen our audience of listeners grow by close to 30% since I joined and I look forward to continuing to churn out plenty more episodes.
Now, I'm excited to branch out into another area of the poker world, namely being a presenter. You're all invited to have a look at my "debut" below:
Thanks to the Awesome PokerUpdate.com Team
Back in January, I was recruited to start working for a great company called Webpals, a subsidiary of the publicly-traded XLMedia. While I have a number of responsibilities as part of my role there as Head of Content Strategy, one aspect of my work that I've enjoyed in particular has been working on PokerUpdate.com, which the company owns.
In what I can only describe as a case of "work meets play", I've been fortunate enough to have my profession and passion collide in a very special way – I'm elated to start presenting the site's monthly roundup! It will consist of a brief summary of some of the best articles published on the site each month as well as a "Baller of the Month" segment. Those of you who know me well can appreciate why I pushed to select Daniel Negreanu :-).
We've got another fun video project in the pipeline for PokerUpdate.com that I'm involved in, and I look forward to telling you about it as well in the near future.
In the meantime, as always, I'd be happy to get your feedback – let me know what you think.
Before signing off, I just want to take the opportunity to publicly thank my colleagues on the PokerUpdate.com team, including everyone who worked on the video production, for a job well done! You guys are the best!